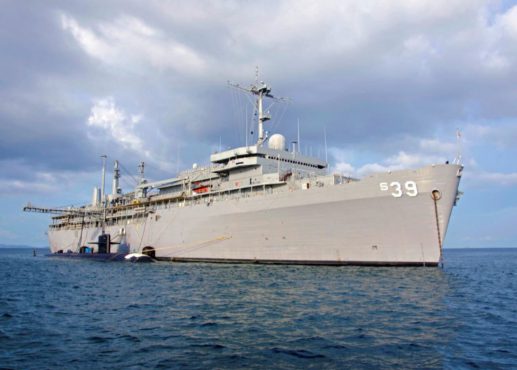 ---
Article by Peter Ong
On January 14, 2018, the USS Frank Cable sub tender turned 40 years old since christening on January 14, 1978.
Currently, the U.S. Navy (USN) has two 1970s-built submarine tenders, the USS Emory S. Land (AS 39) and the USS Frank Cable (AS 40). Both are now home-ported in Guam as of 2018. These two submarine tenders carry ship and submarine repair parts, servicing equipment, repair departments, and the staff to conduct sixteen specialized services.
The two current U.S. Navy sub tenders, USS Emory S. Land and USS Frank Cable have remained relatively unchanged since the 1970s although they have been constantly inspected and maintained. Both sub tenders are expected to serve through the 2020s. New sub tender replacements for the 355- ship U.S. Navy remain unclear.
According to the U.S. Navy, "Under the current arrangement, Frank Cable services forward-deployed submarines home-ported in Guam, and Emory S. Land services 5th and 7th fleet submarines in Diego Garcia and other forward ports of call." Although they are not normally assigned to travel with Carrier Strike Groups, both tenders do travel throughout the 5th and 7th Fleet's area of responsibility, providing maintenance and repairs to ships and guided missile and fast-attack submarines. A submarine tender brings the repair capabilities of welding, carpentry, fabrication, sheet metal work, and machining with 24-hour day services for USN ships and subs docked at anchor or alongside the tender.
In 2014, these sub tenders' port calls included Singapore; Bahrain; Jebel Ali, United Arab Emirates; Subic Bay, Republic of the Philippines; Yokosuka, Japan, and Guam. One ship's crew completed 240 repair jobs alone in Yokosuka, Japan. In 2016, port visits included Sri Lanka, Philippines, Singapore, Japan, and India.
The U.S. Navy provided an overview of the two sub tenders:
Ship statistics:
o Length: 644 feet (196 m)
o Beam: 85 feet (25,9 m)
o Displacement: 23,000 tons
o Draft: 28 feet (8,5 m)
o Speed: 20 knots
o Propulsion: Oil-fired steam turbine
o Crew: Average of about 800 personnel, both military and civilian
o Bunks: 847
o Compartments: 913
o Small Boats: 7
– Ship has five levels and eight decks.
– Bridge is located on the O-4 level
– One 30-ton crane located on the boat deck, two 5-ton cranes (one on each side).
– Ship can be divided into two sections, "Hull" and "Repair." "Hull" side maintains the ship and crew while "Repair" takes care of tended submarines and surface ships.
– Repair department performs intermediate-level and limited depot-level repairs on 5th/7th Fleet submarines in addition to surface ships. Repair department has 26 repair shops that offer various repair services to the fleet.
– Medical, located on the O-1 level, has 14 patient beds in the medical ward and one operating room.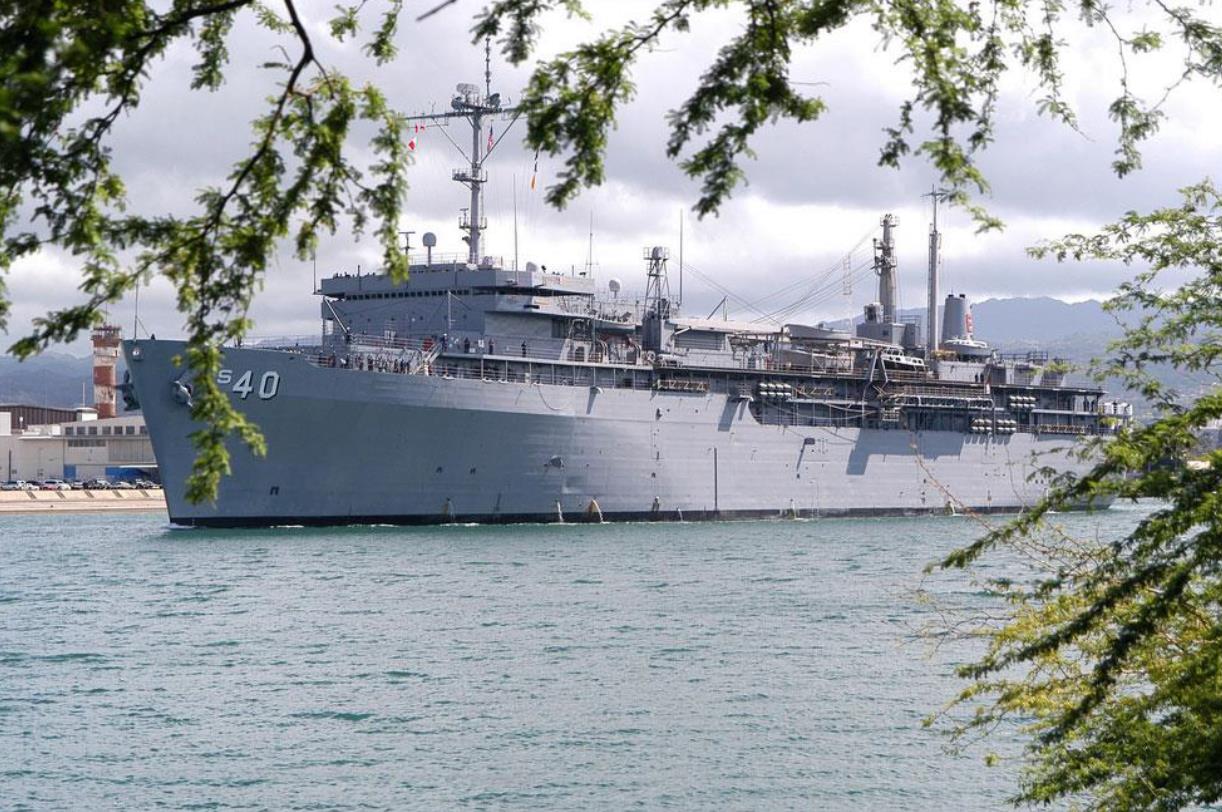 The two 644-foot sub tenders have a large crew, as the U.S. Navy explained via email: "The tenders are crewed/manned by Civilian Mariners (CIVMARs) and USN Military Personnel (MILPERS). There are sixteen (16) departments headed by USN MILPERS and CIVMAR officers. Supply and Health Services departments contain both MILPERS and CIVMAR components. In these departments, the USN component has a USN department head and the CIVMAR component has a CIVMAR department head. MILPERS are under Administrative Control (ADCON) of COMSUBPAC.
"Crew size average is more accurate today to be about 800 personnel, depending on the specific unit and mission set. There are about 40 officers, about 600+ enlisted, and about 150 civilian mariners.
"USN military personnel man all weapons systems and departments supporting repair, weapons repair, USN supply, operations and maintenance of small boats and other supporting functions. The bulk of the sailors make up the repair department and are responsible for performing intermediate-level and limited depot-level repairs on 5th/7th Fleet submarines, and also support surface ships as needed. A smaller portion of the sailors are divided up into Hull departments (Executive, Legal, Medical, Operations, Safety and Weapons).
"The civilian mariners (CIVMARs) are responsible for navigation, deck (bridge watch standing, deck operations, and hull maintenance), engineering, galley, steward services, deck communications, and internal supply functions.
"The 16 departments are as follows with U.S. Navy (USN) and Military Sealift Command (MSC) crews:
1. Deck (MSC)
2. Engine (MSC)
3. Weapons Repair (USN)
4. Repair (USN)
5. Executive (USN)
6. Operations (USN)
7. USN Supply (USN)
8. MSC Supply (MSC)
9. Communications (MSC)
10. USN Health Services (USN)
11. MSC Health Services (MSC)
12. Training (USN)
13. Legal (USN)
14. Chaplain (USN)
15. Safety (USN)
16. Purser (MSC)"
These two submarine tenders remain relatively unchanged in design since their 1970s debut. Due to their non-combat repair, support, and servicing roles, in addition to their submarine and surface weapons handling and transport capability, the existing sub tenders carry self-defense weapons, namely deck-mounted M2HB .50cal heavy machine guns and 7.62mm M240B and MK48 medium machine guns which can be employed to provide over-watch security to tended units moored alongside. Both sub tenders had their 20mm and 40mm antiaircraft guns removed and both were never fitted with Phalanx 20mm Close-in Weapons Systems (CIWS).
The USN plans to retire the USS Frank Cable in 2029, 51 years after its launch, and the USS Emory S. Land in 2030, 53 years after its launch. There's an entry in the US Navy FY17 shipbuilding plan for an AS(X) submarine tender, but no funded placement is seen out to FY23. These vessels receive regular maintenance and upkeep, and the USN engineering analyses have determined that both sub tenders could sail for up to 50+ years since their launch date; however, the U.S. Navy has yet to decide if these tenders will be mothballed or scrapped upon retirement.
The Navy intends to start construction of the new submarine tender replacements in the mid2020s. "The Navy is thoroughly reviewing and assessing requirements for the next submarine tenders," wrote Military Sealift Command, "focusing on capabilities that make sense fiscally and operationally. As with any ship, requirements and the technology and engineering required to achieve those requirements drive design, layout and function. Competition is key to ensuring that we receive the best value for the capabilities we are looking to procure and we will research potential solutions that are innovative, yet affordable, to meet Combatant Commander requirements. At this point in time, information and analysis pertaining to the new submarine tenders is pre-decisional."
In looking for some new design and functionality characteristics of the new sub tender replacements, MSC replied, "The Navy has been leveraging new technologies in other ship classes that allow for greater automation and fuel efficiency. While it is too early to discuss specifics, we will evaluate features based on requirements, affordability and feasibility. Our FY17 budget includes funding over the five year budget period to maintain and operate the submarine tenders that are already in the Fleet. Future budget submissions will reflect procurement objectives."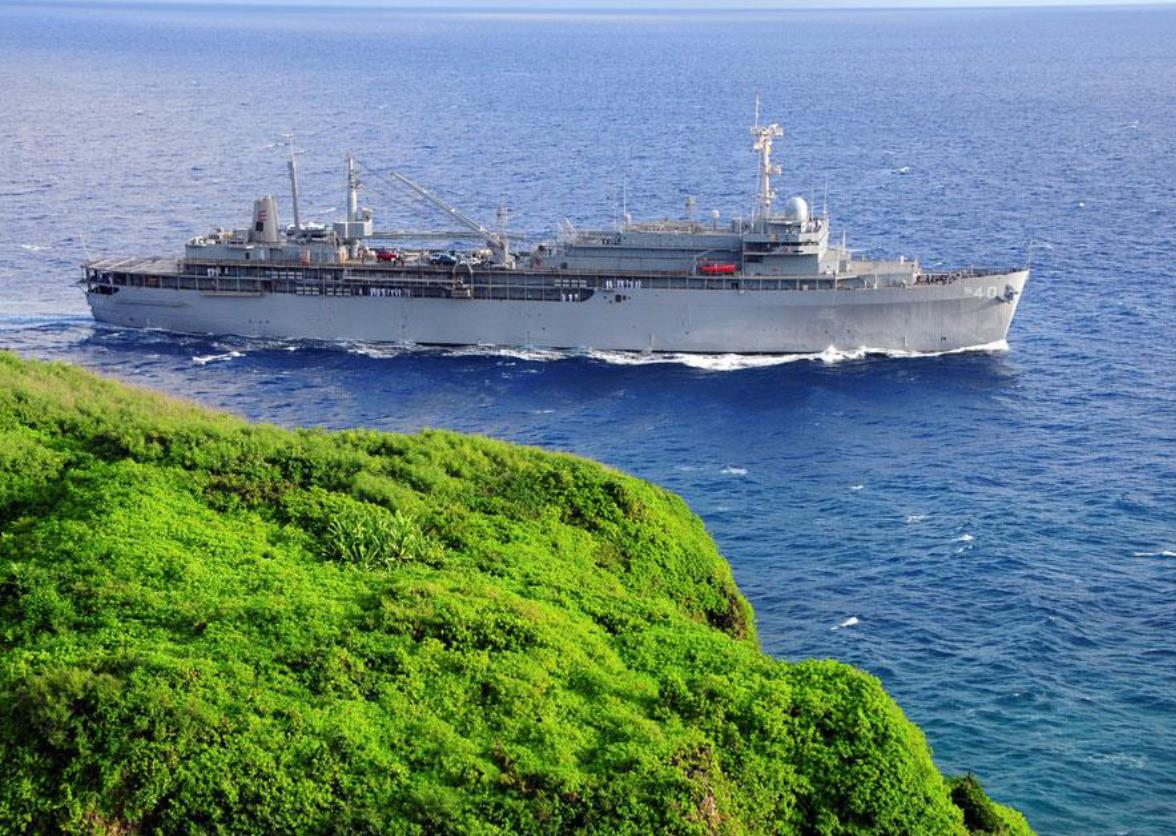 USS Emory S Land and USS Frank Cable Undergo Dry-docking Repairs and Overhauls:
In July 16th of 2014, Vigor Shipyards was awarded a $17 million contract for the USS Emory S Land (AS 39) to be dry-docked for 120 days and have the following maintenance procedures performed: #1 and #2 Boiler inspection, propulsion shaft removal and inspection, underwater hull preservation, ship's service turbo generator inspection, domestic reefer upgrade, and installation of permanent ballast and stability test.
Emory S Land arrived at Vigor Shipyards, Portland, Oregon on October 1st, 2014 for four-month dry docking maintenance and left on February 1st, 2015. She arrived at Pearl Harbor, Hawaii on a February 13, 2017 and stayed for three weeks before sailing to her homeport in Guam.
The USS Frank Cable (AS 40) followed with an overhaul in 2017 as stated by NAVSEA.
"The U.S. Navy has awarded Vigor Marine a $24.4 million contract for a 120-calendar day shipyard availability for the regular overhaul and dry docking of USS Frank Cable (AS 40) in February of 2017." She sailed to Pearl Harbor in March of 2017 to prepare for sailing to Vigor Industrial Shipyards in Portland, Oregon. "Work that will be done on the Emory S. Land-class submarine tender will include tank inspections, main reduction gear repairs, engine room bulkhead/structural repairs, freeboard preservation and sewage tank preservation. "
According to the Military Sealift Command's (MSC) Workorder Synopsis, there will be also be inspections to the boiler and turbine, switchboard modification and ventilation repairs, rudder inspections, deck repairs, boiler inspection, bilge repairs, elevator trunk structural repairs, Accommodation Ladder inspection and testing, and lead paint abatement. "The ship's 30 and 5-ton cranes will also be repaired in addition to air conditioning plant repairs, high and low pressure turbine inspections, underwater hull preservation and propulsion shafting removal and inspection."
"USS Frank Cable will be docked in Portland, Oregon, and work is expected to be completed by Aug. 4, 2017. The contract also has options which, if exercised, would bring the total contract value to $28.3 million.
"The Guam-based USS Frank Cable (AS 40) was built by Lockheed Shipbuilding and Construction Company, Seattle, WA. The ship was christened on January 14, 1978 and commissioned on October 20, 1979. "Frank Cable, together with USS Emory S. Land tends the nuclear-powered Los Angeles-class attack submarines in Guam for re-supply and re-armament in the Indo-Asia-Pacific region."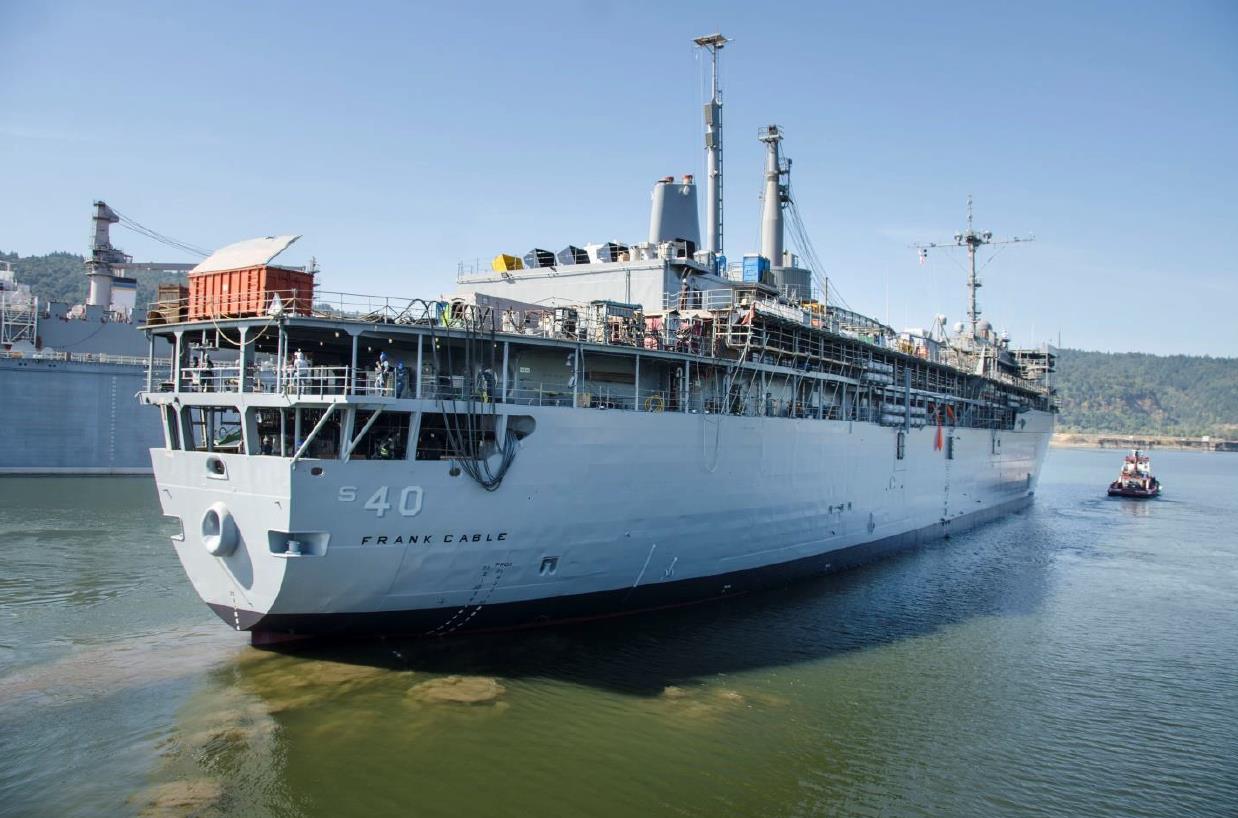 USS Frank Cable (AS 40) arrived at Swan Island Ship Repair Yard at Portland, Oregon on April 6, 2017 at Berth 314. The sub tender entered Vigor Shipyard's dry-dock #3 on May 2, 2017. Once dry-dock #3 work was completed, the Frank Cable undocked on September 15 and again moored at Berth 314. The vessel entered dry-dock #6 at Vigor Shipyards on November 27th.
Once maintenance work was completed on December 5th, Frank Cable undocked and moored again at Berth 314, having completed its $56 million dry-dock repairs in the stated MSC Workorder improvements. New steel was added to improve survivability and watertight integrity. The ship left Vigor Shipyards in Portland, Oregon on December 21st and sailed at twenty-one knots to Joint Base, Pearl Harbor-Hickman, Hawaii as a stop before joining her sister ship, Emory S. Land in Guam. On January 2, 2018, Frank Cable arrived at Joint Base, Pearl Harbor-Hickam, Hawaii. The repair crew of the Frank Cable, temporarily assigned to the Emory S. Land rejoined the rest of the crew as Frank Cable reached her homeport in Guam. USS Frank Cable returned to homeport Naval Base, Guam, on January 23, 2018. AS 40 has been away for ten-and-a-half months and sailed more than 12,614 nautical miles before returning to Guam refurbished.
Photo: USS Emory S. Land (AS 39) with a submarine moored alongside. Photo: US Navy MSC