Royal Navy, Marines ready for Royal Wedding
Royal Navy and Royal Marines personnel are preparing for their role in the wedding ceremony of HRH Prince Henry of Wales and Meghan Markle which is taking place on 19 May 2018.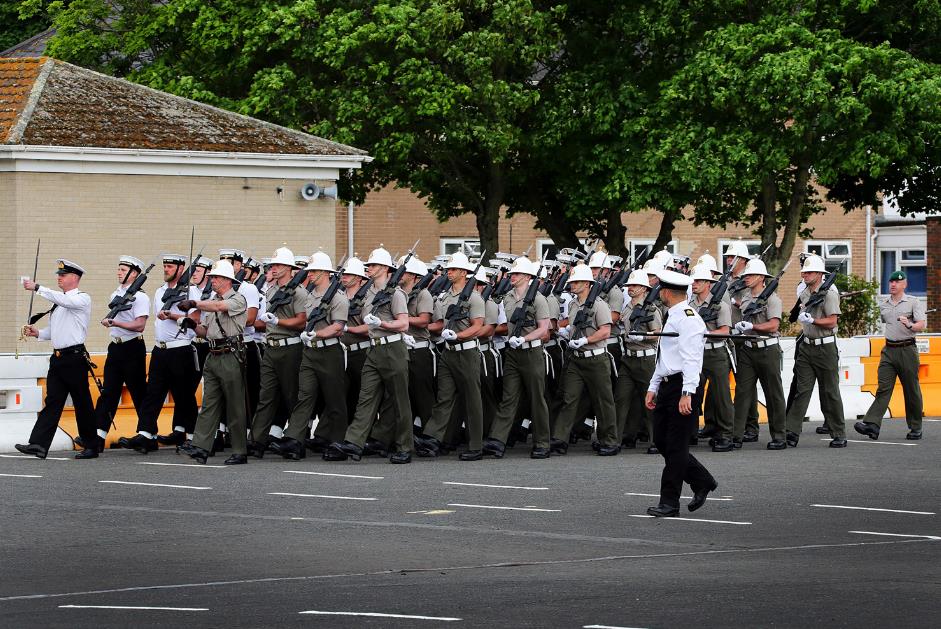 Royal Navy sailors from the Fleet's Small Ships and Diving Units and 30 Commando IX Group Royal Marines from Plymouth will join the Armed Forces' ceremonial contribution to the Royal wedding.
One half company (24 ratings and one officer) from the Royal Navy, and the same sized contingent from the Royal Marines, will line the streets within the precincts of Windsor Castle along with their counterparts from the Army and RAF.
Royal Navy State Ceremonial Officer, Warrant Officer Eddie Wearing is in charge of training all personnel for their ceremonial duties. He said: "There's a lot of planning and preparation that goes into this. It's an honour for us to be involved in such an event and bolsters the already great relationship between the Royal Family and the military.
"We have done a lot of ceremonial duties in the last twelve months, including Royal duties in London, which was a first for the Royal Navy, and now a Royal Wedding. It's going to be hard to top that.
"The guys will be able to cope with the pressure on the day because we have done a lot of training and it's all about repetition so that they are focused on what they are doing.
"Nerves are a good thing and a bit of healthy nervousness is good in my book. We are absolutely ready to go."
Prince Harry was appointed Commodore-in-Chief Small Ships and Diving by HM The Queen in August 2006. Since then HRH has maintained close links with this community within the Royal Navy. Most recently he was also appointed Captain General Royal Marines in December 2017, taking over from his grandfather, The Duke of Edinburgh, who held the title for 64 years.
As previously confirmed more than 250 members of the Armed Forces will perform ceremonial duties at the Royal wedding.