US Pacific Fleet welcomes new commander
US Navy Adm. John C. Aquilino became the new commander of the US Pacific Fleet relieving his predecessor, Adm. Scott Swift, during a May 17 change of command ceremony on Joint Base Pearl Harbor-Hickam.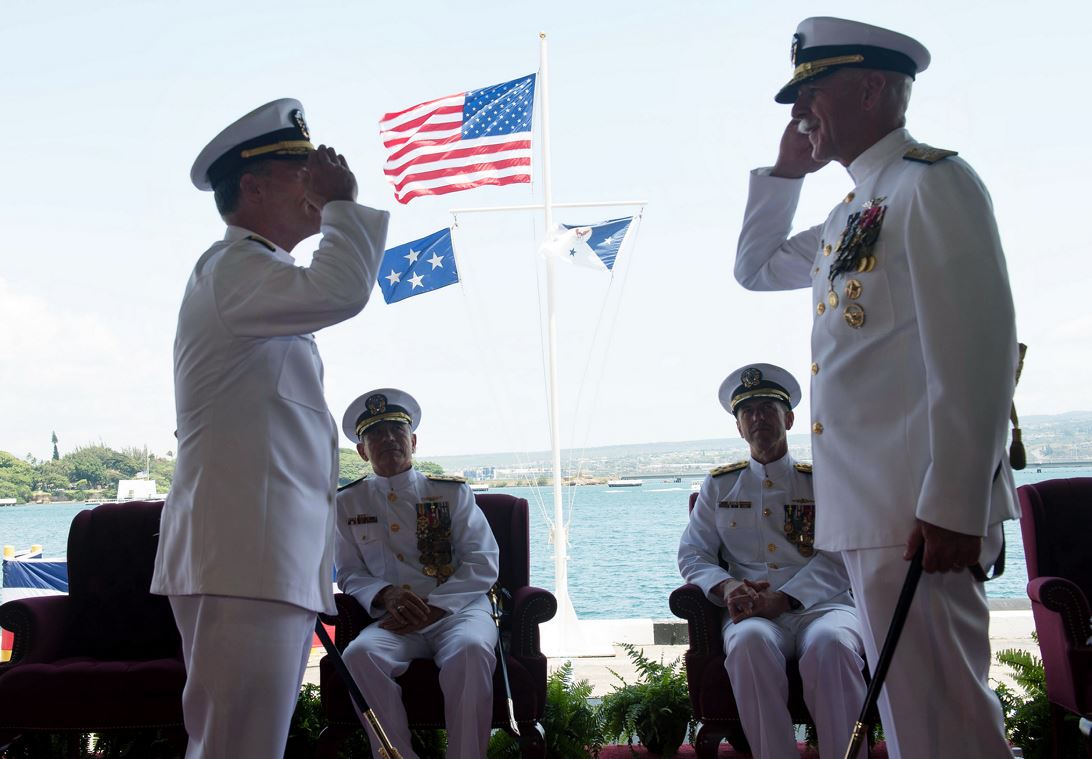 During his remarks, Swift reflected on his time in the navy and thanked the sailors and civilians at Pacific Fleet for their hard work at the command.
"I am grateful for the opportunities the Navy has provided," said Swift. "Most of all I love the Navy for the relationships I have developed. But to finish my career here, in the Pacific Fleet, the only Fleet I have ever sailed in, headquartered in the city I was born in, in the harbor of my father's first command, doing what I love is something dreams are made of."
Adm. Harry Harris, commander of US Pacific Command, said it was a great honor to publically commend Swift for a spectacular tour and commended him for his leadership over the past three years.
"Thank you to the women and men of Pacific Fleet for being where it matters, when it matters, and with what matters to decisively prevail in all contingencies from peace to war," said Harris. "Your efforts have advanced maritime security and enhanced stability not only in the Indo-Pacific, but also the world."
With the historic USS Arizona and Battleship Missouri memorials as the backdrop, Chief of Naval Operations (CNO) Adm. John Richardson welcomed Aquilino and recognized Swift's achievements as Pacific Fleet commander.
"This is a celebration of the Pacific Fleet," said Richardson. "In the action of a single salute, all authority, all responsibility and all accountability will transfer from Adm. Swift to Adm. Aquilino. And with that transfer of command, with that salute, so to goes our loyalties. So we are indeed saddened to see [Adm. Swift] and Trish go, but they are being replaced by another superb leadership team [Adm. Aquilino] and Laura. Congratulations on your selection to this unbelievably vital position. You are the perfect team to lead the fleet to a new level of performance."
After assuming command, Aquilino said his mission was clear – be ready to execute prompt and sustained combat operations at sea against any adversary, and win.
"A great power competition has reemerged as the central challenge to security and prosperity against our nation. Nowhere are the stakes of that great power competition higher than here in the Indo-Pacific region," said Aquilino. "To any potential adversary that wishes to challenge us, the Secretary of Defense said it best, 'You can have no better friend, or you can have no worse enemy' than the U.S. Pacific Fleet, that choice will be yours."
US Pacific Fleet is the world's largest fleet command, encompassing 100 million square miles, more than half the Earth's surface, from Antarctica to the Arctic Circle and from the West Coast of the United States into the Indian Ocean. The US Pacific Fleet consists of more than 200 ships and submarines, nearly 1,200 aircraft, and more than 130,000 Sailors and civilians.