A new anti-air missile system designed to protect the Royal Navy's new aircraft carriers as well as other ships in the fleet has been declared operational, the UK defense ministry has announced.
Developed at a cost of about £850m (approx. US$1.1b), the Sea Ceptor is the Royal Navy's new short-range shield against air attack.
Already tried and tested, the system will be deployed about the Type 23 frigates and gradually replace the ageing Seawolf missiles. The new Type 26 frigates, three of which are currently under construction, will also be fitted with the system.
Sea Ceptor defends escort vessels within a maritime task group, such as for the new Queen Elizabeth-class aircraft carriers, and combined with the Artisan radar which is becoming prevalent on the Type 23s, tracks more than 800 objects simultaneously.
HMS Westminster successfully fires the new Sea Ceptor missile system, the @RoyalNavy's latest weapon against air and sea attack. Read more: https://t.co/tS3QgBc2ng pic.twitter.com/P4TupsJw5j

— Royal Navy (@RoyalNavy) December 20, 2017
The system has been installed on four ships in the Type 23 class so far, Argyll, Montrose, Westminster and Northumberland, and was already tested by three of them.
The latest test firing of the system was conducted by the HMS Montrose. The third test firing successfully intercepted a fast-moving drone target.
The missile system is to be declared operational by the UK defense secretary Gavin Williamson during a speech at the Rusi Sea Power conference in London. "Fitting our warships with this ground-breaking technology not only protects our navy but shows we are world leaders at sea," Williamson will say.
"HMS Argyll will be the first ship to deploy with this cutting-edge system when she heads to support peace and security in the Asia Pacific region later this year."
Richard Smart, Director Weapons for the MOD's procurement organisation Defence Equipment and Support (DE&S), said: "Sea Ceptor's entry into service with the Royal Navy is a significant milestone, a massive achievement for everyone involved and a proud moment for the team.
"It's really exciting to be delivering a new capability that will form part of the protection for the new aircraft carriers and will help to keep our service personnel and our country safe."
The system uses a new Common Anti-air Modular Missile or CAMM, that weighs 99 kilograms, has a range of over 25 kilometers and reaches speeds of up to three times the speed of sound. According to MBDA specifications, the system will have the ability to deal with multiple targets simultaneously, protecting an area of around 500 square miles (1,300 square kilometers) over land or sea.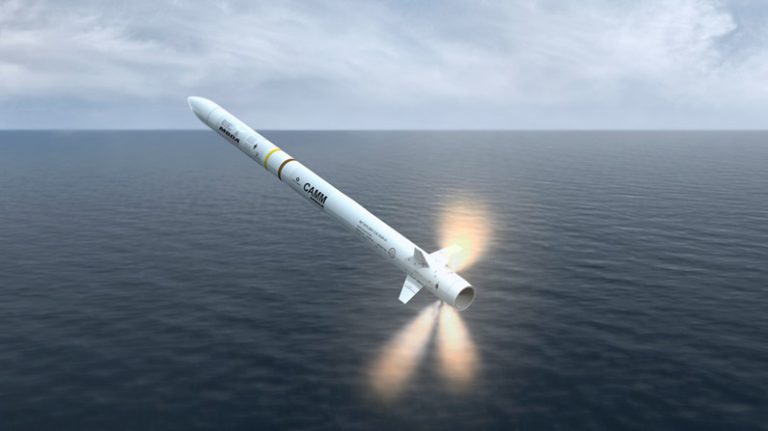 Photo: Royal Navy photo of HMS Argyll firing the Sea Ceptor missile