Harry S. Truman CSG returns to operations after Greece visit
US Navy ships centered around the aircraft carrier USS Harry S. Truman (CVN-75) returned to US 6th Fleet operations after completing a four day port visit to Souda Bay, Crete, May 23-27.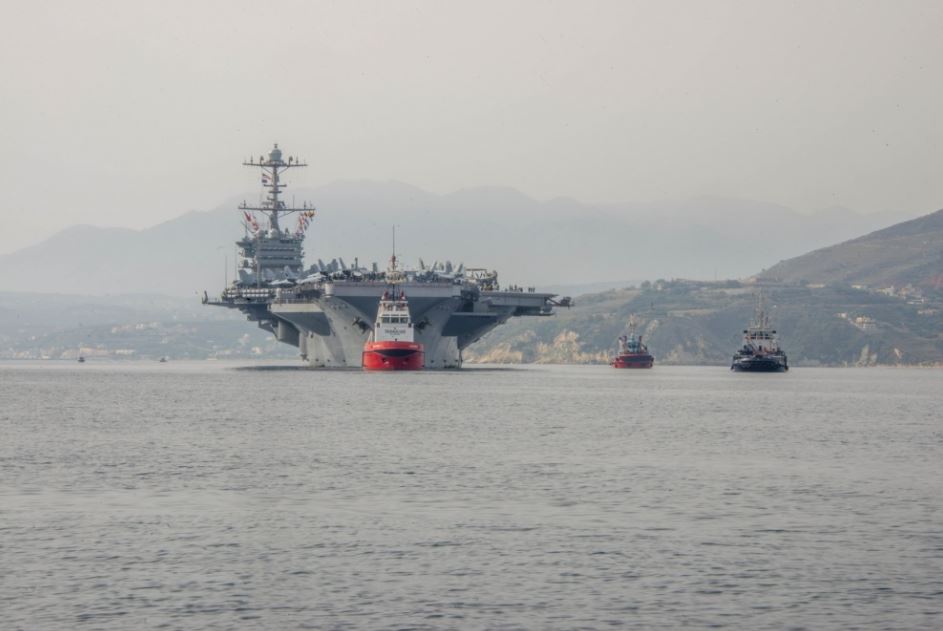 The aircraft carrier docked at the US naval base in Souda Bay while Arleigh Burke-class destroyer USS Bulkeley docked in Piraeus.
The other two ships in the group to visit Grece, destroyer USS Forrest Sherman and cruiser USS Normandy arrived in Rhodes and Santorini.
Harry S. Truman CSG ships spent over 40 days at sea before stopping for the first call of their deployment to the Mediterranean Sea and Middle East. USS Harry S. Truman got underway from its Naval Station Norfolk homeport on April 11.
During the visit Truman sailors enjoyed leisure and cultural opportunities on the island. A total of 96 Truman sailors also volunteered for two major painting projects in Mouzouras village May 24 and 25, painting a local community playground and the surrounding metal fence at the Agios Ioannis church.
In addition, Truman sailors participated in a rugby match against the Chania Rugby team, the "Cretan Gunners" at the National Stadium of Chania May 25.
During its stay in Santorini, the guided-missile cruiser USS Normandy (CG 60) hosted the US ambassador to Greece during a reception aboard.
"This is a great chance for Normandy to visit a NATO partner and take in some of the rich culture Greece has to offer," said Capt. Chris Stone, Normandy's commanding officer upon arriving in Santorini. "After 43 days at sea, the crew is looking forward to enjoying some of the picturesque sights of Santorini and relaxing a bit before continuing on with our mission."
The carrier strike group deployed to Europe together with German Navy frigate FGS Hessen. The frigate did not arrive in Greece for a visit as it is currently supporting NATO's operation Sea Guardian in Central and Eastern Mediterranean.