Essex amphibious ready group starts COMPTUEX
US Navy ships from the Essex amphibious ready group started the composite training unit exercise (COMPTUEX) with 13th Marine Expeditionary Unit marines off the coast of California on May 30.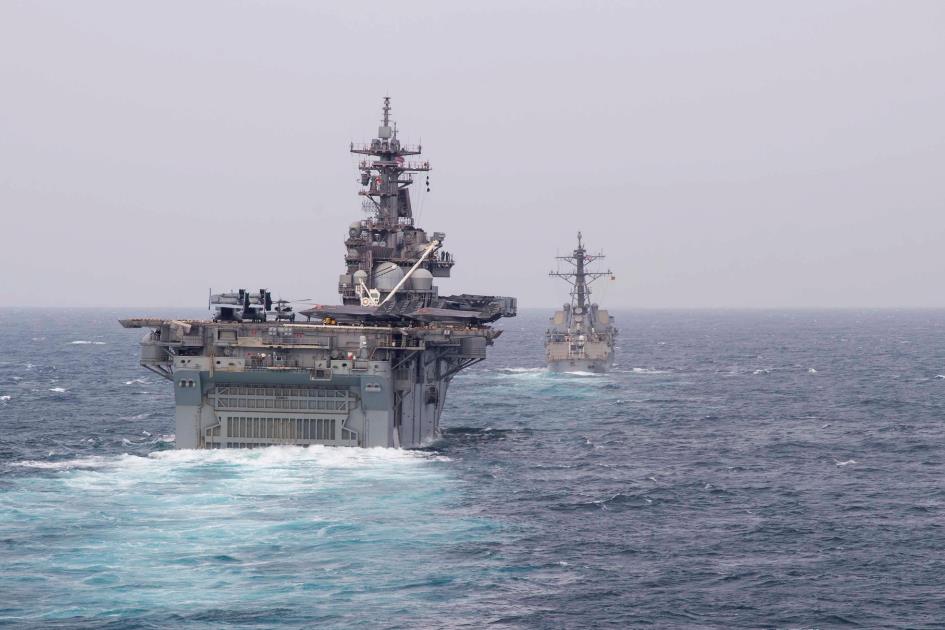 COMPTUEX is an exercise led by Carrier Strike Group (CSG) 15 and 1st Marine Expeditionary Force, Expeditionary Operations Training Group (EOTG) that is aimed to certify the ARG/MEU team for their deployment in summer of 2018.
Essex ARG is commanded by Capt. Gerald Olin of Amphibious Squadron (PHIBRON) 1, and comprises amphibious assault ship USS Essex (LHD 2), amphibious transport dock USS Anchorage (LPD 23) and amphibious dock landing ship USS Rushmore (LSD 47).
Embarked commands include "Blackjacks" of Helicopter Sea Combat Squadron (HSC) 21, Assault Craft Unit 5, Naval Beach Group 1, Beachmaster Unit 1, Fleet Surgical Team 3 and Tactical Air Control Squadron 11.
13th MEU is commanded by Col. Chandler Nelms and consists of the Command Element; the Aviation Combat Element, Marine Medium Tiltrotor Squadron 166 (Reinforced) and Marine Fighter Attack Squadron (VMFA) 211; the Ground Combat Element, Battalion Landing Team 3/1 (Reinforced); and the Logistics Combat Element, Combat Logistics Battalion 13.
"COMPTUEX is designed to make the Essex ARG and 13th MEU Navy-Marine Corps team think, plan and conduct tactical operations for their upcoming deployment," said Commander, CSG 15, Rear Adm. Bill Byrne. "Upon successful completion of this rigorous exercise, Essex ARG and 13th MEU will have proven their readiness to deploy."
Training evolutions include exercises in maritime interdiction operations, anti-piracy operations, close-air support, air assaults, reconnaissance and amphibious operations.
COMPTUEX is the final evaluation the Essex ARG and 13th MEU team will undergo before deploying.