UAE Navy vessel on fire after Houthi attack off Yemen
A United Arab Emirates Navy vessel has reportedly been attacked by Yemen's Houthi rebels during a Saudi-led coalition attack on the Yemeni port city of Hodeidah.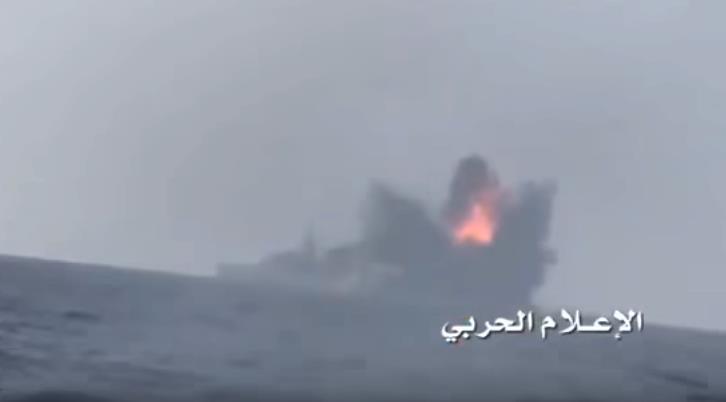 The Yemeni rebel group issued a statement on their official website on June 13 claiming the Yemeni Navy prevented an amphibious landing operation by striking a navy vessel with two missiles.
In another statement on June 14, the group said the "destruction of the navy vessel" was not the first and would not be the last.
CNN has further received confirmation from US officials who said the UAE Navy vessel was struck and caught fire.
A military vessel currently on fire in the Red Sea off the coast of Hodeidah belongs to the UAE, two senior Yemeni-Houthi military commanders tell CNN.
US officials confirm it was attacked by Houthi rebels & caught fire. A US official confirms to CNN the craft belongs to the UAE

— Ryan Browne (@rabrowne75) June 13, 2018
The attack occurred during a Saudi-led operation to recapture the port city of Hodeidah, which is estimated to receive 70 percent of food, fuel and medicines imported to Yemen.
On Monday, UN warned against a military escalation in Hodeida expressing concerning that as many as 250,000 people could be killed in an operation to retake the city.
"I am extremely concerned about military escalation in Hodeida and their humanitarian and political impact. We're in contact with parties to avoid further escalation. We call on them to exercise restraint and engage with political efforts to spare Hodeida a military confrontation," UN's Yemen envoy Martin Griffiths said in a tweet on Wednesday.
This is not the first Yemen's Houthi fighters have attacked both commercial and navy vessels in the Red Sea.
In October 2016, the US Navy launched Tomahawk missiles at Houthi positions after the rebels tried several times to hit US destroyer USS Mason with missiles in the Bab-el-Mandab Strait.
The Tomahawk attack occurred shortly after the Houthis hit and almost sank the UAE-operated catamaran HSV-2 Swift.
Several months later, Houthis used "drone boats" to hit Royal Saudi Navy frigate Al-Madinah in an attack that killed two and injured three other Royal Saudi Navy sailors.
The most recent known Houthi attack on vessels in the Red Sea took place in April 2018 when the rebels targeted a Saudi-flagged oil tanker. The tanker was only lightly damaged in the attack.