Fincantieri launches Italian Navy logistic support ship 'Vulcano'
The Italian Navy's LSS logistic support ship Vulcano was launched in a June 22 ceremony at Fincantieri's Muggiano (La Spezia) shipyard.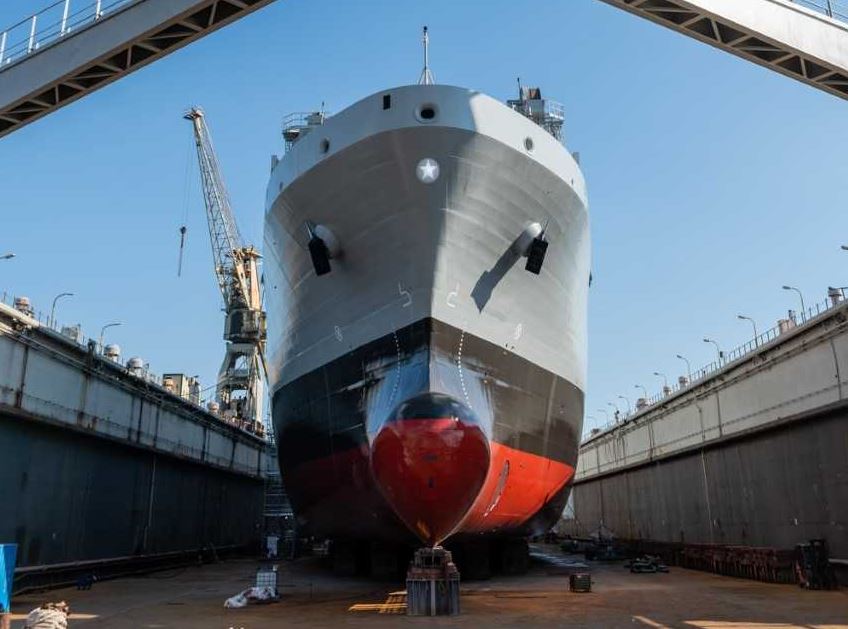 The ceremony was attended by Italian Minister of Defence, Elisabetta Trenta, the Chief of Defense, General Claudio Graziano, and the Chief of the Navy, Admiral Valter Girardelli.
Work on the ship started in February, 2016, while a keel laying ceremony was held six month later, in July.
The 193-meter-long LSS will be equipped with a hospital and healthcare capabilities with operating rooms, radiology and analysis rooms, a dentist's office and hospital rooms that will be capable of hosting up to 17 seriously injured patients.
The ship combines capacity to transport and transfer liquids (diesel fuel, jet fuel, fresh water) and solids (emergency spare parts, food and ammunitions) and to perform at sea repairs and maintenance work for other vessels.
According to Fincantieri, the defense systems are limited to command and control in tactical scenarios but the vessel is also capable of embarking more complex defense systems and becoming an intelligence and electronic warfare platform.
A video of the launch, with lots of aerial shots of the ship in the floating dry dock, was streamed live on Friday evening and can be watched here.
The ship is built under the Italian Navy's fleet renewal plan and is replacing the old Stromboli-class fleet replenishment oilers that have been in service with the Italian Navy for over forty years.
The Italian fleet renewal plan is a €3.5 billion project that also includes a landing helicopter dock – which started construction in February 2018 – and seven patrol vessels (PPA), with four more in option. Fincantieri and Finmeccanica are the main contractors where Fincantieri's share amounts to approx. €2.3 billion while Finmeccanica will receive the remaining €1.2 billion.
The launch of the LHD is scheduled for 2019, with delivery in 2021. The PPA deliveries will take place in 2022, 2023, 2024 (two units), 2025 and 2026.