HII partners with Virginia state for hiring drive
Huntington Ingalls Industries' Newport News Shipbuilding division has entered into an agreement with the Commonwealth of Virginia to support its major hiring initiative.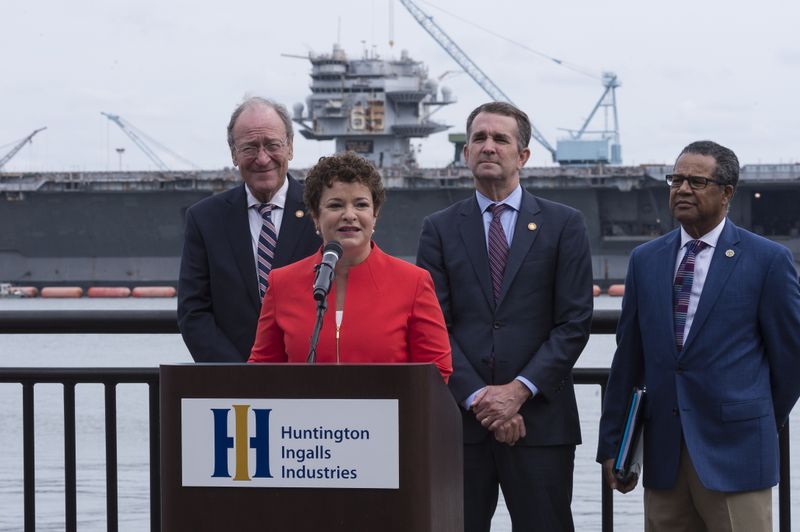 Gov. Ralph Northam announced June 26 that various state agencies and regional community colleges would work with Newport News to augment ongoing efforts to hire as many as 7,000 new shipbuilders over the next five years.
"Newport News Shipbuilding's success is important not just for Hampton Roads, but for the entire commonwealth," Northam said. "Therefore, it is critical that we support growth of this magnitude with an innovative partnership between state agencies that will address the company's workforce and training needs and ensure a pipeline of skilled talent."
The collaboration is expected to bolster Newport News' recruitment of people to meet its anticipated workforce demands in the Ford-class aircraft carrier and Virginia-class submarine programs. It also will support production of Columbia-class ballistic submarines, as well as increased submarine fleet support work and the refueling and complex overhaul and defueling of Nimitz-class aircraft carriers.
In addition to this significant hiring initiative, Newport News is retraining employees over the next five years to incorporate new digital shipbuilding technology and is continuing to make capital investments in the company's facilities and technology infrastructure.
"As we continue to transform our business, we look forward to recruiting, training and retaining talented men and women who will help meet our workforce needs now and into the future," said Newport News Shipbuilding president Jennifer Boykin. "This effort requires strong community leadership. That's why we are excited about this partnership with the commonwealth. Working with government, business and educational systems ensures we have the additional resources necessary to continue our investment in our greatest resource: our people."
This initiative will be supported by various state agencies, including Virginia Economic Development Partnership, the Virginia Community College System, the Virginia Employment Commission, and the Virginia Office of Veterans and Defense Affairs.