The Republic of Singapore Navy (RSN) has decommissioned two more Fearless-class patrol vessels.
The decommissioning ceremony for the 1996-built RSS Daring and RSS Resilience was held at Tuas Naval Base on July 19, 2018, marking the progressive handing over of duties from the PVs to the new littoral mission vessels (LMVs).
"These two faithful Fearless-class patrol vessels have been protecting our territorial waters and safeguarding our sea lines of communication for many years. Beyond contributing to RSN's maritime security operations, RSS Daring and RSS Resilience flew the RSN flag high in overseas exercises and operations," the navy said.
"We salute RSS Daring, RSS Resilience, and the generations of crew who have served on board. Thank you for your service," RSN added.
The Fearless-class PVs were the first warships wholly designed and built in Singapore. Over the last twenty years, the ships had safeguarded the country's maritime interest and its territorial integrity.
In 2013, Singapore started the LMV program in an effort to replace Fearless-class vessels. The navy decommissioned RSS Independence in March 2017 and a further three ships, RSS Sovereignty, RSS Unity and RSS Justice in October last year.
The LMVs, which are more versatile and equipped with sharper capabilities, will be fully operational by 2020.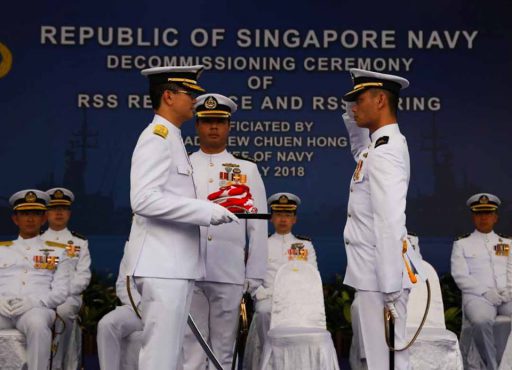 Photo: Photo: Ministry of Defense Singapore
Related news
List of related news articles