HII begins fabrication of 13th San Antonio-class ship 'Richard M. McCool, Jr.'
Huntington Ingalls Industries has officially started fabrication of the 13th San Antonio-class ship, the future USS Richard M. McCool, Jr. (LPD-29), at its shipyard in Pascagoula, Mississippi.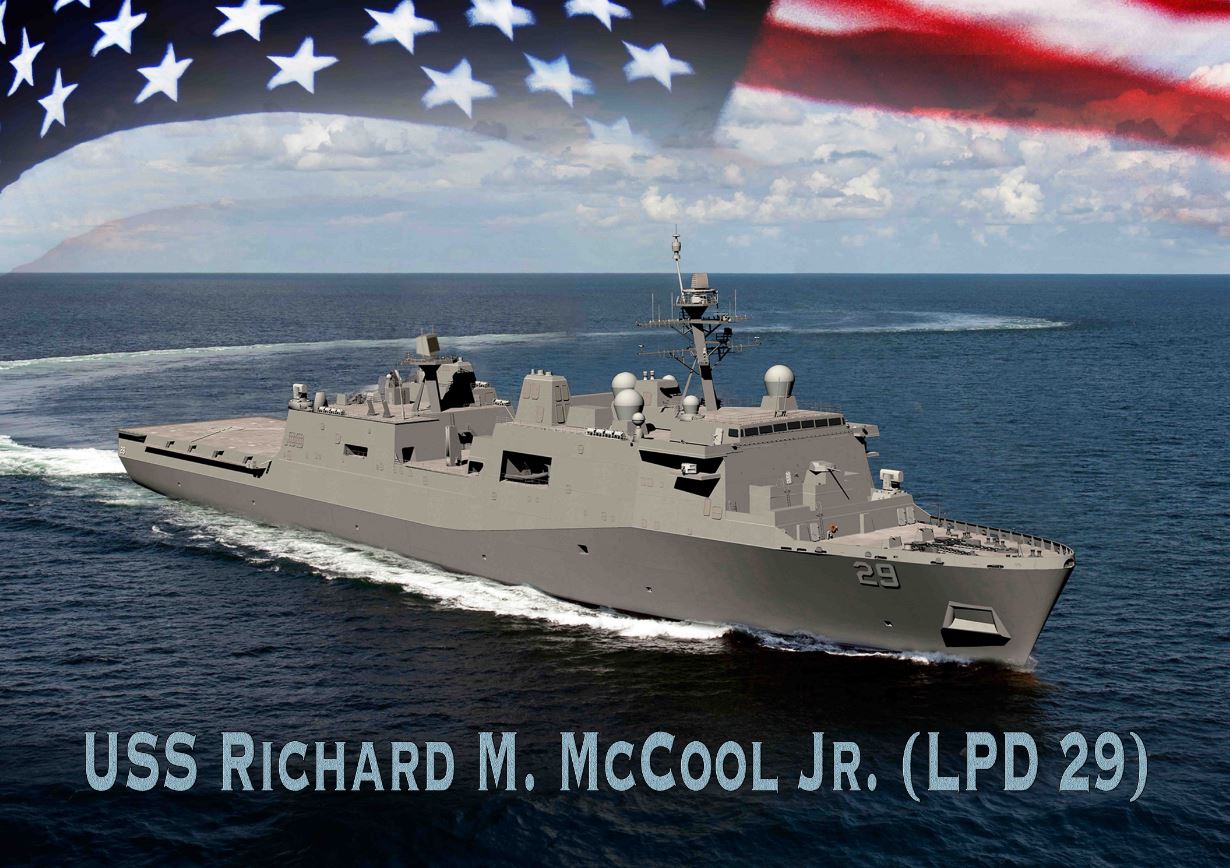 The start of fabrication signifies that the first 100 tons of steel have been cut.
"We are excited to commence fabrication on the 13th and final ship of the LPD-17 Flight I class," said Capt. Brian Metcalf, LPD 17 class program manager for Program Executive Office Ships. "We continue to benefit from the maturity of this program, and look forward to achieving future production milestones as we work to deliver this versatile and capable warship to the fleet."
LPD-29 is named in honor of Navy veteran and Medal of Honor recipient, Capt. Richard M. McCool, Jr., and will be the first vessel to bear the name. McCool served in defense of the nation for 30 years, spanning three wars. He was awarded the Medal of Honor in 1945 for heroism, after his ship was attacked by kamikaze aircraft and he led efforts to save the ship and rescue injured sailors.
The principal mission of LPD-17 San Antonio class amphibious transport dock ships is to transport and deploy the necessary combat and support elements of Marine expeditionary units and brigades. The ship will carry approximately 720 troops, have the capability of transporting and debarking air cushion or amphibious assault vehicles, and accommodate every size of Marine Corps helicopter and its tilt-rotor MV-22 Ospreys. These ships will support amphibious assault, special operations and expeditionary warfare missions through the first half of the 21st century.
The Navy awarded the detail design and construction contract for LPD-29 to HII on Feb. 16, 2018. Eleven San Antonio class ships have been delivered, the most recent being USS Portland (LPD 27), which was commissioned April 21, 2018.
LPD-28 and 29 will serve as transition ships to LPD-30, the first ship of the LPD 17 Flight II class. LPD Flight II class ships will be the replacement for the Navy's aging LSD 41/49 class ships.