The US Navy-hosted international maritime exercise Rim of the Pacific concluded August 2 after 30 days of exercises and maneuvers in and around the Hawaiian Islands and Southern California.
A total of 25 nations, 46 surface ships, five submarines, 17 land forces, and more than 200 aircraft and 25,000 personnel participated in the 26th edition of RIMPAC.
RIMPAC was led by US Vice Adm. John D. Alexander, commander of the U.S. 3rd Fleet, who served as the combined task force (CTF) commander. Royal Canadian Navy Rear Adm. Bob Auchterlonie served as deputy commander of the CTF, and Japan Maritime Self-Defense Force Rear Adm. Hideyuki Oban was the vice commander.
Other key leaders of the multinational force included Commodore Pablo Niemann of Armada de Chile, who commanded the maritime component, and Air Commodore Craig Heap of the Royal Australian Air Force, who commanded the air component.
"I couldn't be more proud of our international team's ability to successfully complete an exercise of this nature," said Alexander. "Most importantly, we completed the exercise safely while still achieving national training objectives. This is a true testament to the talent and lasting partnerships we built through RIMPACs past and present, and will continue to build for the foreseeable future."
RIMPAC firsts, and lasts
This year's edition of the exercise saw a non-founding RIMPAC nation (Chile) hold a component commander leadership position for the first time. This year also featured live firing of a Long Range Anti-Ship Missile (LRASM) from a US Air Force aircraft, surface to ship missiles by the Japan Ground Self-Defense Force, and a Naval Strike Missile (NSM) from a launcher on the back of a Palletized Load System (PLS) by the US Army.
US Army participation marked the first time a land-based unit took part in the live fire event during RIMPAC.
Additionally, for the first time since RIMPAC 2002, US 3rd Fleet's Command Center will relocate from San Diego to Pearl Harbor to support command and control of all 3rd Fleet forces in 3rd Fleet's area of responsibility to include forces operating forward in the Western Pacific.
Another first was the partnering of naval and merchant maritime experts to deliver enhanced maritime domain awareness (MDA) for the first time. MDA is the ability to maintain situational awareness of sea-going vessel movements, and is used to assess the normal patterns of life on major trade routes.
During the exercise, the US Naval Cooperation and Guidance for Shipping (NCAGS) partnered with Oil Companies International Marine Forum (OCIMF) representatives to enhance the maritime battlespace picture and enhance leadership decision making options in the Southern California (SOCAL) areas of operation.
RIMPAC 2018 also saw the last flight of the RQ-7B Shadow unmanned aerial system (UAS) was retired after its final flight during the culmination event for Rim of the Pacific (RIMPAC) exercise at Pyramid Rock Beach on Marine Corps Base Hawaii July 29, 2018. Marine Unmanned Aerial Vehicle 3 (VMU-3) was the last squadron to utilize the Shadow, while the other VMU squadrons have already transitioned to the RQ-21 Blackjack UAS.
RIMPAC submarine warfare
Another prominent component of this year's RIMPAC was the presence of five submarines from three countries who conducted high-tech scenario-based exercises in the undersea domain.
The Virginia-class fast-attack submarines USS Hawaii (SSN 776), USS Illinois (SSN 786) and Los Angeles-class fast-attack submarine USS Olympia (SSN 717) alongside Royal Australian Navy submarine HMAS Rankin (SSG 78) and Republic of Korea Navy submarine ROKS Park Wi (SS 065) coordinated operations ranging from anti-submarine warfare missions to supporting Special Forces (SOF) in amphibious operations.
One of the highlights of RIMPAC 2018 was a live-fire demonstration, for the first time in 20 years, of the submarine-launched Harpoon anti-ship cruise missile (ASCM) system conducted by Olympia.
Following the successful completion of two SINKEX launches, the submarine force pursues to reintroduce the Harpoon ASCM system into their arsenal inventory to improve lethality, expand capabilities, and ensure mission readiness.
"Today's highly capable navies and adversary countries, the competitive countries that we are in power competition, have extremely good surface ships with very capable missile systems themselves," Caudle said.
The original Harpoon missiles were placed in deep storage in order to reintroduce the capability if required, Caudle explained. Today, with the potential threat from great power states or rogue nations, there is again a need for a submarine-launched ASCM capability.
In addition to the Harpoon engineering team, the crew onboard the submarine practiced tactics, techniques, and procedures to shoot the Harpoon missile.
"We shot the Harpoon, which worked perfectly, went into cruise, and hit the decommissioned ex-USS Racine (LST-1191) dead center," Caudle recounted. "The system worked as designed. So we were thrilled. We met all the test objectives."
Caudle said after a thorough evaluation of that shot to make sure it meets all of the criteria, a decision will be made on how to bring the Harpoon back as a submarine arsenal asset.
Submarine rescue symposium
As part of RIMPAC, submariners from all nations discussed the different ways they can all work jointly in the event of a submarine accident or casualty.
"The great thing about RIMPAC is that we get more participation from around the world, specifically Asian countries that were not able to join our working groups throughout the year," said US Navy Cmdr. Joshua Powers. "This increased and diversified participation allows us to engage with our partners who operate submarines and are interested in submarine rescue."
One of the most valuable discussions was on the lessons learned from recent submarine incidents, including the tragedy of Argentinian submarine ARA San Juan that cost the lives of all hands on board.
"First of all, it's about people. We are trying to save people and you can't put a price on that," said Royal Norwegian Navy Cmdr. Dag Hanssen. "It is easy to share what you are doing, what your plans are, what your equipment is because all of it is unclassified. All of this is about saving lives."
The symposium included an extensive demonstration of the US submarine search and rescue procedures and a workshop discussing and exchanging procedures performed differently by other nations and within their own submarine communities.
Not without obstacles
While deemed successful by organizers, the 2018 edition of RIMPAC didn't go without complications.
Amphibious portions of the exercise relied on the participation of amphibious assault ships USS Bonhomme Richard (LHD-6) and USS Boxer (LHD-4). The first had to return to port midway through the exercise while the latter was sidelined before the drill.
According to USNI News, Bonhomme Richard – tasked with serving as command ship for the maritime component commander, Chilean Navy Commodore Pablo Niemann Figari – experienced propulsion issues and had to return to port. The embarked commanders continued participation in the exercise from the pier.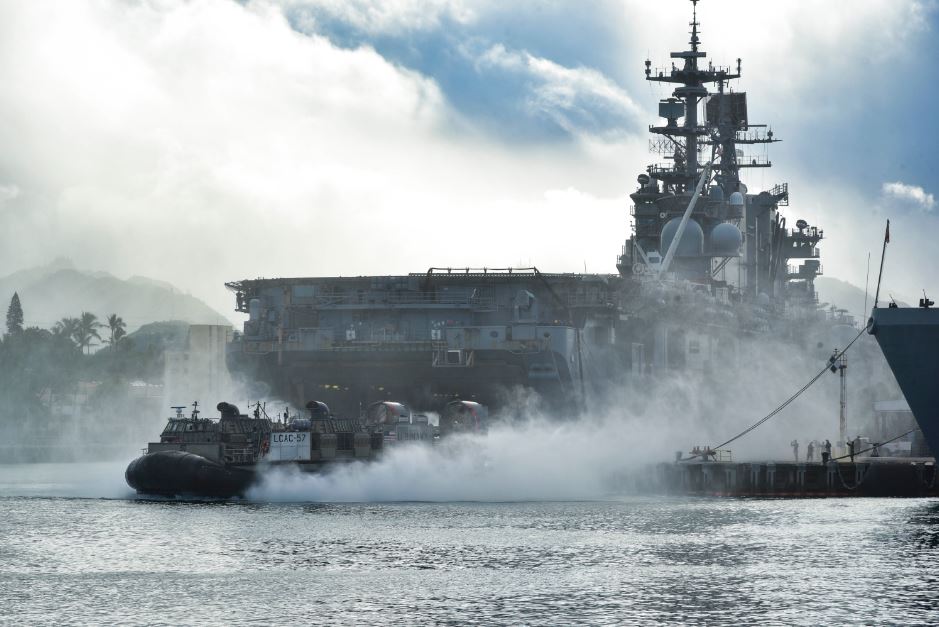 Commenting on the exercise, Royal Canadian Navy Rear Adm. Bob Auchterlonie who served as deputy commander of the Combined Task Force, said all participating nations worked together incredibly well to overcome various challenges and meet mission objectives.
"We had some weather systems and other realities, such as the second SINKEX target ship being sunk earlier than expected, that impacted our ability to complete all our training according to the plan, but that is also the great part about RIMPAC," Auchterlonie said. "Our motto is 'Capable, Adaptive, Partners' and all the participating nations demonstrated this. We adjusted plans and drafted new ones in order to ensure each nation got the training value they expected from RIMPAC 2018."
Photo: RIMPAC ships sail in formation during a photo exercise off the coast of Hawaii on July 26, 2018. Photo: US Navy
Related news
List of related news articles