US Navy submarine forces welcome new commander
The US Navy's submarine forces welcomed a new commander in a ceremony onboard the Virginia-class fast-attack submarine USS Washington (SSN 787) August 3 at Naval Station Norfolk.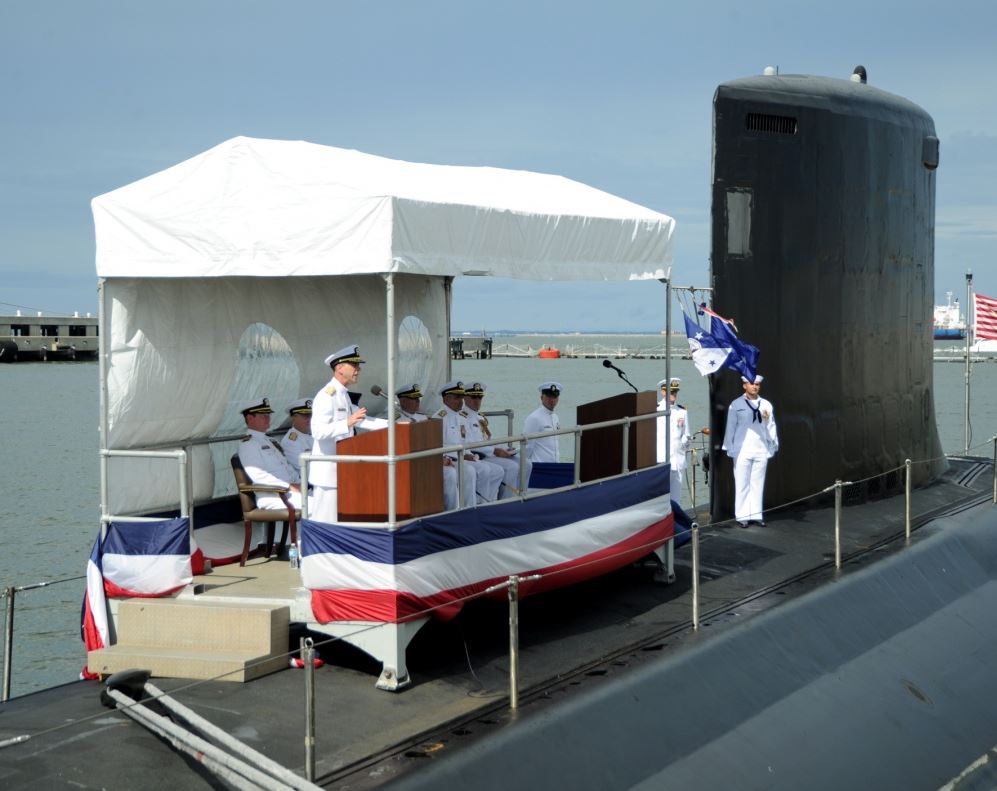 Vice Adm. Charles A. Richard relieved Vice Adm. Joseph E. Tofalo as Commander, Submarine Forces/Submarine Force Atlantic/Allied Submarine Command.
Since taking command in September 2015, Tofalo played a pivotal role in the future of the force. As Commander, Submarine Force Atlantic, he had operational command of all US submarines home ported on the Atlantic coast, as well as supporting shore activities.
As Commander, Allied Submarine Command, he acted as the principal advisor to the North Atlantic Treaty Organization on submarine plans, operations, and doctrine.
Tofalo kicked off remarks by reminding guests that sixty years ago today, 3 August 1958, USS Nautilus (SSN 571) reached the North Pole, and became the first submarine in history to do so.
"This "top of the world" historical reference is certainly fitting," said Tofalo. "Because I'm "on top of the world" today, as it has been the honor of my lifetime to command the greatest submarine force the world has ever known. A force made up of 24,000 outstanding active duty, government civilians and reservists, and their families, who combined are only 4% of the greater navy, yet operate 25% of the Navy's warships including 70% of Nation's accountable nuclear weapons."
Tofalo was commanding officer of the Ohio-class ballistic-missile submarine USS Maine (SSBN 741), and was Commander, Submarine Squadron 3, Pearl Harbor, Hawaii. Prior sea assignments include the Permit-class attack submarine USS Flasher (SSN 613), the Ohio-class guided-missile submarine USS Michigan (SSGN 727), and the Los Angeles-class attack submarine USS Montpelier (SSN 765).
Tofalo retired from active duty as part of the ceremony after more than 35 years of service in the U.S. Navy, and left the Force with one last challenge.
"To the sailors and the force, I challenge you to continue our emphasis on competence and character, relentlessly pursuing your theoretical maximum performance as both individuals and teams," he said. "I also challenge you to continue to do everything with honesty and integrity. Revel in hard facts and the certitude of being a standards-based organization."
Upon assuming command, Richard thanked Tofalo for passing on a force that is "ready to deliver" and reassured Richardson, Grady and Hyten that he understands their strategic guidance and the important role submarines play in the nation's defense.
"The mission of our submarine force today is clear, said Richard. "We are back in a world in the midst of major power competition. In that competition our strength undersea is a key advantage that we have," said Richard. "That will not change on my watch. With so much at stake, we cannot let up and must execute our mission with a continued sense of urgency."
To the men and women of the Submarine Force, Richard delivered just one thought, "Prepare for battle! This was Admiral Tofalo's direction, and it is mine as well," said Richard. "It is only by being prepared for battle that we can hope to avoid it. If we cannot, our nation expects and demands victory. We shall not fail!"
His operational assignments include command of USS Parche (SSN 683) as well as Submarine NR-1, then the U.S. Navy's only nuclear-powered, deep-submergence submarine. He also served aboard USS Portsmouth (SSN 707), USS Asheville (SSN 758) and USS Scranton (SSN 756).