Austal lays keel for 11th US Navy Spearhead-class EPF
Shipbuilder Austal has authenticated the keel for the US Navy's eleventh Spearhead-class Expeditionary Fast Transport ship in a ceremony at its Mobile, Alabama shipyard.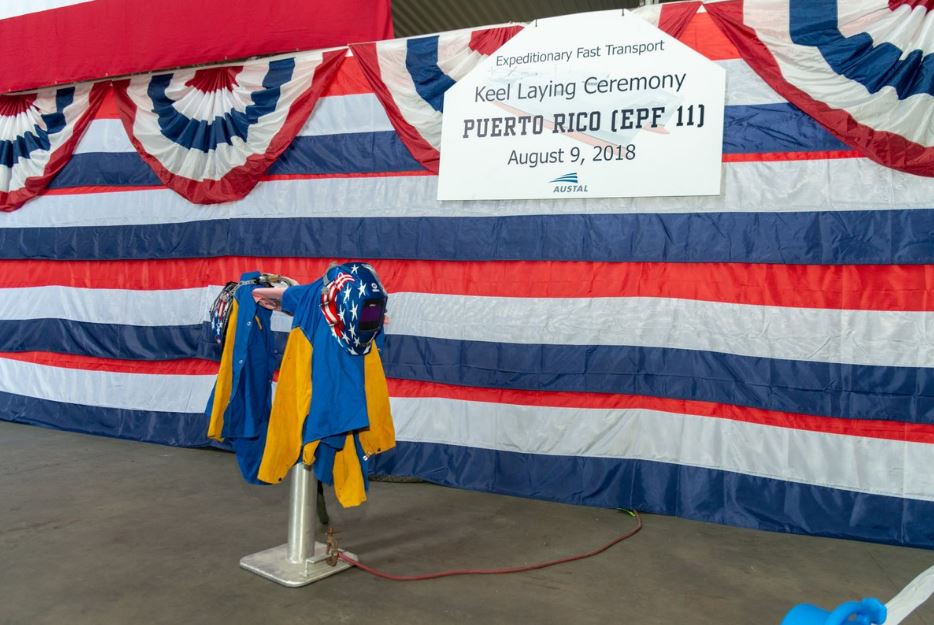 A keel laying is the formal recognition of the start of a ship's construction, as the keel is the symbolic backbone of a ship. The keel was said to be "truly and fairly laid" as it was authenticated by the ship's sponsor, Supreme Court Justice Sonia Sotomayor, by welding her initials into the keel plate.
The future USNS Puerto Rico (EPF 11), will be the third ship in naval service named after the commonwealth of Puerto Rico, honoring its historically strong ties to the military.
"We are honored that Justice Sotomayor is able to participate as the ship sponsor in this major production milestone," said Capt. Scot Searles, Strategic and Theater Sealift program manager, Program Executive Office Ships. "Our industry and Navy teams are committed to delivering this highly capable platform and today's milestone marks our progress towards delivering operational flexibilities to the Navy force."
The 103-meter shallow draft all-aluminium catamarans are non-combatant transport vessels capable of intra-theater personnel and cargo lift providing combatant commanders high-speed sealift mobility with cargo handling capability.
EPFs are designed to transport 600 short tons of military cargo 1,200 nautical miles at an average speed of 35 knots in sea state 3. The ships are capable of operating in shallow-draft ports and waterways, interfacing with roll-on/roll-off discharge facilities, and on/off-loading a combat-loaded Abrams Main Battle Tank (M1A2).