HHI lays keel for New Zealand Navy tanker 'Aotearoa'
Hyundai Heavy Industries hosted a keel laying ceremony for the Royal New Zealand Navy's future tanker HMZS Aotearoa at its shipyard in Ulsan, South Korea, on August 13.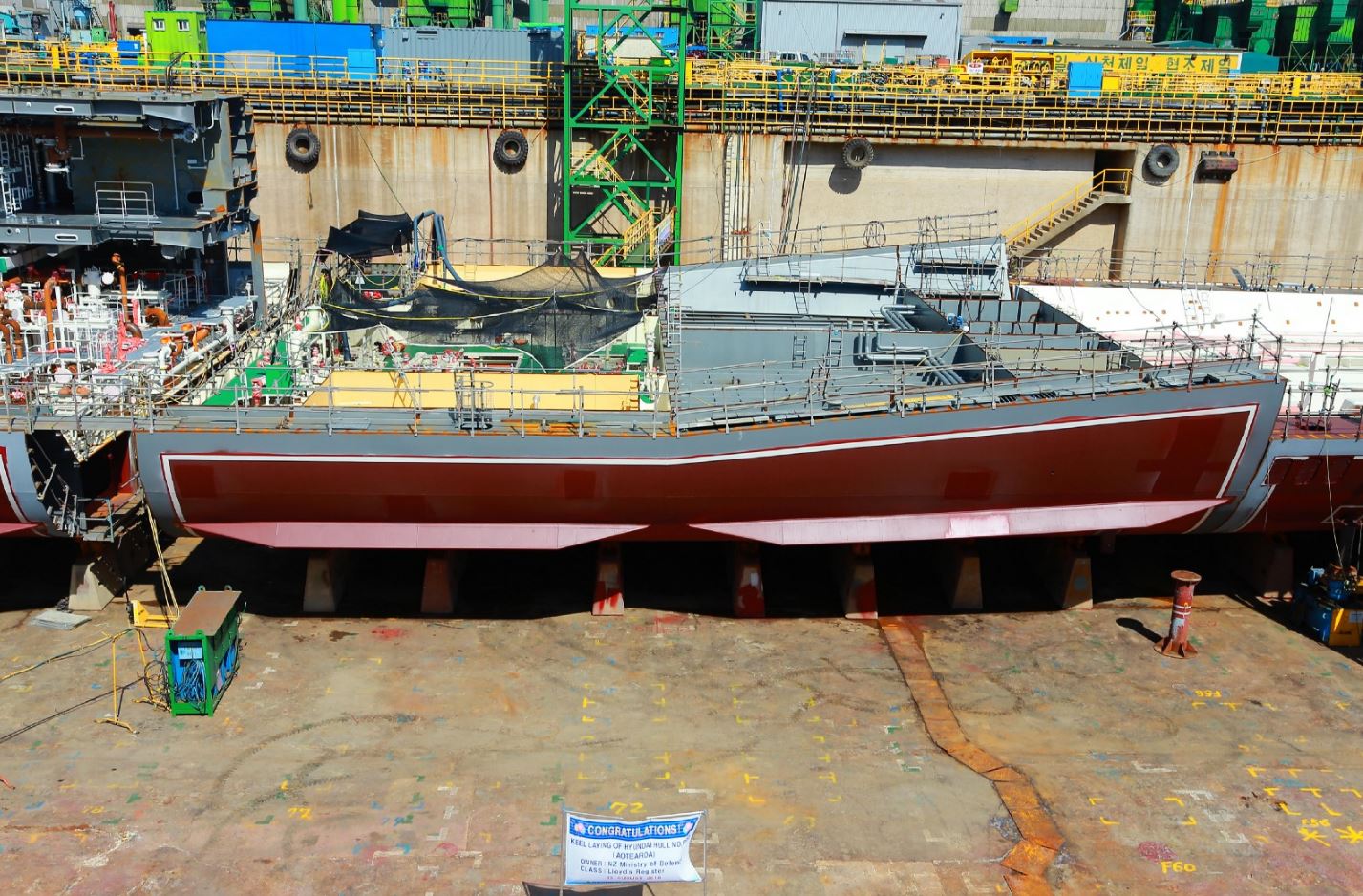 Aotearoa's keel laying consisted of more than 500 tonnes of carefully constructed keel blocks being positioned together in the dry dock, where she will continue to expand upwards and outwards until her launch date early next year.
Aotearoa represents the first of a new fleet of RNZN ships built specifically to address the global requirements of the New Zealand Defence Force and government agencies for deployment from Antarctica to the Arabian Gulf.
The keel laying ceremony took place some seven months after first steel was cut for the New Zealand Navy's largest vessel ever.
This is an exciting time for our Navy," said Chief of Navy Rear Admiral John Martin.
"It is filled with challenges and opportunities as we ready ourselves for Aotearoa, as well as our modernized frigates. It is these three ships on which our combat capability will be based."
HMNZS Aotearoa is designed to provide logistical support to New Zealand and coalition maritime, land and air units.
Her primary purpose is to conduct fuel resupply but she will also be capable of supplying dry goods, water, spare parts or ammunition. Her missions will include humanitarian and disaster relief, support to United Nations security operations, support to a coalition naval task group and Antarctic resupply.
The 173.2-meter-long ship will have the ability to carry 12 20-foot shipping containers, high-capacity freshwater generation plants, self-defense systems, aviation and marine fuel cargo tanks, dual all-electric replenishment-at-sea rigs and will be able to carry a Seaspite or NH90 helicopter. Aotearoa will displace 26,000 tonnes and will be operated by a crew of 64.
The ship's $493 million price tag includes the tanker's enhanced "winterization" capabilities, such as ice-strengthening for operations in Antarctica, including resupplying McMurdo Station and Scott Base. Predecessor tanker HMNZS Endeavour was not Antarctic-capable.