US Navy welcomes new PEO Submarines
Rear Adm. David A. Goggins relieved Rear Adm. Michael E. Jabaley as program executive officer (PEO) for submarines during a change of office ceremony at the Washington Navy Yard on August 17.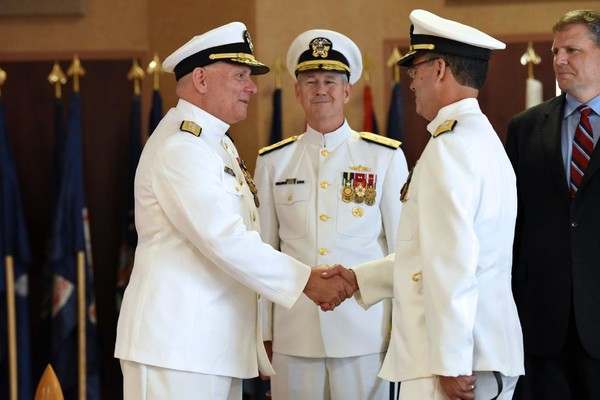 As PEO, Goggins is responsible for developing, acquiring and modernizing the US Navy's submarines and undersea systems.
"We've been charged with growing the submarine force for the navy the nation needs," Goggins said.
Goggins's most recent assignment was as program director, Columbia Class Submarine program office (PMS-397). Under his command, the Columbia program achieved Milestone B and began construction of the first common missile compartment.
Goggins's previous tours include assignments aboard USS Tecumseh (SSN 628), Supervisor of Shipbuilding, Conversion and Repair (SUPSHIP) Groton, Connecticut; and the Undersea Warfare division of the office of the Chief of Naval Operations (N97).
From 2012 to June 2015, he served as the Virginia Class Submarine program manager. Under his leadership, the Virginia program delivered three submarines to the fleet, started the initial design work on the Virginia Payload Module and acoustic superiority, and won the Department of Defense Value Engineering Award and the David A. Packard Award for Acquisition Excellence.
Jabaley had served as PEO since October 2015. He is retiring after 34 years of service that included assignments aboard USS Drum (SSN 677), USS Ohio (SSBN 726), USS City of Corpus Christi (SSN 705) and command of USS Louisville (SSN 724).
His ashore assignments included Naval Sea Systems Command vice commander, Virginia Class Submarine program manager and Naval Undersea Warfare Center commander.
PEO Submarines focuses on the design, construction, delivery and conversion of submarines and advanced undersea and anti-submarine systems including torpedoes, towed acoustics sensors and unique submarine sonar, control, imaging and electronic warfare systems.