US Navy, Air Force test new shallow-water mine tech during Valiant Shield
The US Navy and US Air Force teamed up to deploy and assess an updated shallow-water mine technology during the joint-force exercise Valiant Shield.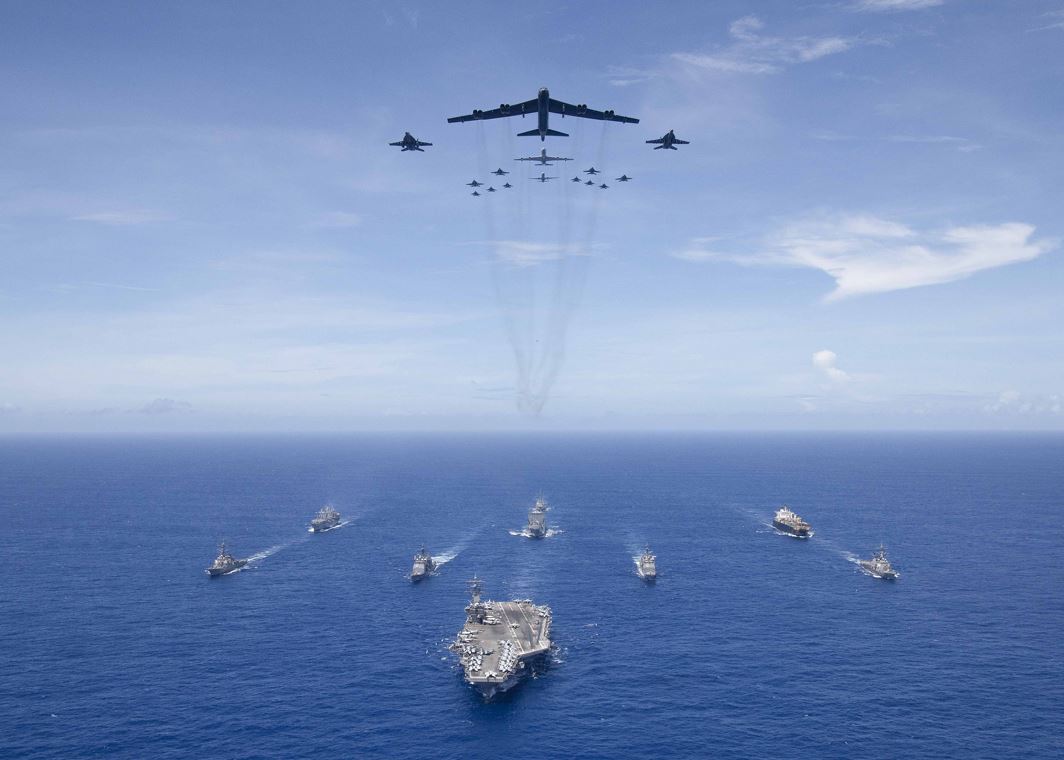 Air Force's B-52 bombers of the 96th Bomb Squadron and the Navy's P-8A Poseidon maritime patrol aircraft of Patrol Squadron Five (VP-5) tested the new technology in the Northern Marianas region.
"In the past, the mines were dropped by gravity weapons, so the B-52s and bombers had to be low to meet their accuracy," said Air Force Capt. Craig Quinnett, Quickstrike's B-52 test lead. "With Joint Direct Attack Munition (JDAM) and the quickstrike-extended range weapon we have the ability to deploy precision mines from a standoff role which gives us a huge capability."
Quinnett said that from a warfighter perspective, pilots would be able to precisely deploy their weapons to deny the enemy's ability to launch or navigate their ships, while maintaining a safe distance away from enemy weapons and vessels.
"There's the legacy quickstrike mines which have the standard parachute tail fin," said Jeffrey Dudgeon, of Indo-Pacific Command's Joint Innovation and Experimentation division. "In order to deploy them it requires carrying the load slow, getting close in, and making several small passes. What this weapon allows us to do is precision placement from altitude, at speed."
This year's demonstration stands out from previous iterations because of its improved long-range precision and its use of 2,000-pound quickstrike-extended range mines, over the previously tested 500-pound mines, Dudgeon said.
"The main goal for this demonstration is for us to look at the range of the weapon," said Dudgeon. "But just in general, since it's a new weapon, we are also looking for feedback from the warfighter on the process and how it's employed."
The quickstrike scenario incorporated two P-8A Poseidons to document and gather imagery of the demonstration for review.
"This was a good opportunity to work with our Air Force partners to increase interoperability," said Lt. Ken Flannery, VP-5's mission commander and tactical coordinator. "Of course, we're working across two United States branches, but different services have different ways of doing things. It's always a good opportunity to smooth out those seams and I think we did a good job at that today."
Following the successful test, the inert mines were recovered and are slated to be analyzed for data collection and weapon-component function analysis, in addition to reducing the overall environmental footprint of Exercise Valiant Shield and keeping the waters of the Marianas region clean.
"It's pretty awesome," said Air Force Tech Sgt. John Riggs, crew lead from the 96th Bomb Squadron. "This is one of the biggest exercises that we do, especially within the Pacific. It's good to work with all these different units and with our sister services. It's definitely something everyone should be proud of. You get to meet all of these different people, see all of these different aircraft working together to take out the bad guys."
Valiant Shield is a US only, biennial field training exercise with a focus on integration of joint training in a blue-water environment among US forces. This training enables real-world proficiency in sustaining joint forces through detecting, locating, tracking, and engaging units at sea, in the air, on land, and in cyberspace in response to a range of mission areas.