Polish sailors make use of Royal Navy training facilities
Polish Navy sailors assigned to frigate ORP Generał Kazimierz Pułaski recently used facilities at the Royal Navy training establishment HMS Raleigh ahead of their operational sea training.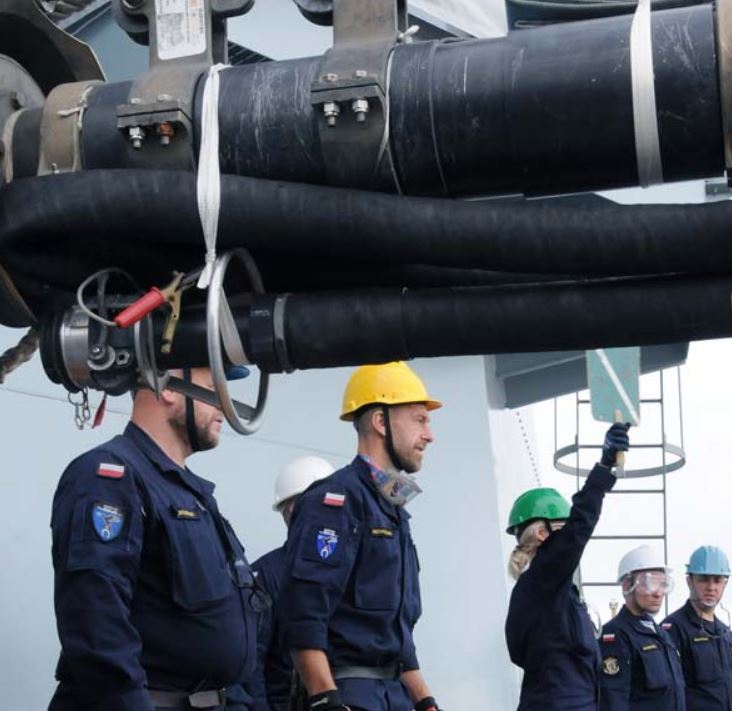 The former Oliver Hazard Perry-class frigate is in Plymouth for six weeks of training with Flag Officer Sea Training (FOST).
Training consists of one week's harbour training and then five weeks at sea, when the ship's company will be tested and assessed on their ability to operate in a range of scenarios.
At HMS Raleigh, the ship's seamanship team spent a day using the establishment's replenishment-at-sea training facility.
Known as the RAS trainer, the facility replicates the equipment found on warships and Royal Fleet Auxiliary vessels, to transfer stores and fuel from ship-to-ship, while underway at sea.
HMS Raleigh's RAS trainer was opened in 2014. It was originally built to trial equipment for the new Queen Elizabeth-class aircraft carriers, but was later remodeled for training.
The facility is now used to teach sailors what is, considered to be one of the most hazardous tasks undertaken at sea, in a safe and controlled environment.
The Royal Navy's FOST has established a worldwide reputation for providing operational sea training for all surface ships, submarines and Royal Fleet Auxiliaries of the Royal Navy and an increasing number of NATO and foreign navies.