US Coast Guard transfers two Island-class cutters to Ukraine
The US Coast Guard transferred two of its decommissioned Island-class cutters to Ukraine in a ceremony at the Coast Guard Yard in Baltimore, on September 27.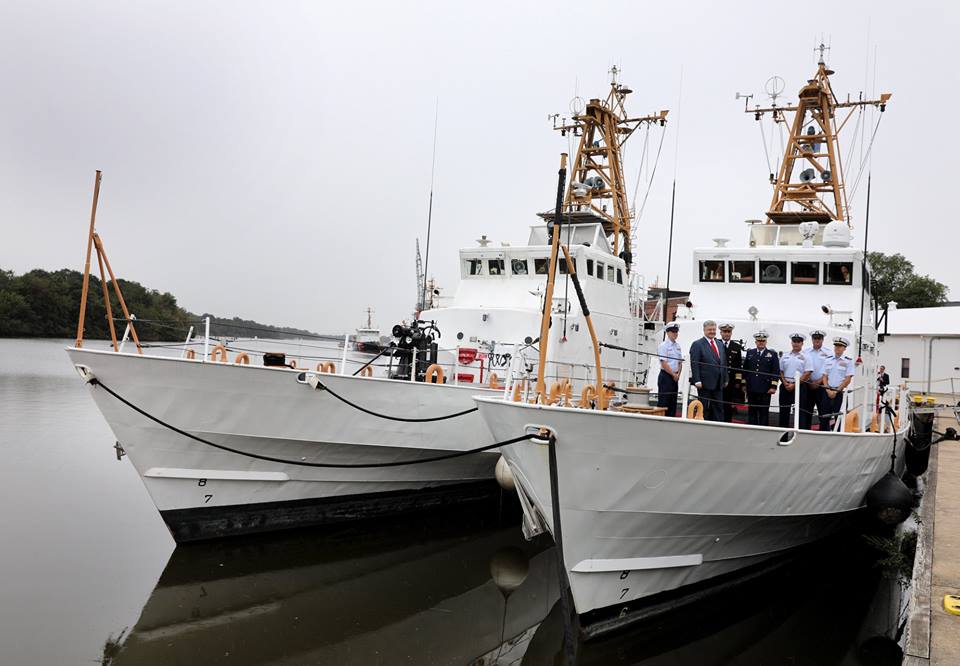 The ceremony was attended by US Coast Guard Vice Adm. Michael McAllister, Ukrainian Navy chief Vice Adm. Ihor Voronchenko, and Ukraine's president Petro Poroshenko.
"So far, we got over 1 billion of US dollars in security assistance from the US in support of the reforms of the Ukrainian national security and defense sector, support of the national security law and its implementation, which ensures interoperability of our army with that of USA and NATO," Petro Poroshenko said at the ceremony.
"We appreciate a recent decision by the US Congress even to increase this assistance. This is very supportive to our military allocations that already exceeded 6% of GDP."
While Ukraine did not pay for the two former Island-class cutters Drummond and Cushing, it will have to pay for transfer expenses and the subsequent training of Ukrainian maintenance crews.
The former cutters are scheduled to be shipped to Ukraine in fall 2019 after completing maintenance, upgrades, outfitting and training of Ukraine navy crews in the Baltimore area. The Coast Guard will provide new equipment and technical and training services worth $9.8 million.
The 110-foot Island-class cutters have been in service with the US Coast Guard since 1985 and are now being replaced Sentinel-class fast response cutters.
Decommissioned cutters in the class have so far been transferred to Georgia, Pakistan and Costa Rica while three cutters were sold to the Sea Shepherd Conservation Society.