F-35Bs land on HMS Queen Elizabeth for first time ever
The UK has once again joined the club of aircraft carrier operating nations as first F-35Bs landed on the flight deck of HMS Queen Elizabeth.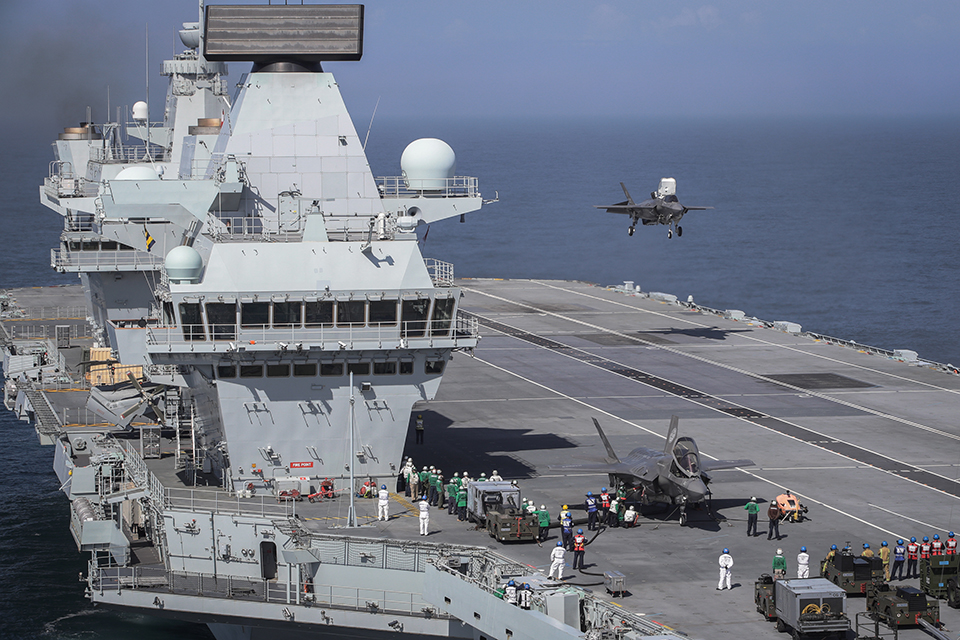 Royal Navy Commander Nathan Gray and RAF Squadron Leader Andy Edgell were the first pilots to make history by landing their F-35 Lightning stealth jets on the flight deck of Britain's newest carrier on September 25.
Shortly afterwards, Commander Gray became the first pilot to take off using the ship's ski ramp. The flying operations mark the start of more than 500 take-offs and landings set to take place from the warship over the next 11 weeks.
Speaking shortly after the first landing on Tuesday 25 September 2018, Commander Gray said:
"No words can explain how it felt to turn the corner at 500mph and see HMS Queen Elizabeth awaiting the arrival of her first F-35 jets. I feel incredibly privileged.
"For a naval aviator it is always a special moment when you spot the carrier in the distance, hidden within a grey expanse of ocean. HMS Queen Elizabeth is a floating city, home to hundreds of fellow sailors and Royal Marines, and it's been a particularly poignant day."
"Carrier Strike is a capability beyond the reach of most nations and no-one should under-estimate the amount of dedication, hard work and skill it has taken to get here," Royal Navy First Sea Lord, Adm Philip Jones, said.
THREAD: The moment we have all been waiting for has finally arrived. @HMSQNLZ is united with the F35B for the first time. pic.twitter.com/9bY2x3oBD3

— First Sea Lord (@AdmPhilipJones) September 28, 2018
Able to embark up to 24 of the supersonic jets, HMS Queen Elizabeth provides the Royal Navy with a capability possessed by few others.
Squadron Leader Edgell added: "It has taken an indescribable level of dogged determination and perseverance to achieve this incredible moment. We have written a little piece of history today, but look beyond this and are focusing now on what will be an extensive period of F-35 testing at sea."
The jets will be put through their paces over the coming weeks in a range of sea and weather conditions. Having then completed the trials, which are taking place off the east coast of the United States, the giant aircraft carrier is expected to visit New York.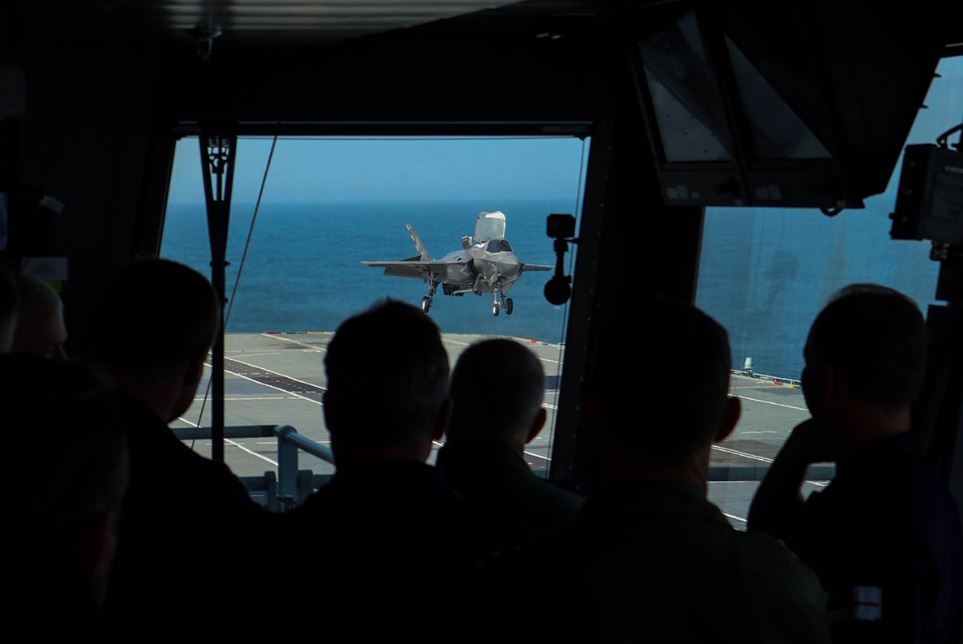 The commanding officer of HMS Queen Elizabeth, Captain Jerry Kyd, said: "I am quite emotional to be here in HMS Queen Elizabeth seeing the return of fixed-wing aviation, having been the captain of the aircraft carrier which launched the last Harrier at sea nearly eight years ago.
"The regeneration of big deck carriers able to operate globally, as we are proving here on this deployment, is a major step forward for the United Kingdom's defence and our ability to match the increasing pace of our adversaries. The first touch-downs of these impressive stealth jets shows how the United Kingdom will continue to be world leaders at sea for generations to come."
HMS Queen Elizabeth left her home port of Portsmouth in August, crossing the Atlantic to conduct the flying trials as well as training with the US Navy.
The deployment has also provided an opportunity for the UK's Carrier Strike Group headquarters team to sharpen their skills in a task group, having been joined on the deployment by Type 23 frigate HMS Monmouth, and a US Arleigh Burke-class destroyer the USS Lassen.
More than 1,400 sailors, flight crew and Royal Marines have been working on board the carrier during her deployment.
HMS Queen Elizabeth is on track to deploy on global operations from 2021. Meanwhile, the UK has now taken delivery of 16 out of a planned 138 F-35 jets that will be used by the Royal Navy and Royal Air Force.