Assault ship HMS Albion arrives in Oman for major exercise Saif Sareea
Royal Navy amphibious assault ship HMS Albion has arrived in Oman ahead of the start of an exercise that will see the involvement of over 4,000 British personnel.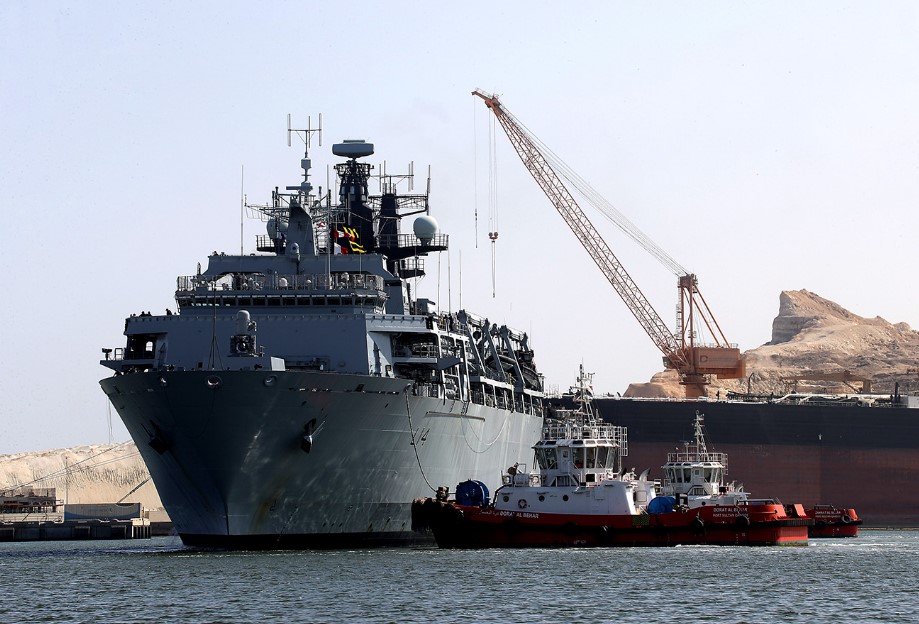 Exercise Saif Sareea (Swift Sword) is the largest combined military exercise for UK forces since 2002 and HMS Albion will be in charge of leading the naval element.
Assault ship HMS Albion – on the final leg of a nine-month deployment which has taken her as far east as Japan – spearheads substantial Royal Navy involvement in the exercise.
The Plymouth-based warship is the hub of an Amphibious Task Group which will comprise destroyer HMS Dragon, minehunters HMS Blyth and Ledbury, plus their support/command ship RFA Cardigan Bay, amphibious support vessel RFA Lyme Bay and the military ferry MV Anvil Point.
The tip of the amphibious spear is provided by the Royal Marines of 3 Commando Brigade and numerous constituent parts from the elite amphibious infantry of 40 Commando (based in Taunton), intelligence and information warfare experts of 30 Commando and gunners of 29 Commando Royal Artillery (both from Plymouth), 24 Commando Royal Engineers and Commando Logistic Regiment (both based at Chivenor in north Devon), landing craft/raiding craft specialists of 539 Assault Squadron (Devonport) and the Dorset-based armour of the Viking Squadron.
Joining them on the ground will be British armour and infantry. And overhead there will be aerial support courtesy of the RAF, Army Air Corps and Fleet Air Arm such as Merlin, Chinook, Wildcat and Apache helicopters from Joint Helicopter Command, RAF Typhoon jets and E-3D Sentry aircraft and the hosts own F-16s.
For Commodore James Parkin, Commander Amphibious Task Group, the exercise is a reminder – with many eyes fixed on HMS Queen Elizabeth and her F-35 Lightning jet trials in the USA – that Britain and the Royal Navy have "never left the amphibious game".
He said: "HMS Albion represents the very best of the British Armed Forces – able to deploy globally, crammed to the gunwales with modern weapons and sensors, and capable of putting a potent landing force of commandos from sea onto land, at a time and place of our choosing, without having to ask anyone else's permission.
Cdre Parkin continued: "Albion also represents the best of Britain too – right now she has a ship's company of 400 men and women, and 200 additional embarked staff and military forces, drawn from all corners of the United Kingdom and Commonwealth, from all backgrounds, ages, races, and religions. And with the enormous flight deck, and the cavernous well dock, full of Royal Marines fighting vehicles and landing craft, her sheer scale is as awe inspiring as to our friends as she is terrifying to our enemies."
Both Albion and the Royal Marines have been gearing up for Saif Sareea – staged roughly every 15 years, going back to the late 1980s – for the past few weeks, including joint amphibious exercises in the Adriatic (Albanian Lion) and Brunei.
The exercise is intended to reinforce the long-standing and close military relationship between Britain and Oman, taking the level of co-operation and ability to provide security and safeguard prosperity in a vital part of the world.
It will also be the most demanding test yet of Britain's new Joint Logistics Support Base at Duqm, a new port roughly half way between Oman's capital Muscat and Salalah.
The UK's facilities are designed to support Royal Navy and Royal Fleet Auxiliary vessels operating east of Suez.
Following Saif Sareea some elements of the task group will remain in the Middle East to support activity with other nations, while others – including Albion – will return to Britain to prepare for the UK assuming the duty as NATO's on-call Amphibious Task Force in January.