USS Michael Murphy visits PNG ahead of APEC 2018
The US Navy's guided-missile destroyer USS Michael Murphy (DDG 112) arrived in Port Moresby, Papua New Guinea, on October 6.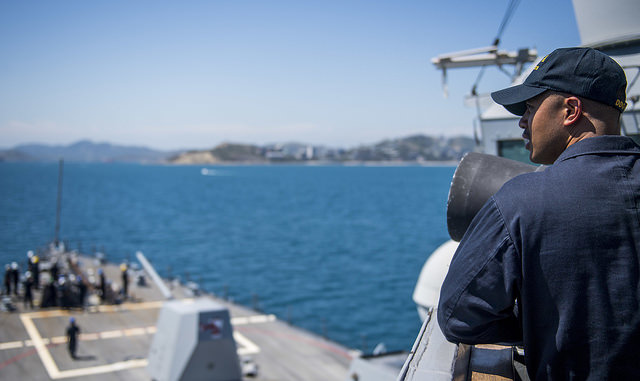 As the first US Navy ship to visit Port Moresby since USS Comstock (LSD 45) in 2017, Michael Murphy arrives as the nation prepares to host the Asia-Pacific Economic Cooperation (APEC) Leaders' Summit for the first time in November 2018.
As explained, port visits like this strengthen the navy's relationship with the maritime forces of Papua New Guinea. The port visit also follows Under Secretary of the Navy Thomas Modly's recent trip to Port Moresby in September in which he met with senior military and civilian officials to discuss shared maritime security issues.
While in port, the crew will conduct maritime training exercises, compete in sporting events, and participate in a ship rider agreement signing ceremony with the Papua New Guinea Defense Force. The ship rider program will provide PNGDF personnel opportunities to train with US Navy Sailors while experiencing life aboard US Navy ships.
"We are fortunate to have the unique opportunity to visit Papua New Guinea and continue to reinforce partnerships in the Western Pacific," Cmdr. Kevin Louis, commanding officer of Michael Murphy, said.
Michael Murphy is forward-deployed to the US 7th Fleet area of operations in support of security and stability in the Indo-Pacific region.
In September, Michael Murphy's crew participated in exercise Kakadu, the Royal Australian Navy's premier exercise where regional nations conduct multinational maritime humanitarian assistance, search and rescue operations and high-end maritime warfare scenarios.
The US 7th Fleet is the largest of forward-deployed US Fleets, with approximately 50 ships, 120 aircraft and 20,000 sailors and marines assigned at any given time.