The US Navy ships recently rescued distressed crews of two fishing boats in the Indian Ocean and South China Sea.
On October 7-8, the Arleigh Burke-class guided missile destroyer USS Decatur (DDG 73) provided assistance to seven mariners whose fishing boat had suffered an engine malfunction, rendering the vessel inoperable.
Decatur was conducting a routine patrol in the waters south of Sri Lanka on October 7 when watch standers sighted a fishing vessel with fishermen onboard frantically waving rags in the air. After pulling alongside the fishing vessel in a rigid-hull inflatable boat (RHIB), two of the fishermen were brought onboard Decatur. The fishermen stated that their vessel had experienced engine trouble and was unable to return to shore.
The Decatur crew immediately offered to provide medical and towing assistance. The fishermen requested for the ship to contact the Sri Lankan authorities. Decatur provided food and water to the fishermen while they waited for the arrival of the Sri Lankan Off-Shore Patrol Ship SLNS Jayesagara (P 601) which arrived on October 8.
In a separate case, the crew of Military Sealift Command's fleet ordnance and dry cargo ship USNS Wally Schirra (T-AKE 8) rescued five Filipino fishermen off an adrift and distressed boat in the South China Sea, on October 8.
According to the rescued individuals, all personnel from the boat survived despite being adrift for approximately five days.
Wally Schirra was conducting a routine mission when the watch officer and lookout spotted the individuals in apparent distress on an adrift boat.
"The individuals were waving their arms and a flag in the air. They were also flashing a white light that was previously thought to be a fishing buoy. The watch officer notified me, then the chief mate of a possible rescue situation," civilian mariner Capt. Keith Sauls, USNS Wally Schirra's master, said.
According to the fishermen, their boat sank October 3 after the hull was punctured by the bill of a blue marlin, estimated at 6-feet long and about 200 lbs.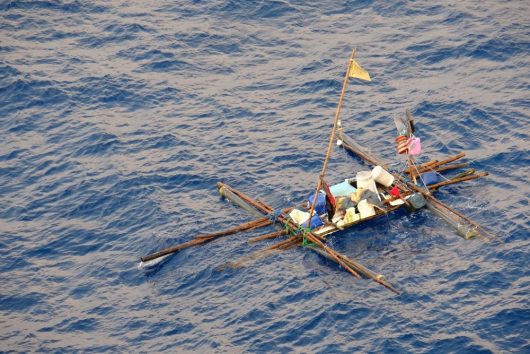 ---
"The fishermen salvaged what they could from the rapidly sinking boat, removing the outriggers and planks to turn it into a raft with floats and barrels underneath for floatation," civilian mariner Leon Hadley, chief mate, USNS Wally Schirra, said.
As the Wally Schirra closed the distance with the distressed boat, the fishermen entered the water and swam toward the Wally Schirra.
A rigid-hulled, inflatable boat and search and rescue swimmers deployed off the Wally Schirra and pulled the fishermen to safety. Aboard the Wally Schirra, an initial medical assessment and security search of the individuals and their possessions were conducted.
"We received the clearance to go into Subic Bay and the fishermen were transferred to the Philippine Coast Guard while at sea," Sauls further said.
Photo: Sri Lankan fisherman jumps and swims to a rigid-hull inflatable boat from the Arleigh Burke-class guided missile destroyer USS Decatur. Photo: US Navy
Related news
List of related news articles