Ike becomes first aircraft carrier to receive unmanned aviation warfare center
USS Dwight D. Eisenhower (CVN 69) (Ike) recently became the first US Navy aircraft carrier to be fitted with a carrier-based Unmanned Aviation Warfare Center (UAWC), the US Navy has announced.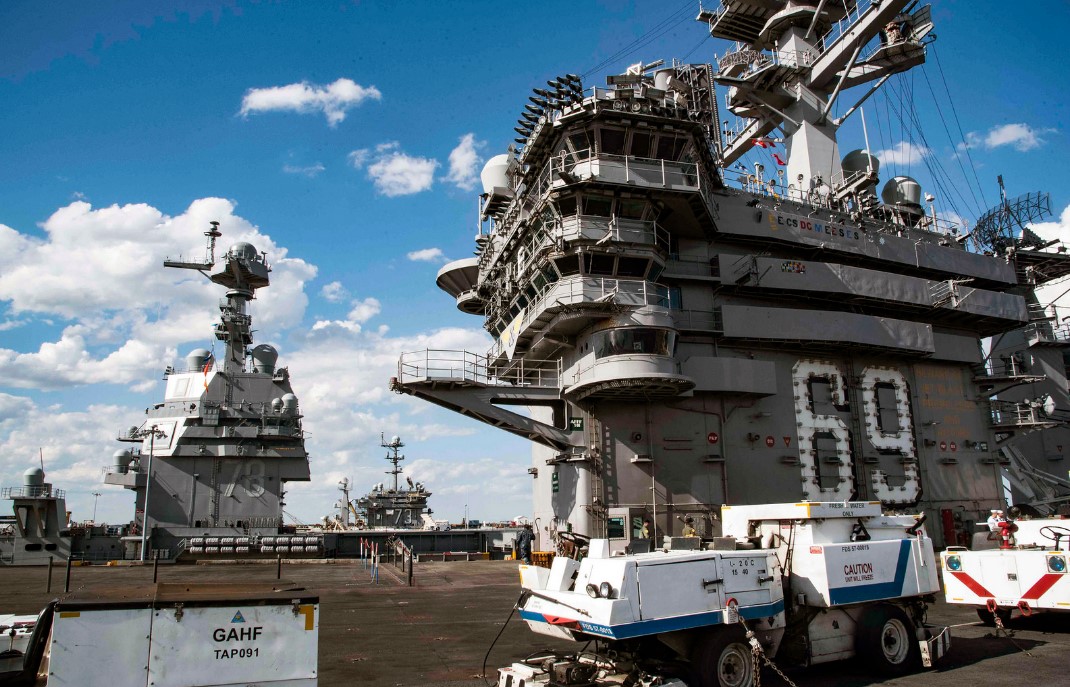 During a brief ceremony attended by Commander, Naval Air Force Atlantic, Rear Adm. Roy Kelley, and Commander, Carrier Strike Group (CSG) 10, Rear Adm. John Meier, representatives from the Unmanned Carrier Aviation Program Office (PMA-268) presented the ship's leadership with a wooden plaque commemorating the milestone. The plaque is expected to hang in the UAWC.
Ike is the first carrier to complete this first phase and be outfitted with the foundational, physical UAWC space. The second phase of installation will equip the UAWC with the systems necessary to operate the MQ-25 Stingray – the first operational, carrier-based unmanned refueling aircraft.
"I couldn't be prouder of Ike for being the first to have the UAWC on board," said Capt. Kyle Higgins, Ike's commanding officer. "The future of carrier aviation is right around the corner and Ike is making history with this modification. When this technology hits the fleet, it will be because of the pioneering work and partnership between 'Mighty' Ike and the Unmanned Carrier Aviation Program Office."
"We've learned valuable lessons aboard Ike during this alteration and installation process that will benefit the team for the remaining installation efforts," said Capt. Chad Reed, PMA-268 program manager. "The work completed aboard Ike is a pivotal first step in delivering game-changing capability to the carrier, air wing, and carrier strike group."
Once fully equipped, the UAWC will be the operations center for the MQ-25A Stingray. Operators will control the MQ-25 system from within the UAWC using the MD-5 control station, consisting of display, processing, networking, and communications hardware. The UAWC's video management system, consisting of large-format displays and support stations tied to multiple video and data feeds, will provide situational awareness of the flight deck and surrounding areas. The radio communication system exchanges ultra-high frequency command-and-control data between the MD-5 and the MQ-25A.
While the MD-5 is not yet installed aboard Ike, the video management and radio communication systems provide resources to Ike's crew for a host of other operational uses.
Dwight D. Eisenhower, a Nimitz-class nuclear-powered aircraft carrier, is currently undergoing routine maintenance at Norfolk Naval Shipyard in Portsmouth, Virginia, and is in the maintenance phase of the Optimized Fleet Response Plan.