The Royal Australian Navy commissioned its second air-warfare destroyer in a ceremony held at the Garden Island Naval Base in Sydney on October 27.
While being the second in her class, HMAS Brisbane (III) is the third Royal Australian Navy ship to bear the name.
Her motto, 'Aim At Higher Things', encompasses the navy's core objectives of being a fighting navy and a thinking navy.
Before an audience of dignitaries, family and friends, the Commander of the Australian Fleet, Rear Admiral Jonathan Mead, AM, RAN, welcomed Brisbane to the fleet.
During the ceremony the Governor-General of Australia, inspected the Brisbane's crew and HMAS Brisbane received a blessing. The Australian White Ensign was hoisted signifying completion of the commissioning. The crew marched onboard for the first time, where they cheered ship, as a mark of honor.
"My crew and I are honored to continue the name and proud history of Brisbane in the Royal Australian Navy and excited to be given the opportunity to realize the incredible capability she represents," Brisbane's commanding officer, Commander Josh Wilson, said.
Brisbane will now undergo her test and evaluation period where she will integrate into the fleet and navy personnel will train to operate the warship.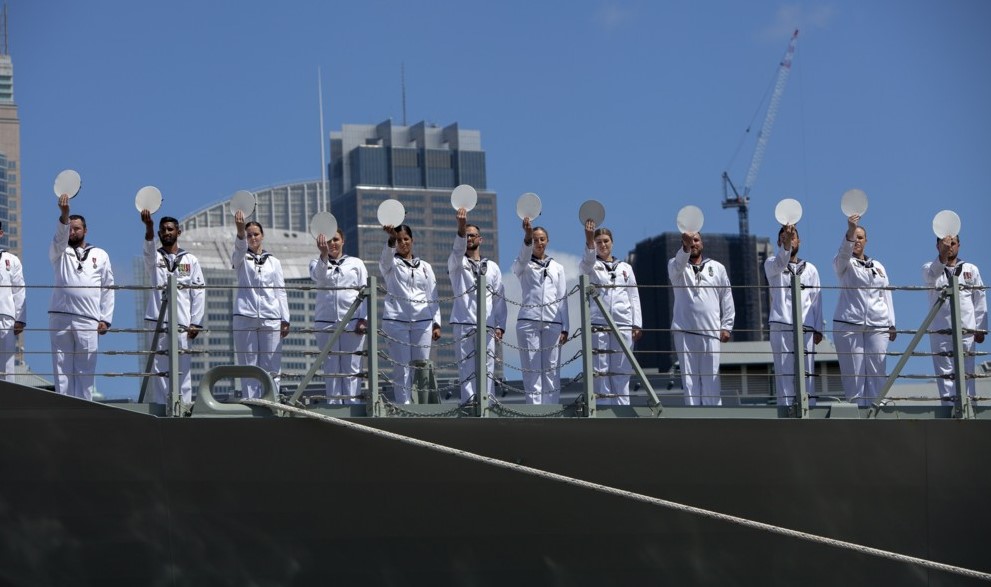 Hobart-class destroyers are built under an AU$9 billion program with ASC as primary shipbuilder and Spanish Navantia as the designer.
The ships are over 140 meters long, have a top speed of more than 28 knots, a range of about 5000 nautical miles and room for more than 200 crew members.
Based on Navantia's F100 design, the air warfare destroyers are equipped with the Aegis weapon system incorporating the AN/ SPY 1D(V) phased array radar in combination with the SM-2 missile.
The ships will provide an air defense system capable of engaging enemy aircraft and missiles at ranges in excess of 150 kilometers.
Photo: Members of the ship's company march on board during HMAS Brisbane's commissioning ceremony held at Garden Island, Sydney. Photo: Royal Australian Navy