Malaysian Boustead Naval Shipyard laid the keel for the Royal Malaysian Navy's fourth Maharaja Lela-class littoral combat ship in a ceremony on October 31.
The keel-laying ceremony for the 111-meter ship was held at Boustead's shipyard in Lumut, Perak.
The yet-unnamed LCS is the fourth of overall six ships in the class which will be built by Malaysian shipbuilder Boustead Holdings Berhad under a contract with the Malaysian defense ministry from July 2014.
The six frigates were designed by French DCNS (now Naval Group) as a modified, enlarged version of the company's Gowind corvette design.
Construction of the lead ship, the future KD Maharaja Lela (LCS 1), started in March 2016 and the ship was launched in August 2017. The ship is scheduled to be delivered to the navy by 2019.
As the Royal Malaysian Navy's prime surface combatants, the six ships in the class will displace 3,000 tons and will carry the Kongsberg-built Naval Strike Missile, MBDA's VL MICA missiles, a Bofors 57mm Mk3 gun in a stealth casing and an automated MSI Seahawk 30mm gun. For anti-submarine warfare, the ships will be fitted with J+S torpedo launcher systems, now delivered by UK-based company SEA.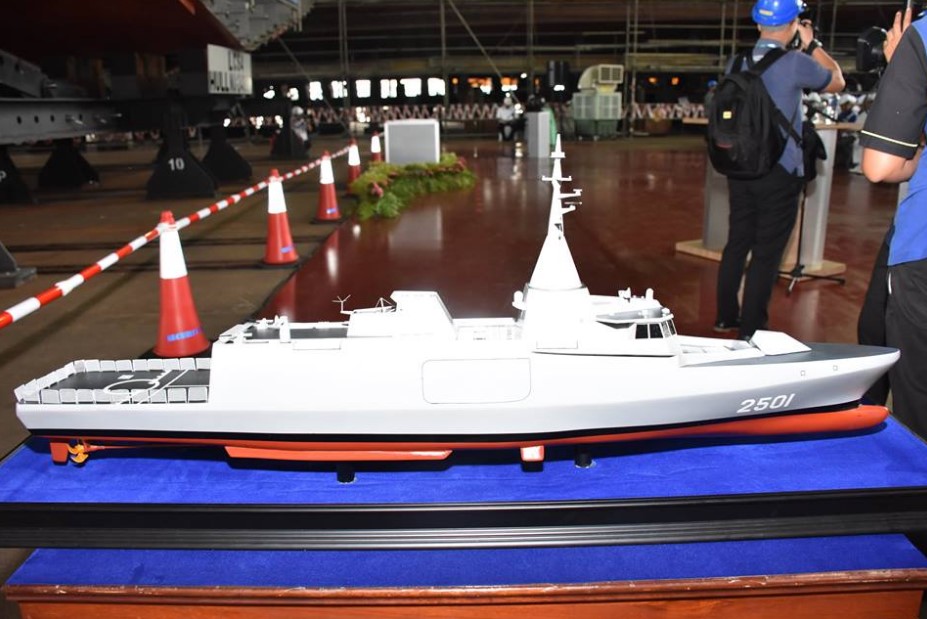 Photo: Photo: Royal Malaysian Navy
Related news
List of related news articles