Second Zumwalt-class destroyer sets sail for commissioning site
After being delivered to the US Navy in April this year, Zumwalt-class destroyer Michael Monsoor (DDG 1001) got underway from the General Dynamics' Bath Iron Works (BIW) shipyard in Bath, Maine.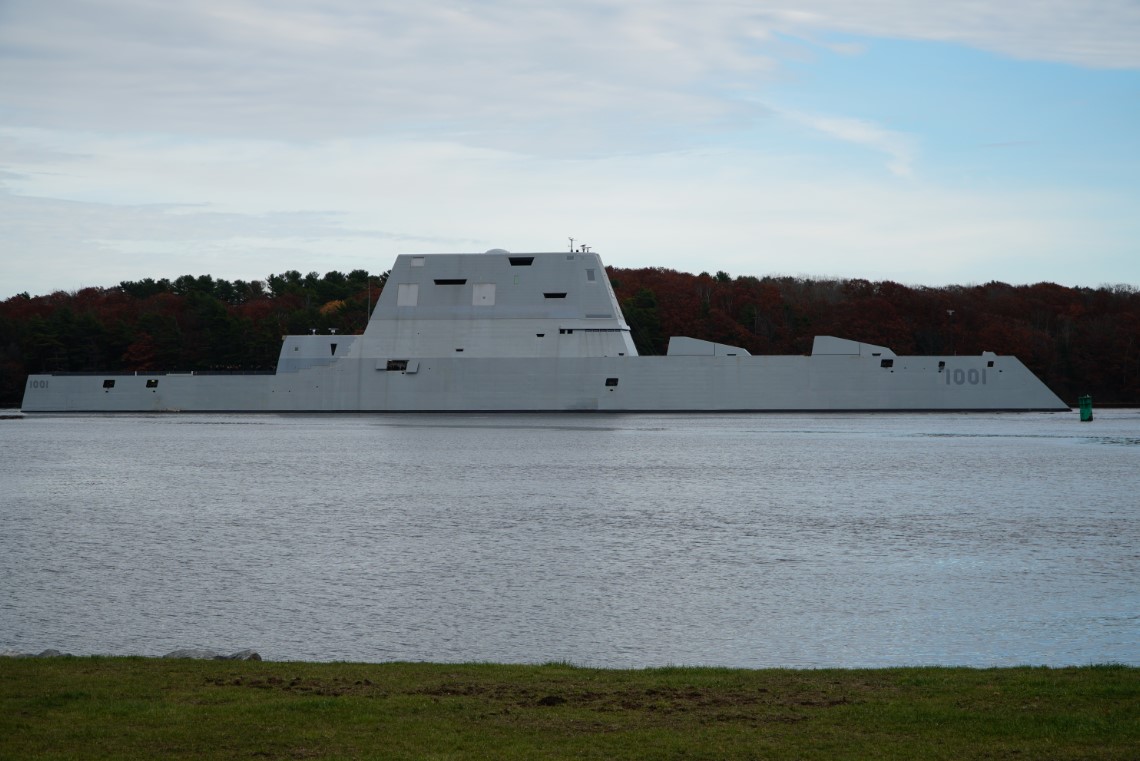 The guided missile destroyer set sail on November 9 en route to Coronado, California, where she is scheduled to be commissioned on January 26, 2019.
Once she enters service, the second Zumwalt-class ship will start her post delivery availability and combat systems activation.
As the ship's departure coincided with Veterans Day weekend, the ship's crew took time to reflect on the sacrifice of service members, such as Petty Officer Second Class Michael A. Monsoor. DDG 1001 was named in honor of Monsoor, a US Navy SEAL, who was posthumously awarded the Medal of Honor for his heroic actions while serving in Ramadi, Iraq As noted in the Medal of Honor citation, "by his undaunted courage, fighting spirit, and unwavering devotion to duty in the face of certain death, Petty Officer Monsoor selflessly gave his life for his country, thereby reflecting great credit upon himself and upholding the highest traditions of the United States Naval Service."
"Michael Monsoor was, in the words of his teammates, a big, tough frogman," said Capt. Scott M. Smith, commanding officer of PCU Michael Monsoor (DDG 1001). "DDG 1001 is also big and tough – made that way by the skilled and dedicated workers and operators of Bath Iron Works. We are proud of our ship and our association with the City of Ships."
The Navy accepted hull, mechanical and electrical (HM&E) delivery of DDG 1001 from shipbuilder BIW on April 24, 2018. Zumwalt-class ships are delivered through a two-phase approach in which combat systems are installed and activated subsequent to HM&E delivery. Following commissioning, Michael Monsoor will begin combat systems activation, testing and trials.
Like the first ship of the class, USS Zumwalt (DDG 1000), DDG 1001 employs an integrated power system (IPS) which distributes 1,000 volts of direct current across the ship. The IPS's unique architectural capabilities include the ability to allocate all 78 megawatts of installed power to propulsion, ship's service and combat system loads from the same gas turbine prime movers based on operational requirements.
The 610-foot, wave-piercing tumblehome ship design provides a wide array of advancements. The shape of the superstructure and the arrangement of its antennas significantly reduce radar cross section, making the ship less visible to enemy radar at sea.