Polish OPV 'Slazak' starts first sea trials
The Polish Navy's 95-meter offshore patrol vessel ORP Slazak got underway from Gdynia to start her first sea trials, 17 years after construction on the ship got underway.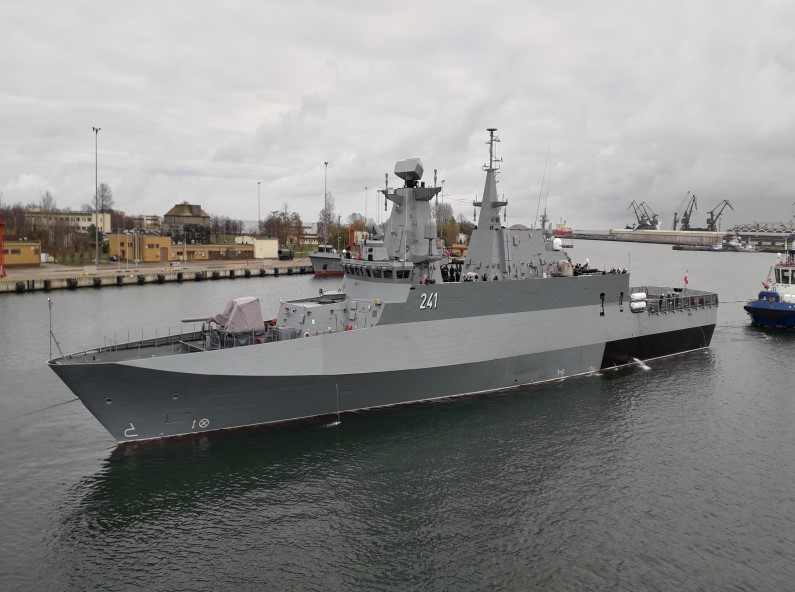 The Polish Navy hopes to receive the vessel by March 2019 when acceptance trials are expected to be completed and the vessel handed over to the navy.
Once in service, ORP Slazak will become part of the Polish Navy's 3rd Ship Flotilla, its main strike force.
Slazak was initially expected to be the first ship of a new class of Gawron-class corvettes. Despite the vessel's hull being launched in 2009, the entire project was cancelled in 2012. The government subsequently made the decision to convert the corvette into an offshore patrol vessel.
The converted vessel was to be delivered to the navy by November 2016. After that deadline was not met, Polish media reports indicated July 2018 as the new delivery date. According to most recent announcements, the Slazak should be joining the navy in March 2019.
The 95-meter-long ship is based on the Blohm + Voss' MEKO A100 design and displaces 1800 tons. It will be carrying a 76 mm OTO Melara gun, two Leonardo-built 30mm Marlin-WS guns, and four Grom man-portable air-defense short-range missile launchers.
Slazak is also equipped with the SMART-S Mk2 is the naval 3D air and surface surveillance radar and the Thales-delivered TACTICOS combat management system, STING-EO Mk2 fire control radar, MIRADOR electro-optical system and LINK 11/16 tactical data link.