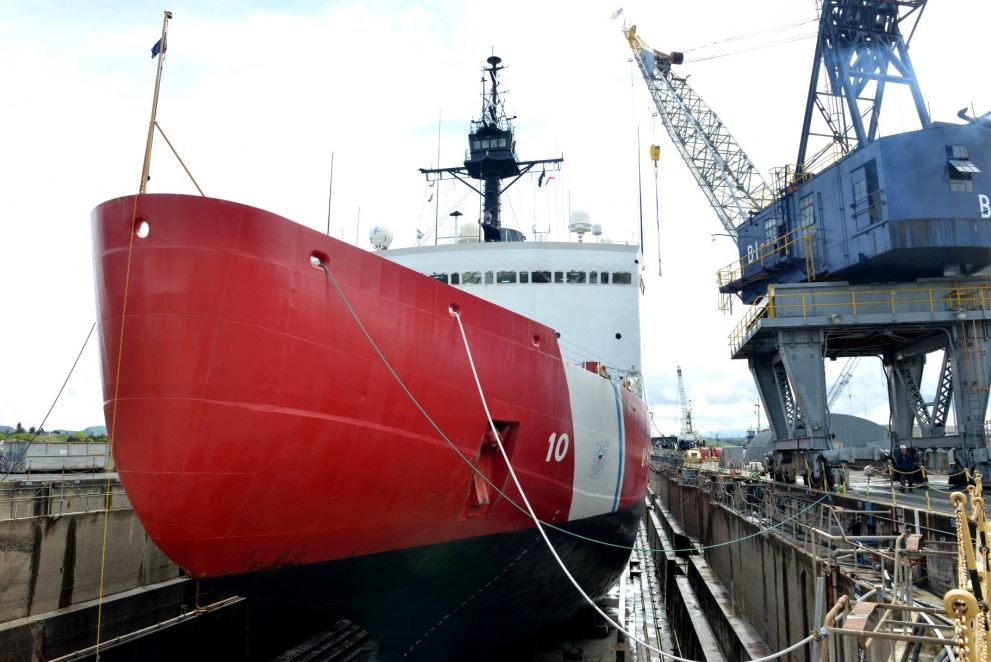 Article by: Peter Ong
---
The United States Coast Guard's only heavy operational Polar-class icebreaker, Polar Star, completed its annual scheduled refit at Mare Island, Vallejo, California, in a maintenance period riddled with challenges.
The forty-two year old ship returned from Operation Deep Freeze 2018, a voyage to resupply the McMurdo Antarctic research center on the southern tip of the Ross Island, on March 16, 2018. Less than a month later, the icebreaker arrived in California for the refit.
"The Coast Guard conducts aggressive annual maintenance and repairs on the ship to address and correct any issues that might affect CGC POLAR STAR's mission that particular year," explained the US Coast Guard Public Affairs Department at the Washington DC Headquarters.
While in Dry Dock at Vallejo, California, the United States Coast Guard Cutter (USCGC) Polar Star underwent a $7.6 million annual [2018] maintenance period that reflected previous maintenance done at Vallejo.
According to the "United States Coast Guard's Surface Forces Logistics Center: Specifications for Dry Dock Repair, FY2018," the 2018 maintenance covered hull plate inspections, shaft handling, inspection and cleaning of internal tanks, all propulsion shaft hub and seal removal, inspection, cleaning, and reinstallation, boiler inspection and cleaning, renewing of the Cathodic and Zinc protection, sewage tank inspection and cleaning, port and starboard crane inspection and repair, laundry room plate and bulkhead replace and repair, upgrading the life rafts to Navy Mark 7, repairing the CO cabin window, plumbing and sewage systems modifications, installation of new air conditioning units, maintenance on the electrical and firefighting systems, renewing the Fathometer, elevation and dumbwaiter recertification.
"The Coast Guard focuses their efforts during maintenance periods on the systems or components needed for CGC Polar Star's next mission, as CGC Polar Star cannot deploy until she is ready to complete the missions she is assigned," noted the US Coast Guard Public Affairs Department at the Washington DC Headquarters. "Differing ice conditions and missions vary each year, but the goal is always to be as proactive as possible and ensure the safety of the cutter and crew."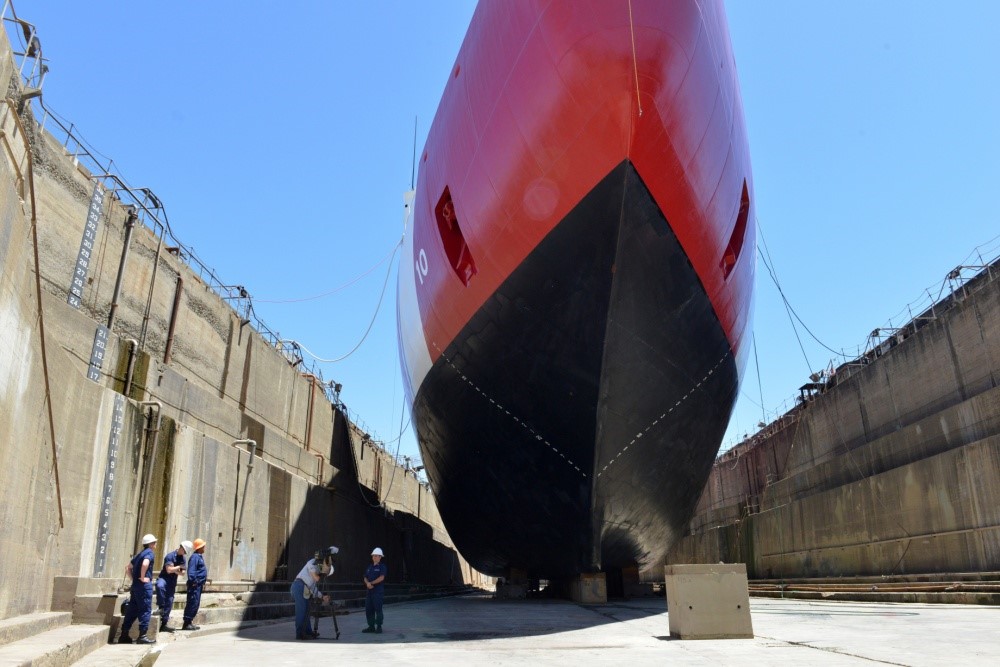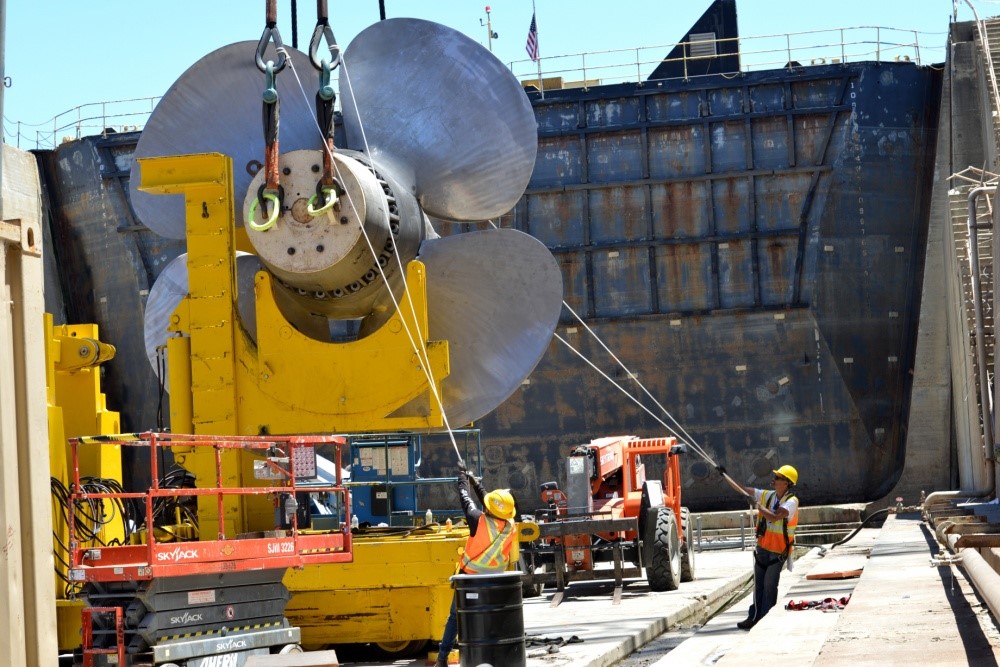 The icebreaker arrived in Dry Dock on 9 April, 2018 and "was in maintenance for 187 days, with an estimate of 135 days initially," LCDR Stephen W. Brickey, Public Affairs Officer for US Coast Guard, Pacific Area stated via email. The original plan was to have the CGC Polar Star undock and moored pierside for an additional forty-five days before sea trials. Sea trials were to be concluded no later than 22 August, 2018; however, an unexpected repair issue forced the CGC Polar Star to remain in Dry Dock for the entire 2018 Maintenance period and sail away from Dry Dock on 12 October, 2018.
LCDR Brickey explained the reason for the delay and why the Polar Star never undocked. "Additional work was done on the port propeller when we found a minor crack in it which extended the process. In addition, we are upgrading the electrical components and wiring to our generators, and that also delayed us in Dry Dock. Those were the two big ticket items to extend us; however we'd like to point out that we are still going to make deployment on time; the extensions did not delay in such a way as to cause concern for ODF [Operation Deep Freeze] [20]19."
The port propeller was repaired in Portland, Oregon, and all three propellers were serviced and are now ready for Operation Deep Freeze 2019.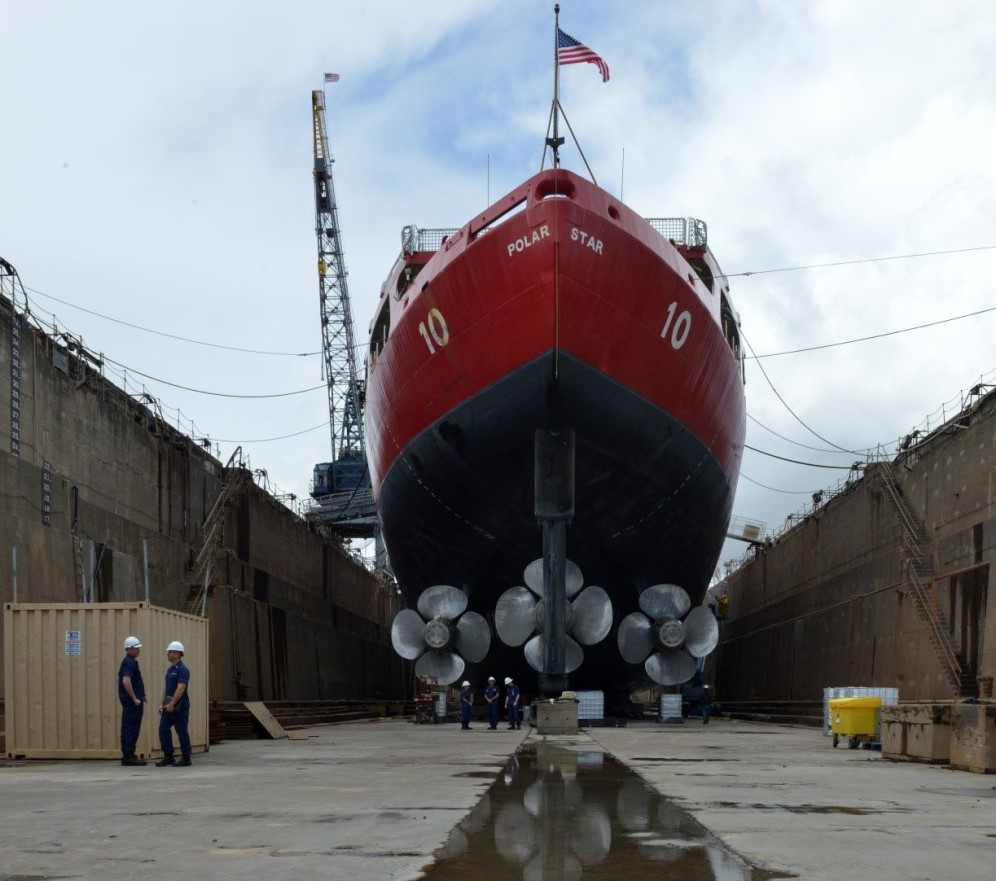 The Issue of Finding, Buying, and Fixing Spare Parts
As the United States' only remaining heavy Polar-class icebreaker ages past its intended 30-year service life, the Coast Guard is having a hard time finding the obsolete parts for this forty-two year old ship as the repair parts are long out of production.
For instance, some of the engine room's electrical components were made by Westinghouse, which went defunct in 1999. So the crew of the Polar Star creates a lot of their spare parts from scratch using lathes and metal milling machinery. Some of the motor control fuses were purchased from eBay and date back to the 1970s, but it's the only way to obtain them and is getting more difficult to find. Its sister ship, the Polar Sea, sits in Seattle in inactive mothball status and is being used for spare parts as it is too worn to be repaired and reactivated after a 2010 engine failure.
The Coast Guard explained the process of finding replacement parts for the Polar Star:
"Depending on the type of part and its lead time, either the Coast Guard or the contractor hired to complete the maintenance is responsible for obtaining parts. During the maintenance planning process our planning team will determine which course of action is the best value and most advantageous for the government.
"The Coast Guard uses, in order of precedence, the National Stock System, Original Equipment Manufacturer, all commercial sources, and CGC POLAR SEA as means to obtain spare components needed to maintain CGC Polar Star. In the past, online sources such as eBay have been used as a means to help identify a source of supply for specific parts or components that are difficult to obtain in the known commercial market. Repair of CGC Polar Star system is always the first choice, if repair is not an option, the Coast Guard will evaluate upgrading to a compatible part or removal from CGC POLAR SEA. Removing a part from CGC POLAR SEA is always the last option.
"The configuration of CGC POLAR SEA is virtually identical to that of CGC Polar Star. If we do remove a part from CGC POLAR SEA, it usually is a direct replacement. Since POLAR SEA is laid up, the condition of the parts are not new so they may require some form of refurbishment or repair before they can be used."
The Coast Guard has a plan if the replacement or bought part does not work.
"The Coast Guard uses a combination of repair, rework, renewal, or remanufactured components to ensure CGC POLAR STAR is ready to complete assigned missions. If a part that is bought or pulled does not work, then a variety of avenues are taken to determine why the part doesn't work, or, if some other component in the system is the root cause of the issue. Additionally, the Coast Guard may utilize working sub-components from a system to make the system operational. Overall, the Coast Guard employs as many troubleshooting techniques and repair options as necessary to return a system to operations.
"The Coast Guard makes every effort possible to repair failed machinery and systems as soon as possible whether the ship is in port or at sea. The Coast Guard employs a shore-side support structure to assist all Coast Guard ships in locating parts if spare parts are not available onboard. If a part is located, whether from a commercial vendor or the Coast Guard stock system, every effort is made to send the parts to the ship as quickly as possible for repairs to be conducted by [the] ship's crew."
The US Coast Guard Headquarters (USCG HQ) Public Affairs in Washington DC explained how they decide on what spare out-of-production electronic, mechanical, and engineering parts to obtain and replace.
"Two primary factors, lead time and supportability, are considered when the Coast Guard makes a determination on what spare parts to stock. The Coast Guard continuously evaluates the effectiveness of the planned preventative maintenance schedule and if inventory levels need to be adjusted. The Coast Guard also proactively replaces select components with lower lead-time or modern parts to increase supportability and reliability when those opportunities arise.
"As the ship was designed and constructed nearly a half-century ago, various components of the propulsion power distribution system and many ancillary systems are reaching the end of their service life and have diminishing sources of supply. These are older pieces of equipment that are unique (or have become unique) to POLAR Class Icebreakers. As a result, industry no longer supports these components, or if they do, lead times are very long. We are aware of the supply challenges for these parts and we consider this during our maintenance planning and execution process."
Despite being the United States' sole heavy icebreaker, not all the repairs are "at any cost necessary" as explained by the US Coast Guard Headquarters Public Affairs. "The Coast Guard is cost-conscious with the procurement of these parts. Given limited resources, funds required to procure unplanned parts or conduct unplanned repairs on CGC POLAR STAR detract from maintenance and repair for other Coast Guard ships and aircraft. However, the Coast Guard does not allow the cutter to leave port without being in a condition to execute its mission safely."
The Coast Guard also doesn't always keep and repair the original outdated systems around if they break. "Since the POLAR class icebreakers were delivered to the Coast Guard, many systems or components have been upgraded to models/types that are more supportable. A cost analysis is completed as part of the decision process to renew a system or component(s). The machinery and electrical systems original to the POLAR class icebreakers were appropriate for that time period. However, those systems are now nearly a half-century old, and modern technology can provide much more capability, reliability and supportability," USCG HQ Public Affairs said.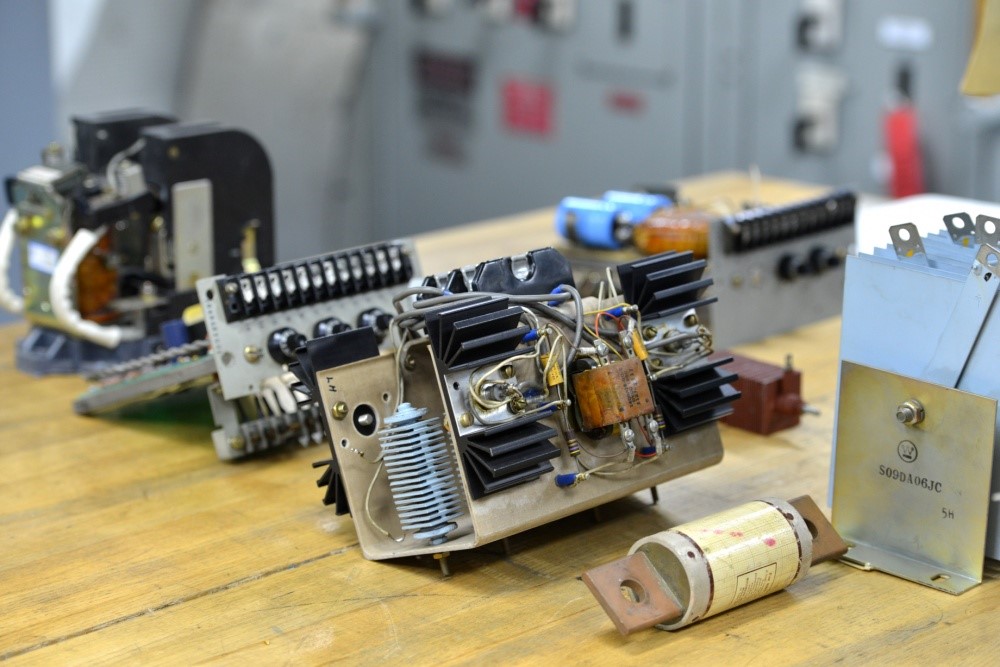 Instances exist where the icebreaker's crew performed repairs and replacements using their own skills and machinery either sailing on mission, or at the Dry Dock. "One recent instance was a failed bushing on the Oil Distribution Box, which controls the Controllable Pitch Propeller system," noted Coast Guard Headquarters. "The cutter was able to manufacture its own bushing with onboard material stock using an installed lathe."
Preparing for Operation Deep Freeze 2019
The Polar Star returned to homeport, Seattle, Washington, on Wednesday, October 17, 2018 after six months in dry dock and is expected to start its 2019 patrol in November/early December.
According to the Federal Contract online database, The National Science Foundation (NSF) submitted a new contract request for icebreaking services to McMurdo Station, Antarctica, for 2019. Due to the Polar Star's age, the NSF's contract states exploring other commercial and foreign government icebreaking services between 2018 and 2024 in case the Polar Star isn't available or suffers a propulsion-stopping mechanical breakdown in transit. Usually the Polar Star convoy arrangement is for one cargo ship arriving at McMurdo Station in 24 January and departing in 31 January. The other convoy ship, an oil tanker, arrives at McMurdo on 2 February and departs on 7 February. "[Operation] Deep Freeze [ODF] departure," said LCDR Brickley. "Polar Star normally leaves in late November/early December for ODF. We anticipate a similar timeline this year."
US Coast Guard Headquarters provided information on how the crew prepares for each Operation Deep Freeze Antarctic mission. "The crew procures only consumables (filters, oils, greases, light bulbs, etc.). The Coast Guard enterprise procures and stocks all other parts. Some of these parts are stored onboard the cutter but the majority are kept at remote inventory locations.
The parts stored on the cutter are ones that have high rates of usage or failure with direct impact to mission capability. The cutter deploys with the spare parts she needs to complete planned maintenance while on deployment along with a small number of spare components for systems that have a high impact to mission."
Normally, after each Operation Deep Freeze annual resupply mission, the USCGC Polar Star will enter dry dock again for its yearly inspection and repair maintenance.
The Future of the US Coast Guard Polar-class Heavy Icebreakers
The US Coast Guard released a Request for Proposal (RFP) in February 2018 for designs for a new heavy Polar-class icebreaker expected to be completed by 2023.
According to Admiral Schultz, the Coast Guard has a '6-3-1' approach for returning new icebreakers to the polar regions.
"We plan to build six Polar Security Cutters for the high-latitudes, at least three of which will be heavy, but we can't be in the Arctic the way America needs us unless we build one now," US Coast Guard Commandant Admiral Karl L. Schultz said.
"With only one operational heavy polar icebreaker, Polar Star, America is limited in its ability to project a presence in the Polar Regions, and it is falling behind other nations, such as Russia and China, in a region with critical geostrategic value," stated the Coast Guard.
"The Coast Guard has changed the name of the program from 'icebreakers' to Polar Security Cutters to better reflect the important national security mission these ships will fulfill. The Service is currently meeting the nation's most critical icebreaking demands with one heavy and one medium Polar Security Cutter; however, this is insufficient to provide year-round access, or offer self-rescue in the event of casualty [such as engine failure]. With the recently signed National Defense Authorization Act, Congress has authorized the Coast Guard to acquire up to six polar class (heavy) icebreakers. Funding appropriation is still pending."
The new US icebreakers may have accommodations for future armaments to reflect and counter Russia's upcoming 7,000-ton Ivan Papanin icebreaker, which may have space for anti-ship cruise missiles. (Russia already has forty-six conventional or nuclear powered icebreakers whereas China currently has one icebreaker and is building a second). The Department of the Navy's Office of Naval Sea Systems Command (NAVSEA) followed up this RFP solicitation on 2 August, 2018 with a list of requirements for the new heavy icebreaker.
Photo: USCGC Polar Star undergoing depot-level maintenance, April 16, 2018. Photo: US Coast Guard