USS John S. McCain re-floated in major post-collision milestone
US Navy destroyer USS John S. McCain (DDG 56) was floated out from dry dock on November 27 and moored pierside at Commander, Fleet Activities Yokosuka, where the ship is undergoing repairs after colliding with a merchant ship in August 2017.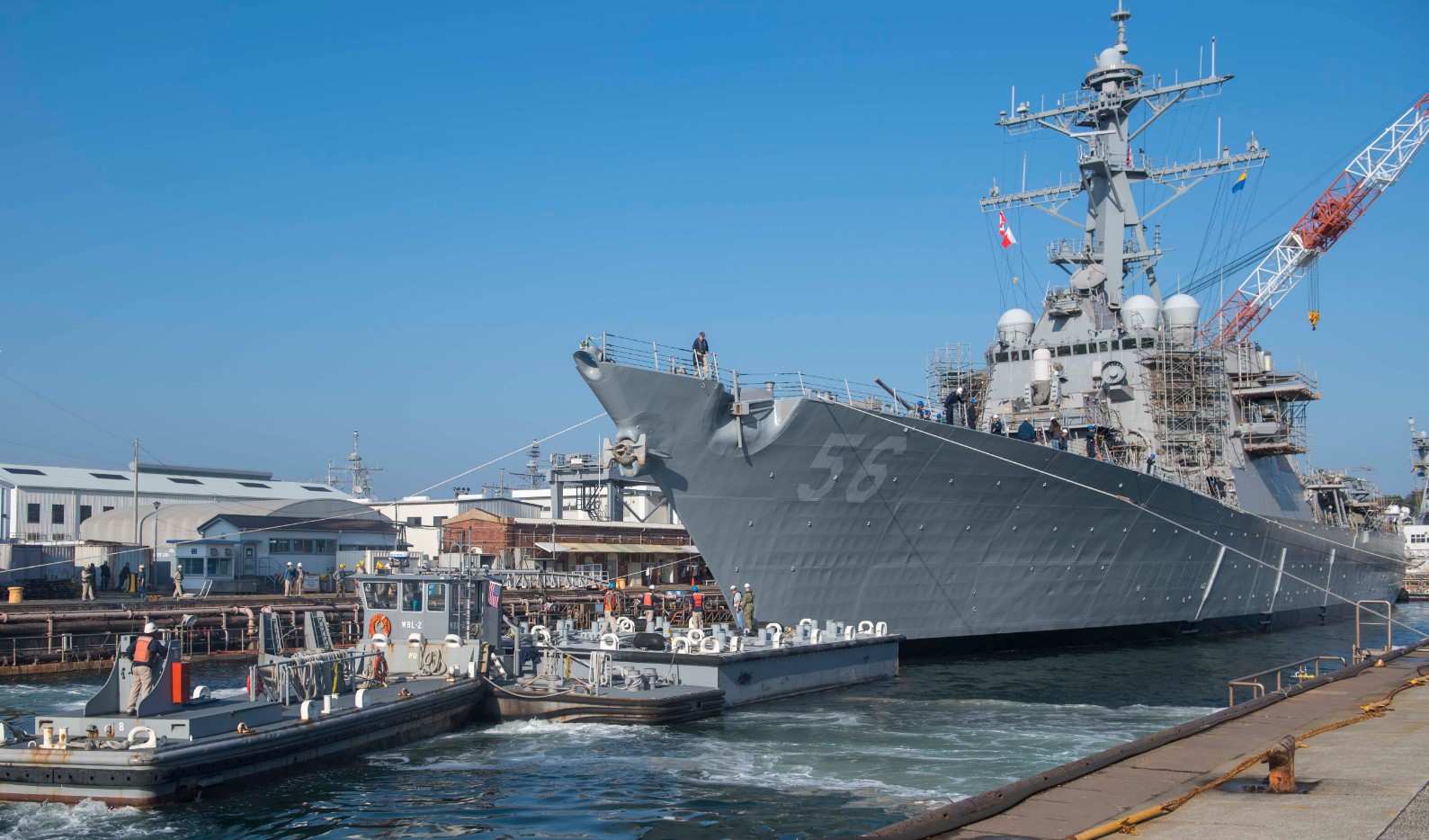 McCain's launch is an important step in the ongoing effort to repair and restore the ship, and reflects nearly a year's worth of wide-reaching and successful coordination across multiple organizations. The ship entered dry dock at the Navy's Ship Repair Facility and Japan Regional Maintenance Center (SRF-JRMC) Yokosuka in February.
The destroyer collided with merchant ship Alnic MC in the Singapore Strait on August 21, 2017. Significant damage to the McCain's hull resulted in flooding to nearby compartments, including crew berthing, machinery and communications rooms, resulting in the death of 10 US Navy sailors.
"After the initial repair assessments were conducted, we had to quickly mobilize and determine the most critical steps to develop an executable repair and modernization plan," explained Deputy Commander for Surface Warfare and Commander, Navy Regional Maintenance Center (CNRMC), Rear Adm. Jim Downey. "As we began the restoration process, we assembled cohesive teams capable of delivering both materially ready and more modernized ships to the fleet."
To begin the repair and restoration effort, the Navy immediately reached out to personnel at Bath Iron Works (BIW) in Bath, Maine. BIW is the company that originally constructed the ship and currently serves as the planning yard for work on in-service Arleigh Burke-class destroyers. The BIW employees worked alongside representatives from Naval Sea Systems Command's (NAVSEA) Supervisor of Shipbuilding, also in Bath, Maine, to conduct a material assessment of the ship. That information was then used by SRF-JRMC and the local Japanese repair contractor, Sumitomo Heavy Industries, to plan and execute the work ahead.
Today, McCain has a fully restored hull, a new port thrust shaft, and newly constructed berthing spaces.
The ongoing availability also includes completing maintenance work that had previously been deferred, which reflects the Navy's commitment to ensuring that required maintenance on ships is no longer deferred. Additionally, the US Pacific Fleet implemented a new force generation model to protect maintenance, training, and certification requirements prior to operational tasking for ships forward-deployed to Japan, like John S. McCain.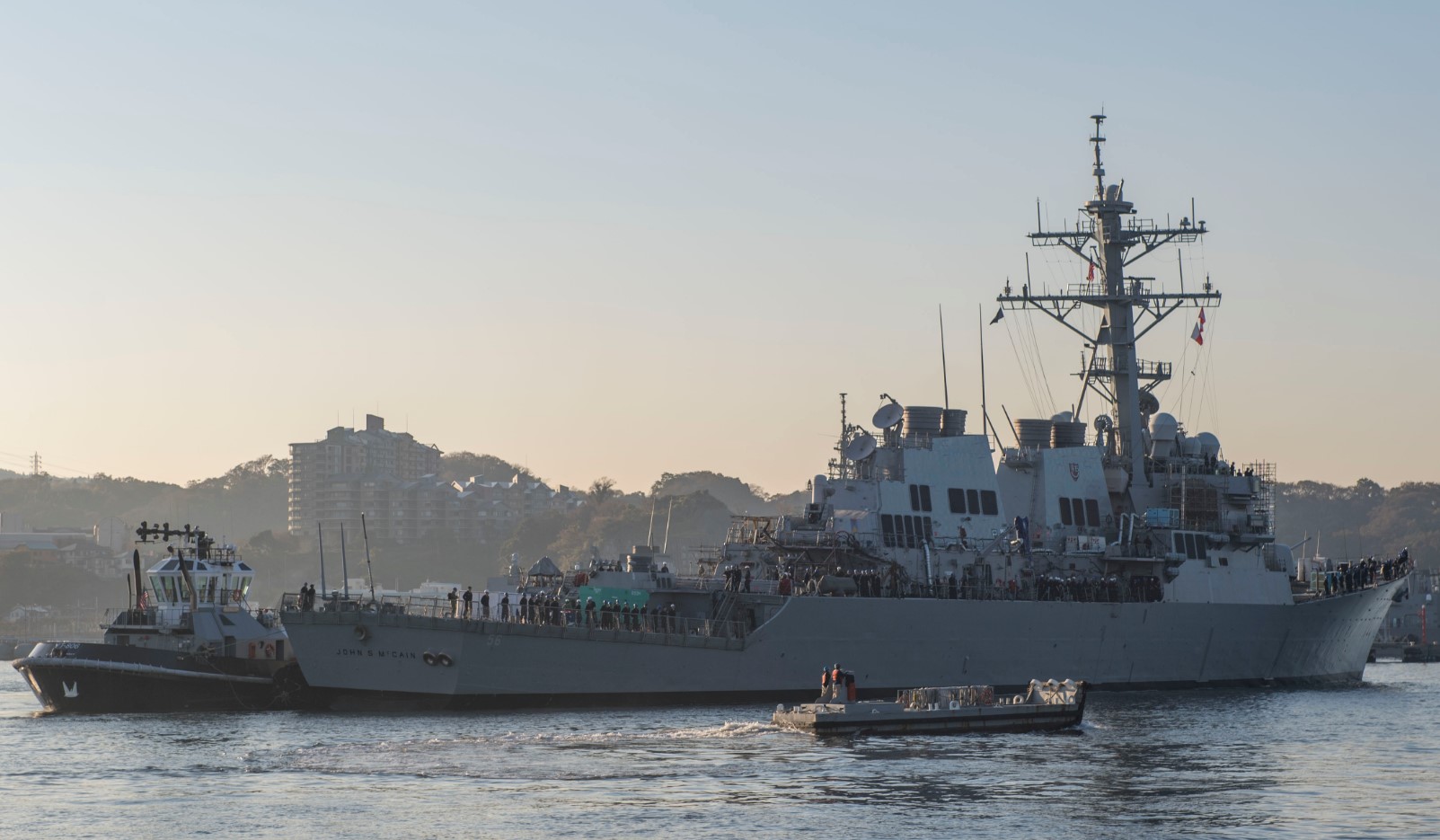 The ship's crew worked alongside personnel from NAVSEA's Naval Surface Warfare Center (NSWC) Philadelphia and Port Hueneme divisions who were challenged to develop a test plan concurrent with repair efforts.
"All key players and industry partners continue to execute the McCain effort with maximum intensity in an environment built on trust and shared goals," said Capt. Garrett Farman, SRF-JRMC commanding officer. "Our mission is to keep the 7th Fleet operationally ready, and everyone on the team recognizes the immense value that this mission brings to U.S. and Japan mutual interests in keeping our waters safe."
Over the next few months, efforts will focus on testing the repaired ship's systems in preparation for a return to operational tasking.
The Navy's enterprise leadership continues to make improvements with routine, close oversight provided by the fleet commanders and the Navy staff to generate ready ships and aircraft on-time and on-plan. Improved ship-class maintenance plans are capturing a more robust understanding of fleet maintenance requirements, and the elimination of work deferrals are improving the material condition of the fleet.
This summer, Secretary of the Navy Richard V. Spencer inducted Sen. John S. McCain III into the ship's official namesake alongside his father and grandfather in a ceremony on board, July 12. The crew's messdecks, known as the Maverick Café, re-opened for business on November 19, the late senator's birthday.