Royal Canadian Navy assumes command of Combined Task Force 150
The Royal Saudi Naval Force (RNSF) has handed over command of Combined Task Force 150 (CTF 150), one of three task forces operated by Combined Maritime Forces (CMF), to the Royal Canadian Navy (RCN).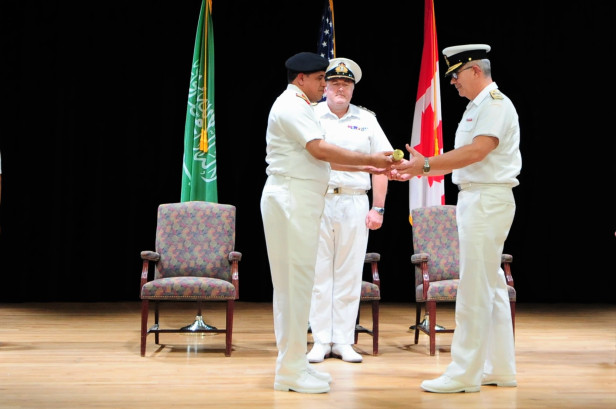 Commodore Darren Garnier of the Canadian Armed Forces (CAF) officially assumed command of CTF 150 on December 6, 2018, during a change of command ceremony held at CMF headquarters in Manama, Bahrain.
As informed, this is the third time that Canhashave taken command of CTF 150. Both the Royal Canadian Navy and the Royal Canadian Air Force provide military personnel to the CMF headquarters.
General Jonathan H. Vance, Chief of the Defence Staff expressed his support and confidence in Commodore Garnier's ability to fulfill the requirements of this command.
"I'm extremely proud of our commitment to counter-terrorism through enhanced maritime security in the Middle East, which ultimately makes us safer at home" General Vance said.
The Canadian command contingent consists of 29 CAF military personnel and one Department of National Defence civilian employee. They will join over 100 coalition members currently supporting the CMF.
The command contingent will be supported by personnel of the Royal Australian Navy. The combined nature of this team demonstrates the close relationship between Australia and Canada.
"On behalf of Canada and the entire incoming CTF 150 staff, I am honoured to assume command of CTF 150 and I can assure you that our joint Canadian and Australian Task Group has worked extremely hard to prepare for this important counter-terrorism mission," incoming Commander Commodore Garnier said.
RSNF's Commodore Al-Shahrani has commanded CTF150 since August 2018, a period which has seen ships from many CMF countries providing support to their counter-terrorism role in the Indian Ocean, resulting in over 10,500kg of hashish being seized and destroyed.
The principal mission of CTF 150 is to deter terrorism, narcotics smuggling, charcoal and other illegal activity in the maritime environment across an area of almost 3.2 million square miles, encompassing the Arabian Sea, Gulf of Oman, Gulf of Aden, Somali Basin and Southern Red Sea.
During the next four months, the Canadian-led team will continue their work to counter terrorism and drug smugglers and reassure legitimate users of the high seas while ensuring the free flow of commerce across the area of operations.