After making two narcotics interceptions in late November and early December, Royal Navy destroyer HMS Dragon has now carried out the largest drug haul in the history of the Bahrain-based Combined Maritime Forces (CMF).
According to CMF, Dragon seized and destroyed just shy of 10,000 kg of illegal narcotics, worth an estimated £35 million pounds locally, from two dhows.
During the drugs bust, the weather rapidly deteriorated, resulting in increasingly hazardous conditions. The ship's Wildcat helicopter was deployed to speed the process of transferring the drugs back to the warship.
"To achieve two major drugs busts in under 48 hours is a massive achievement for the team," Lt J Bennett RN, one of HMS Dragon's boarding officers, said. "Our Royal Navy and Royal Marine boarding teams worked long hours in very challenging sea conditions in order to remove nearly 10,000 kg of narcotics. Personnel had to endure heavy seas, large amounts of ship movement and a dangerous working environment; all while removing over 300 heavy bags of narcotics and transporting them to HMS Dragon successfully."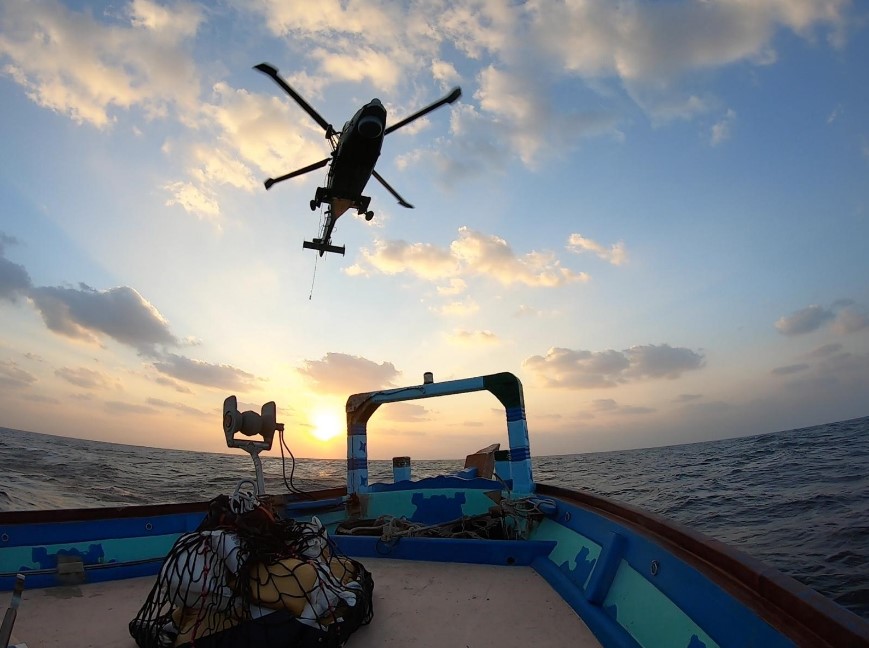 The two recent busts are HMS Dragon's third and fourth under Combined Task Force (CTF) 150 on this deployment. She has been operating in the region since November and is currently working alongside HMAS Ballarat in support to CFT 150.
The Task Force is led by Commodore Darren Garnier, Royal Canadian Navy, who said "HMS Dragon's successes under CTF 150 command is a testament to the effectiveness of CMF coalition maritime security operations in the Middle Eastern and East African regions in deterring and denying terrorists' use of the high seas for illegal activities. These drug seizures are directly taking the funding out of the pockets of terrorist organizations. A job well done to HMS Dragon and thank you for your continued efforts in support of CTF 150. Bravo Zulu!"
Photo: HMS Dragon crew pose with seized narcotics. Photo: CMF