USS Anchorage visits India
US Navy's amphibious transport dock USS Anchorage (LPD 23) arrived in Visakhapatnam, India, for a port visit, Dec. 22.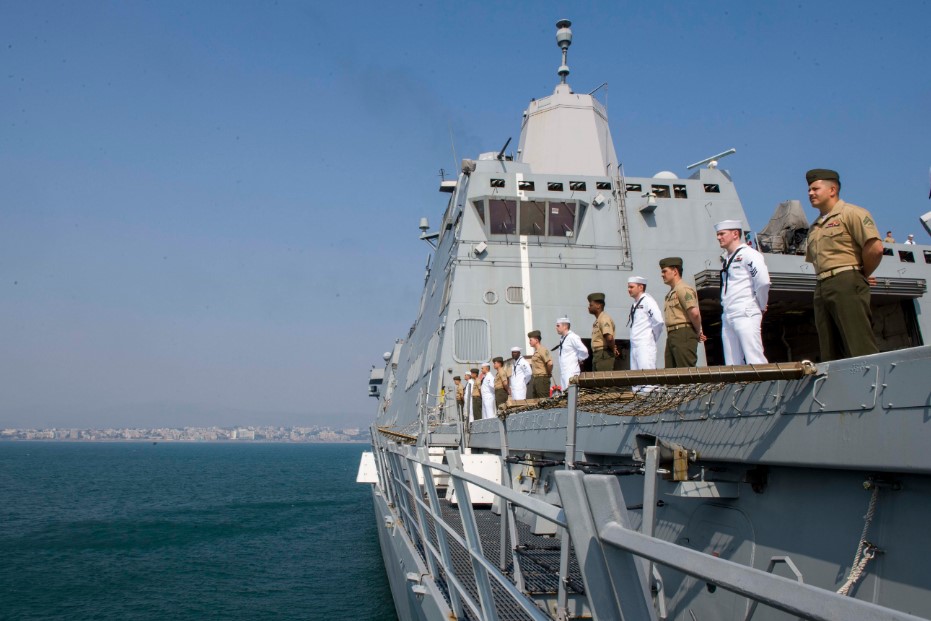 During the visit, sailors and marines will hold professional exchanges with their Indian Navy counterparts and have opportunities to explore the local area while on liberty over the holiday season.
"The engagement of the US Seventh Fleet both with India and with this region of India is a positive development," said US Consul General Katherine Hadda. "The United States, through our Consulate General in Hyderabad, has worked for ten years now to build up partnerships in Andhra Pradesh and across the district we serve, and we are proud that the first port-of-call for the USS Anchorage in India is here in Vizag."
Rear Adm. Brad Cooper, commander, Amphibious Force US 7th Fleet, lauded the work of both navies to strengthen partnerships.
"Our Navy and Marine Corps team is deeply committed to strengthening our partnership with the Indian Navy," said Cooper. "We are proud of the tremendous work that American Sailors and Marines are doing alongside their Indian teammates, providing security across a free and open Indo-Pacific."
Capt. Dennis Jacko, commanding officer of Anchorage, said sailors and marines are focused on the value of exchanges and representing America while in India.
"With amphibious assault ships like Anchorage, the United States Navy shares a common capability with our Indian counterparts," said Jacko. "Incredibly flexible, amphibious ships support a full range of missions from humanitarian disaster relief to forcible entry operations.
During the visit, more than 100 Indian distinguished visitors, naval officers and sailors, as well as 25 local students will tour Anchorage to learn about the ship's amphibious capabilities.
Additionally, sailors and marines will conduct subject-matter expert exchanges on humanitarian aid and disaster relief as well as maritime logistics.
In addition to the professional exchanges, Sailors and Marines will take part in sporting events, including cricket and kabaddi.
The port visit wraps up a busy year for both navies. At sea replenishments continued as part of the bilateral Logistics Exchange Memorandum of Association (LEMOA). In June, exercise Malabar was held off the coast of Guam, joined for the second time by the Japan Maritime Self-Defense Force (JMSDF). Malabar was followed by the Indian Navy's participation in exercise Rim of the Pacific (RIMPAC) this summer off the Hawaiian Islands. In October, members of US Navy P-8A and Indian Navy P-8I maritime patrol aircraft squadrons held a professional exchange in Goa, India.
Anchorage, which is part of the Essex Amphibious Ready Group (ARG), and the 13th MEU are deployed to the 7th fleet area of operations.