Operation Deep Freeze 2019 underway
Cargo operations are underway in Port Hueneme, Calif., where supplies and equipment are being loaded onto the Military Sealift Command charter ship MV Ocean Giant in preparation for delivery to the remote Antarctica outpost of McMurdo Station, in support of the annual resupply mission; Operation Deep Freeze 2019.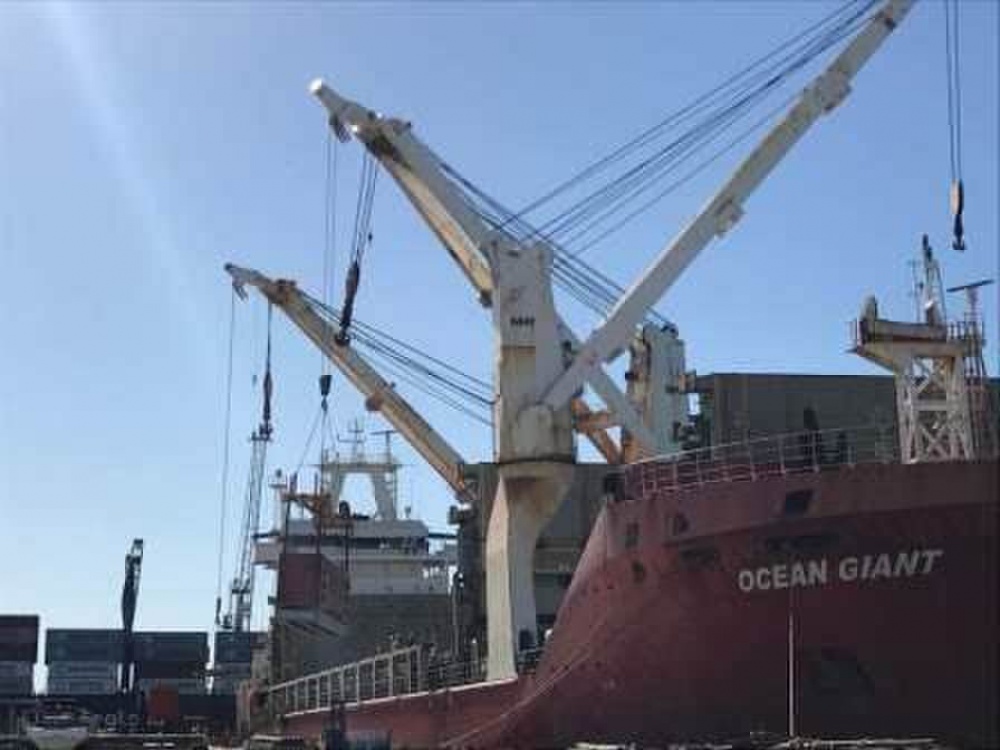 Since Dec. 26, a team from MSC including Navy Reservists from MSC's Expeditionary Port Unit (EPU) 114 have been coordinating all aspects of the loadout of nearly 7 million pounds of cargo.
The cargo consists of 498 containers filled will food, mechanical parts, vehicles, construction materials, office supplies and electronics equipment, and much more; 80 percent of the supplies needed the year's survival at McMurdo Station, Antarctica.
Loading cargo into the 560-foot Ocean Giant requires advanced planning. Weight differences in cargo, as well as the types of cargo loaded and the storage issues they have, require a specific load order, which is followed to the letter to ensure an on time departure.
Four members of EPU-114 are tasked with liaisoning with all the parties involved in the loadout which include Ocean Giant's crew, port workers, stevedores and members of the National Science Foundation.
For Cmdr. Kristian DeMonsi, EPU 114's commanding officer, working with civilian workers instead of military members has presented his team with a unique set of challenges that they haven't faced in other missions of this type.
"With civilian stevedores we have been limited with things like contract restraints and working hours which we don't normally have when working directly with the Navy," he explained. "It has been a little challenging, but everyone is professional and working to communicate and work together to meet the mission goals."
For EPU-114, who trains every month, the benefits of participating in a loadout such as ODF are worth it in terms of knowledge gained for future missions or contingencies. Working in Port Hueneme allows the Reservists to get to know the players in the area such as the port operations staff, as well as the layout of the port, staging areas, their sizes and locations, and area accommodations needed for personnel participating in mission. Future mission will also rely on lessons learned during this year's mission.
Ocean Giant will depart Port Hueneme later in the week. Following a stop in Christchurch, New Zealand, where the ship will load additional cargo, it will travel to the ice-pier at McMurdo Station, where members of Navy Cargo Handling Battalion ONE will conduct the offload. Before departing McMurdo station, Ocean Giant will be loaded with ice core samples that will be stored on the ship in sub-zero freezer containers. The ice core samples will be delivered to the United States for scientific study. In addition, retrograde cargo will be loaded onto the ship for transportation off the continent. These include trash and recyclable materials for disposal and equipment no longer required on the station.
Operation Deep Freeze is a joint service, on-going Defense Support to Civilian Authorities activity in support of the National Science Foundation (NSF), lead agency for the United States Antarctic Program. Mission support consists of active duty, Guard and Reserve personnel from the US Air Force, Navy, Army, and Coast Guard as well as Department of Defense civilians and attached non-DOD civilians. ODF operates from two primary locations situated at Christchurch, New Zealand and McMurdo Station, Antarctica. 2019 marks the 64th anniversary of the establishment of McMurdo station and its resupply mission which began in 1955. An MSC-chartered cargo ship and tanker have made the voyage to Antarctica every year since the station and its resupply mission were established in 1955.