USS Anchorage trains with Indian destroyer after port visit
US Navy amphibious transport dock ship USS Anchorage (LPD 23) took part in a cooperative deployment with Indian Navy destroyer INS Rajput (D51), December 26.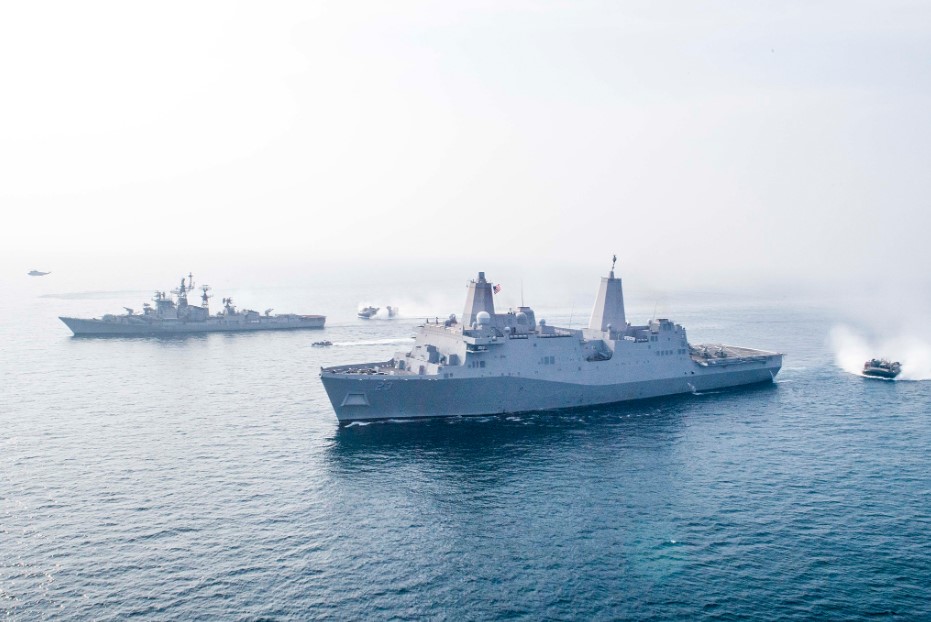 The at sea training followed a port visit to Visakhapatnam, India, Dec. 22-26.
During the port visit, the Anchorage and 13th MEU team held professional exchanges with their Indian naval counterparts on humanitarian assistance operations, cross deck helicopter landings, and maritime security operations which were exercised at sea.
The cooperative deployment featured the first use of the helicopter operations from ships other than aircraft carriers (HOSTAC) agreement to facilitate a helicopter cross-deck landing between the two navies when an Indian Navy helicopter landed on Anchorage.
"I could not be prouder of the superb work done by our Sailors and Marines while teaming in port and sailing at sea with our great friends from the Indian Navy," said Rear Adm. Brad Cooper, commander, Amphibious Force Seventh Fleet. "We are particularly thankful for the warm hospitality shown to the entire crew during their visit to Visakhapatnam and look forward to future opportunities to continue strengthening our partnership with the Indian Navy."
Capt. Dennis Jacko, commanding officer of Anchorage, expressed similar sentiments. "This exercise strengthened our combined capability with a partner that is very important to us in the INDO-PACOM region," said Jacko. "The Indian Navy is very professional and capable and they did an outstanding job displaying their maritime capabilities."
Additional events included embarking Indian landing craft on Anchorage, a maritime security demonstration and ship-rider exchanges underway.
"We have a shared interest in the security and stability of this region," said Jacko. "This exercise brought us closer together as partner militaries and also provided a great opportunity for the Sailors and Marines to experience Indian culture. We built strong relationships with our counterparts through both professional exchanges as well as social receptions on both Anchorage and INS Rajput."
Anchorage is deployed with the Essex Amphibious Ready Group (ARG) and 13th MEU. The Essex ARG/13th MEU is a Navy-Marine Corps team deployed to the 7th fleet area of operations.