US Navy aircraft carrier USS Carl Vinson (CVN 70) arrived at its new homeport at Naval Base Kitsap-Bremerton on January 20, completing a transit from Naval Air Station North Island in San Diego.
The navy did not publicize the carrier's journey, sharing only a couple of photos of the carrier as it transited the Puget Sound and Waterman Point en route to Bremerton.
Vinson is changing homeport to Bremerton while the Nimitz-class aircraft carrier USS John C. Stennis (CVN 74) undergoes its mid-life refueling overhaul in Newport News, Virginia. USS John C. Stennis is currently deployed to the Middle East and has spent the past 20 days operating in the Persian Gulf. Stennis is scheduled to begin the mid-life refueling in January 2021.
Meanwhile, USS Carl Vinson, which arrived in Bremerton with some 3,000 thousand crew, is scheduled to undergo a scheduled docking-planned incremental availability (DPIA) at Puget Sound Naval Shipyard. While a mid-life refueling overhaul usually takes four years to complete, a DPIA docking overhaul can take between 10 and 15 months to complete.
Carl Vinson is starting the overhaul after completing a 2018 deployment, taking part in exercise Rim of the Pacific and becoming the first US aircraft carrier to visit Vietnam in more than 40 years.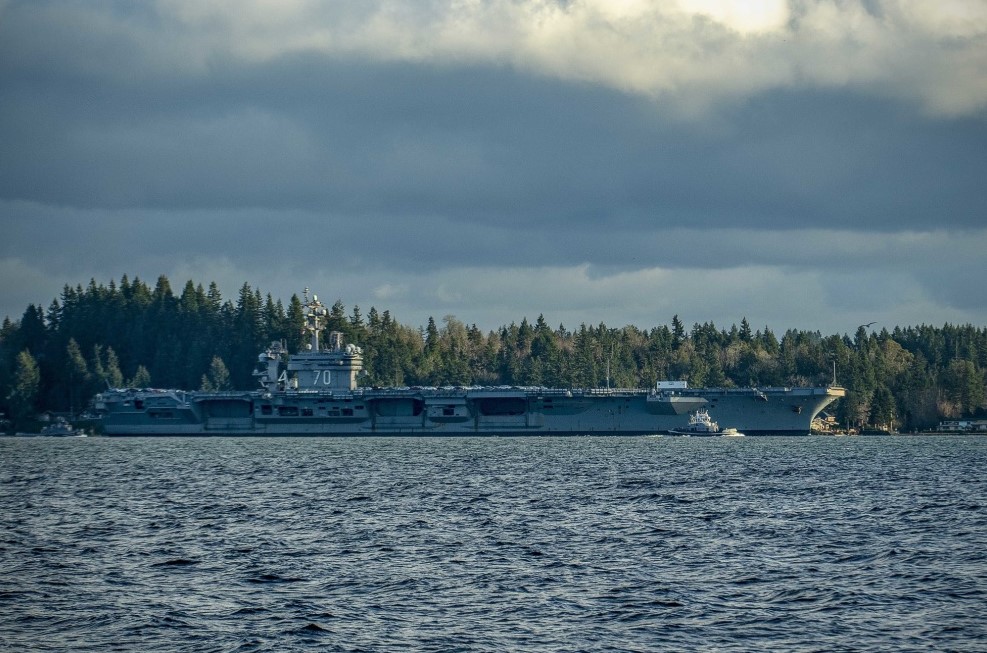 Three aircraft carrier homeport shifts
USS Carl Vinson's arrival at Bremerton is part of a wider scheme which will see three aircraft carriers change homeports.
In addition to Carl Vinson and John C. Stennis, USS Abraham Lincoln (CVN 72), currently located in Norfolk, Virginia, will rejoin the Pacific Fleet at the new San Diego homeport after completing a four-year overhaul in May 2017. USS Abraham Lincoln will deploy this April and will operate in the Mediterranean, the Red Sea, the Persian Gulf, the Indian Ocean, the South China Sea and the Pacific Ocean before arriving at San Diego.
Photo: USS Carl Vinson (CVN 70) sails past a Washington state ferry as it transits the Puget Sound on its way to Naval Base Kitsap-Bremerton. Photo: US Navy
Related news
List of related news articles