Canadian CH-148 returns from first operational deployment
Royal Canadian Navy frigate HMCS Ville de Québec returned to Halifax on Monday, completing a six-month deployment with Standing NATO Maritime Group Two (SNMG2).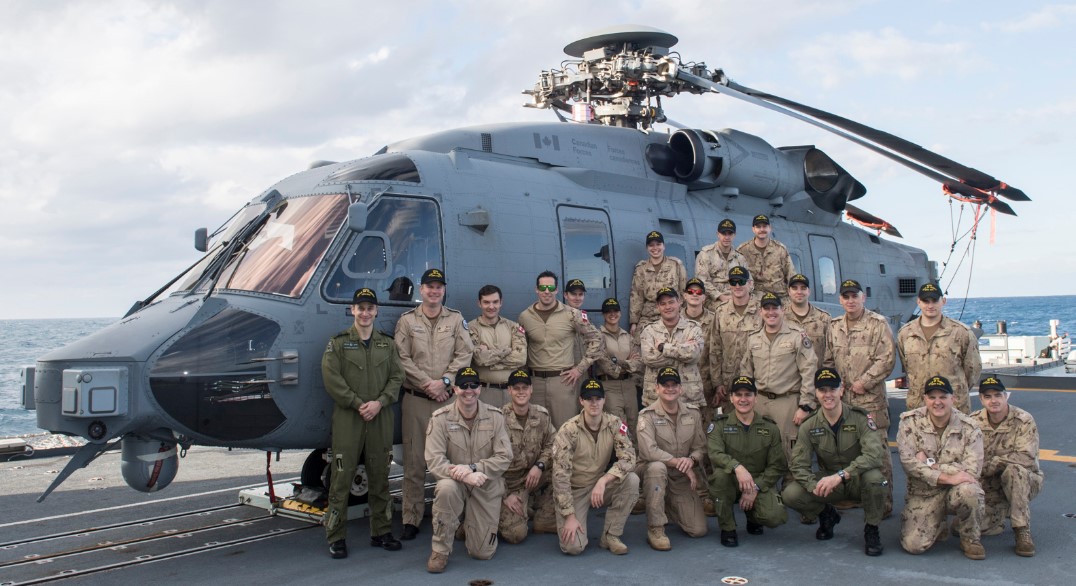 During the frigate's deployment in European waters, an embarked CH-148 Cyclone maritime helicopter completed its first operational deployment.
"The deployment of HMCS Ville de Québec on operation Reassurance marked an important milestone for the Royal Canadian Air Force – the first operational deployment of the new CH-148 Cyclone maritime helicopter," Major-General Christian Drouin, Commander 1 Canadian Air Division and Combined/Joint Forces Air Component Commander for the Canadian Joint Operations Command said.
"The Cyclone's performance on this deployment has proven it to be a state-of-the-art, combat-capable aircraft, which will do great service as the "Wings for the Fleet" for the Royal Canadian Navy for years to come. I have no doubt that the CH-148 detachment deploying on HMCS Toronto will continue to make the RCAF proud," Drouin added.
CH-148 Cyclone is replacing the CH-124 Sea King as Canada's main ship-borne maritime helicopter, providing air support to the Royal Canadian Navy. The new helicopter will carry out surface and subsurface surveillance and control, utility and search and rescue missions. It will also provide tactical transport for national and international security efforts.
The Sikorsky-built helicopter started first trials aboard a Royal Canadian Navy ship in 2010.
On January 19, 2019, HMCS Toronto left Halifax to take HMCS Ville de Québec's place as the maritime component of operation Reassurance, Canada's contribution to NATO's assurance and deterrence measures in Central and Eastern Europe.
HMCS Ville de Québec started to support NATO assurance and deterrence measures on July 19, 2018, and joined Standing NATO Maritime Group Two (SNMG2) on its way to the Mediterranean Sea. SNMG2 is a naval task force made up of ships from various allied countries that work together for a common purpose.
This was the first time that HMCS Ville de Québec has deployed on operation Reassurance.
HMCS Ville de Québec is a Halifax-class frigate. It has a crew of approximately 240 personnel of all ranks. This includes an enhanced naval boarding party and the CH-148 Cyclone helicopter air detachment.
HMCS Ville de Québec deployed for 190 days, sailing over 32,800 nautical miles. The ship conducted 14 operational ports of call in 12 countries in Europe, Africa, Asia and the Middle East. During the deployment, HMCS Ville de Québec participated in exercise Trident Juncture 2018, a multinational exercise consisting of approximately 50,000 personnel, 250 aircraft and 65 vessels from 31 NATO Allies and partner nations.
HMCS Ville de Québec also participated in five cooperative deployments with ships of the Japanese Maritime Self Defence Force and Tunisian, Algerian, Turkish and Egyptian Navies. The ship hosted events onboard on behalf of the Canadian Ambassadors to Tunisia, Algeria and Israel, helping to strengthen Canada's ties with the international community.
The helicopter air detachment (HELAIRDET) and its CH-148 Cyclone helicopter flew over 500 hours during 170 sorties, 54 of which were Maritime Security Awareness surveillance patrols in support of NATO's operation Sea Guardian.