France officially orders four FLOTLOG replenishment ships under €1.7 b contract
The French defense procurement agency "Direction Générale de l'Armement" (DGA) on January 30 signed a €1.7 billion contract for the procurement of four new Logistic Support Ships (LSS) for the French Navy as part of the country's FLOTLOG (Flotte logistique) program.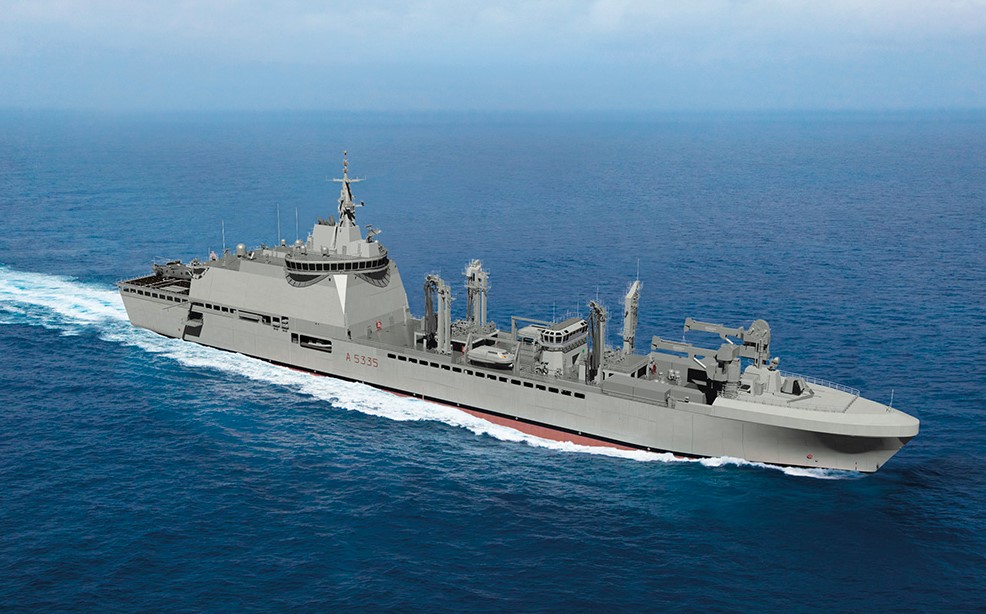 The contract signing comes three months after France joined the LSS program which is led by Organisation Conjointe de Coopération en matière d'Armement (OCCAR).
The LSSs ordered for the French Navy will be based on the design of the LSS Vulcano which is currently being built by Italian shipbuilder Fincantieri for the Italian Navy.
FLOTLOG ships will be built Chantiers de l'Atlantique and Naval Group in cooperation with Fincantieri who will provide technical assistance and deliver some parts of the hull.
Chantiers de l'Atlantique will be in charge of the design and construction of the ships. Given the current heavy load of the shipyard and in order to enhance industrial synergies, the construction of the forward hull section of the vessels could be outsourced to Fincantieri, the company said in a stetement.
Naval Group will be responsible for the design, supply and integration of the combat and military systems (aviation, ammunition, immunisation). The company is also responsible for certain functions such as cyber security, and electromagnetic compatibility.
The first two French units are scheduled to be delivered by 2025. The LSS will replace the Marine Nationale's single-hulled Durance-class replenishment ships which entered service in the 1970s and 80s.
The Italian version of the LSS is 193 meters long and will be equipped with a hospital and healthcare capabilities with operating rooms, radiology and analysis rooms, a dentist's office and hospital rooms that will be capable of hosting up to 17 seriously injured patients.
The ship combines capacity to transport and transfer liquids (diesel fuel, jet fuel, fresh water) and solids (emergency spare parts, food and ammunitions) and to perform at sea repairs and maintenance work for other vessels.
According to Fincantieri, Vulcano's defense systems are limited to command and control in tactical scenarios but the vessel is also capable of embarking more complex defense systems and becoming an intelligence and electronic warfare platform.
The French LSS could be fitted with naval guns and missiles, according to a report from Navy Recognition.