First proposal for the Royal Navy's new Littoral Strike Ships unveiled
British risk advisory company Prevail Partners has unveiled its proposal for the Royal Navy's two new littoral strike ships which were announced by the UK defense secretary earlier this month.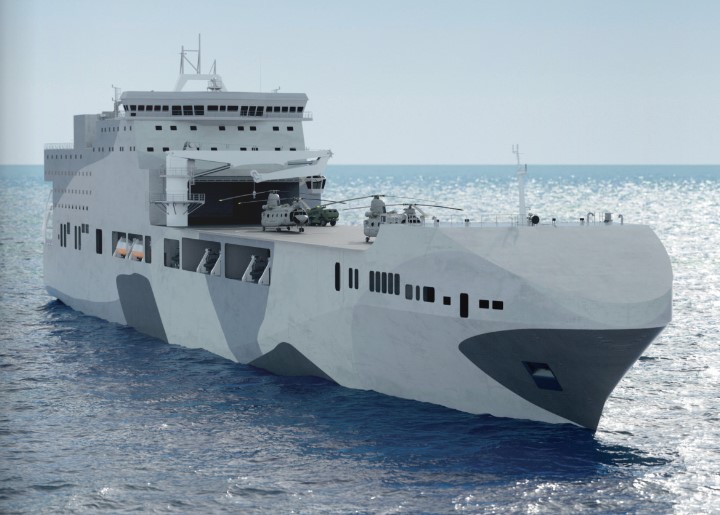 Prevail say their multi role vessel (MRV) was designed as a mobile logistic and helicopter base, enabling nations to project power and carry out special forces missions. The MRV is also capable of serving as an emergency response platform.
This is in line with what the UK defense ministry envisions the ships should be, globally deployable, multi-role vessels capable of performing both crisis support and war-fighting missions.
Announcing the potential acquisition of the ships, UK defense secretary Gavin Williamson said the ships would form part of two littoral strike groups complete with escorts, support vessels and helicopters. One would be based East of Suez in the Indo-Pacific and one based West of Suez in the Mediterranean, Atlantic and Baltic.
The ships could join the Royal Navy aircraft carriers, amphibious assault ships, and Bay-class landing ships in one amphibious task force should need be, the defense minister noted.
The Prevail MRV is offered as a turnkey solution for "300 operational days a year" on a wet-lease charter. As explained in the proposal, the vessel would be owned and operated by Prevail and partners. The Royal Navy would just need to embark its forces and equipment for operations.
"Prevail's team will build, crew, manage, and sustain the MRV for over 300 operational days every year. Prevail will also integrate specialist capabilities such as USVs or UAVs into the ship," the company said in its proposal.
The vessel would have a flight deck capable of supporting CH47s, Super Pumas and other military helicopters. It would also enable amphibious operations with the capability to offload heavy vehicles via mexeflote.
As advertised, the MRV would measure 209 meters in length, have a range of over 10,000 nautical miles, and provide space for an embarked force of 400.
Prevail says the first ship could be ready for operations in 2020.