HII authenticates keel on third America-class LHA Bougainville
US shipbuilder Ingalls Shipbuilding held a keel-laying ceremony for the US Navy's third America-class amphibious warship Bougainville (LHA 8) in Pascagoula, Mississippi, on March 14.
Ship's sponsor Ellyn Dunford declared the keel "truly and fairly laid" after her initials were welded onto a plate.
Traditionally, keel laying marks the first step in ship construction. However, with today's advanced modular shipbuilding, the keel laying ceremony now recognizes the joining together of a ship's components and is a major milestone in the ship's construction.
Construction works on Bougainville began in October 2018.
The future USS Bougainville is the third ship of the America (LHA 6) class of amphibious assault ships. It is the first Flight I ship of the America class with a reincorporated well deck to increase operational flexibility while maximizing the aviation capability inherent on the Flight 0 ships, USS America and the future USS Tripoli.
Bougainville will retain the aviation capability of the America-class design while adding the surface assault capability of a well deck. The well deck will give the US Marine Corps the ability to house and launch two landing craft air cushion (LCAC) hovercraft or one landing craft utility (LCU) as needed during their maritime missions.
Other additions to Bougainville include a larger flight deck configured for Joint Strike Fighter and Osprey V-22 aircraft, which can be used for surface and aviation assaults. The additional area on the flight deck comes in part from a smaller deck house and an additional sponson.
With a typical air combat element embarked, an LHA amphibious assault ship can be equipped with 5 F-35B Joint Strike Fighters, 4 AH-1Z Viper attack helicopters, 2 UH-1Y Venom attack helicopters, 4 CH-53E Super Sea Stallion helicopters, 12 MV-22 Osprey, and 2 MH-60S Search and Rescue helicopters.
Defensive weapons systems include .50 caliber machine guns, the Phalanx, Sea Sparrow and Rolling Airframe Missile (RAM) anti-ship cruise missile weapon systems and decoy launchers.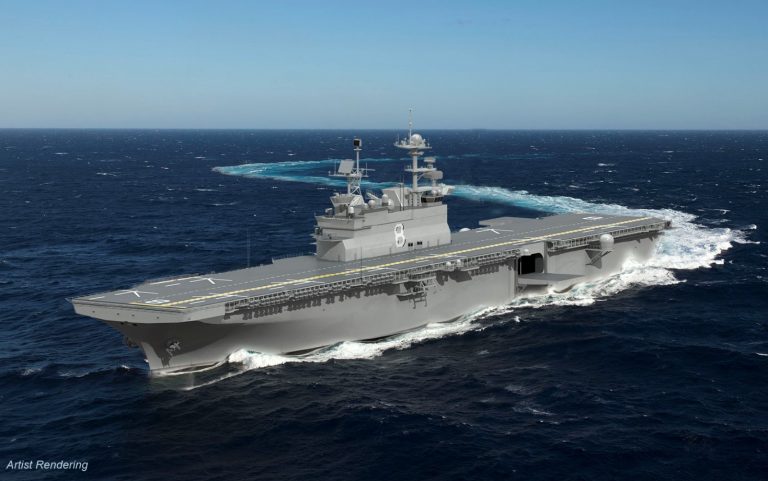 HII's Pascagoula shipyard is also currently in production on Tripoli (LHA 7), the guided missile destroyers Delbert D. Black (DDG 119), Lenah H. Sutcliffe Higbee (DDG 123), Jack H. Lucas (DDG 125), and amphibious transport dock ships, Fort Lauderdale (LPD 28) and Richard M. McCool Jr. (LPD 29). The shipyard is also under contract for six Flight III Arleigh Burke class destroyers awarded as part of the FY18-22 multiyear procurement.