Final decision on German Navy's 10,000-ton MKS180 facing delays again
The decision on the preferred contractor for the construction of the German Navy's new MKS 180 surface combatants could be delayed once more, minister president of the northern German state of Schleswig-Holstein has indicated.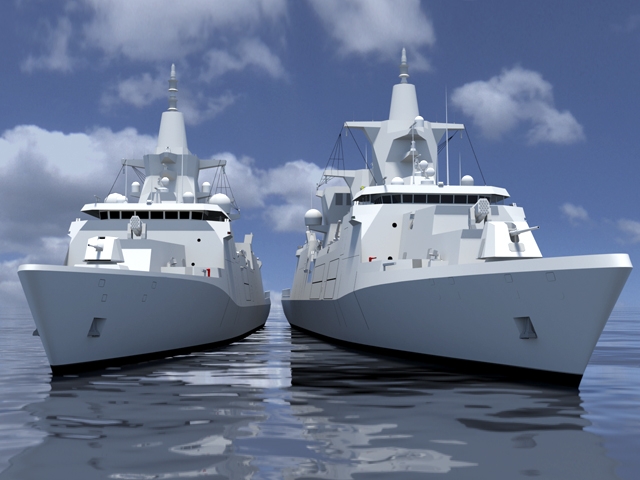 Speaking to the German Press Agency DPA in Paris, Daniel Günther said a decision on the €4 billion project could be made at the end of 2019, and possibly be dragged out to the first quarter of 2020.
This is in contrast to announcements from the beginning of 2019 when defense ministry officials noted that the decision was expected to be made in the first half of the year.
Germany's defense ministry issued a tender for the procurement of four ships in the class in 2015. Deliveries were expected to start in 2023. Initially, three teams entered the competition, Germany's ThyssenKrupp Marine Systems and Lürssen, German Naval Yards Kiel who teamed up with British BAE Systems, and the Blohm+Voss shipyard which brought in Dutch shipbuilder Damen.
After Lürssen was removed from the competition, ThyssenKrupp Marine Systems joined German Naval Yards Kiel to stay in the competition.
Germany had initially intended to build four ships in the class and later decide whether to build another two units, but the defense ministry subsequently announced it would buy all six units at once. The planned budget for the four ships was €3.9 billion (US$4.3 billion) while an overall price for six ships was not revealed.
MKS180 ships are expected to be capable of tackling targets above and below water in addition to supporting land missions.
Due to the German Navy's desire to have a ship capable of being upgraded with future systems over the course of the next thirty to forty years, the projected displacement of the MKS180 rose from some 6,000 tons to 10,000.
Armament should feature a 127 mm naval gun while surface to air missiles should be capable of hitting targets at a distance of 25 kilometers thereby enabling protection from air threats.
The ships will be equipped with towed sonars for anti-submarine warfare and include sick bays or detention rooms for counter-piracy missions. Additional flexibility would be provided by an embarked helicopter and RHIBs for rapid deployment of boarding parties.