Germany finally accepts delivery of lead F125 frigate FGS Baden-Württemberg
Germany's defense procurement agency BAAINBw officially received the lead F125 frigate from the shipbuilding consortium on April 30.
Representatives of the ARGE F125 consortium handed the frigate in an official ceremony at the Wilhelmshaven naval base.
FGS Baden-Württemberg, the first of a total of four units in the class, had already been delivered to the navy in 2016 but was returned to the shipbuilder for rectification of software and hardware issues identified during trials.
Baden-Württemberg is now set to be commissioned in June 2019 after a two-year delay.
The German Navy and shipbuilders will spend the next seven weeks preparing the ship for an operational test ahead of the commissioning.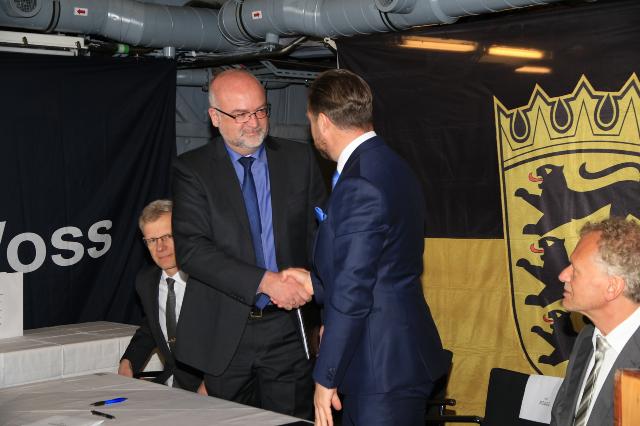 FGS Baden-Württemberg as lead ship in the class has been experiencing problems ever since it started trials. In addition to hardware and software integration, the frigates have a listing problem. They list 1.3 degrees to starboard and are overweight, an issue that could possibly complicate future upgrade options.
The 7000-ton frigates are replacing the eight Bremen-class frigates currently in service with the German Navy.
They will be armed with HARPOON and RAM missiles, a 127 mm naval gun, two 27 mm and five 12.7 mm guns. The 150-meter ships will have a complement capacity of 190 persons and a maximum speed of 26 knots.
The ARGE F125 consortium which is responsible for the delivery of ships comprises thyssenkrupp Marine Systems as the lead company and Fr. Lürssen Werft in Bremen.
Pre-fitted bow sections were manufactured at the Fr. Lürssen Werft shipyards in Bremen and Wolgast. Construction of the stern sections, the joining of the two sections and further fitting out was carried out at Blohm+Voss Shipyards in Hamburg under the direction of thyssenkrupp Marine Systems.
The final ship in the class was launched in May 2017.