Canada begins construction of fourth arctic and offshore patrol ship
Canadian shipbuilder Irving Shipbuilding on May 3 hosted a ceremony to mark the official start of construction of the Royal Canadian Navy's fourth arctic and offshore patrol ship (AOPS).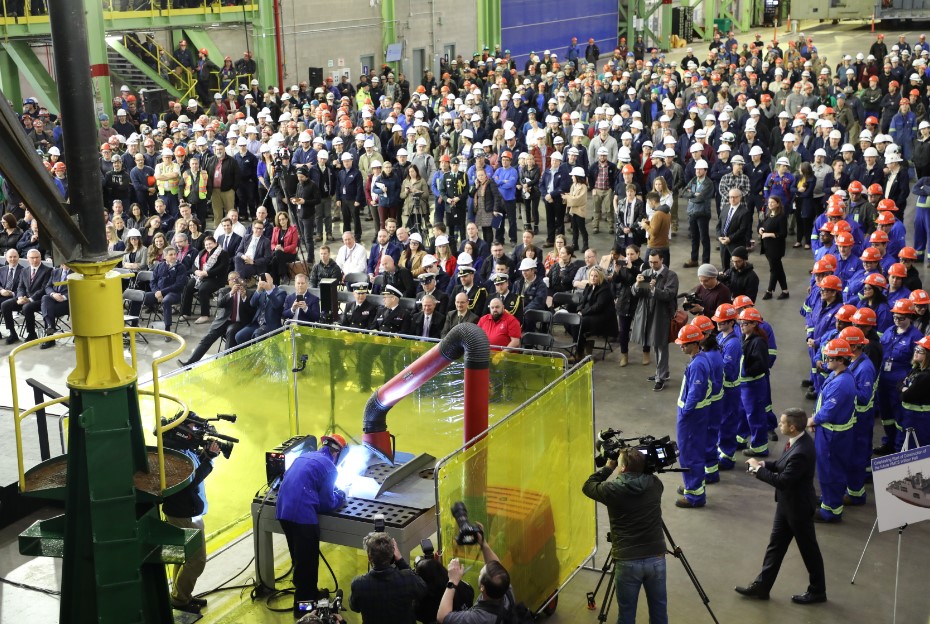 The fourth unit will be named after William Hall, a Victoria Cross recipient for heroism and support of the British Army during the relief of Lucknow (1857). Son of freed African-American slaves living in Nova Scotia, he is the first black person, first Nova Scotian, and third Canadian to have been awarded this honor.
Four ships in the class are now in production, with construction of the fifth ship expected to begin later in 2019. Future HMCS William Hall is expected to join the RCN fleet in 2022.
The lead ship in the class, future HMCS Harry DeWolf, was launched in September 2018. It is expected to be commissioned this summer.
"We are making significant progress on the Arctic and Offshore Patrol Ships as Canadian workers start the construction of the fourth ship, here in Halifax," Harjit S. Sajjan, Canadian defense minister, said at the ceremony on May 3.
"These vessels will be critical assets to the RCN, enhancing our Arctic capability and greatly contributing to the future success of our operations in the most isolated regions of Canada."
Measuring 103 meters in length and displacing 6,615 tons, AOPS are the largest Royal Canadian Navy ships built in Canada in 50 years. They will patrol Canada's oceans, including the Arctic, and are suited for missions abroad to support international partners, humanitarian aid, disaster relief, search and rescue, and drug interdiction.
They will carry a crew of up to 65 people, plus an additional 22 to support an enhanced naval boarding party, army troops, special operations forces and other government departments to support science and research.