French carrier trains with Australian, Japanese, US ships in Bay of Bengal
French Navy aircraft carrier FS Charles de Gaulle (R 91) met up with ships from the navies of the US, Australia and Japan for a series of maneuvers in the Bay of Bengal.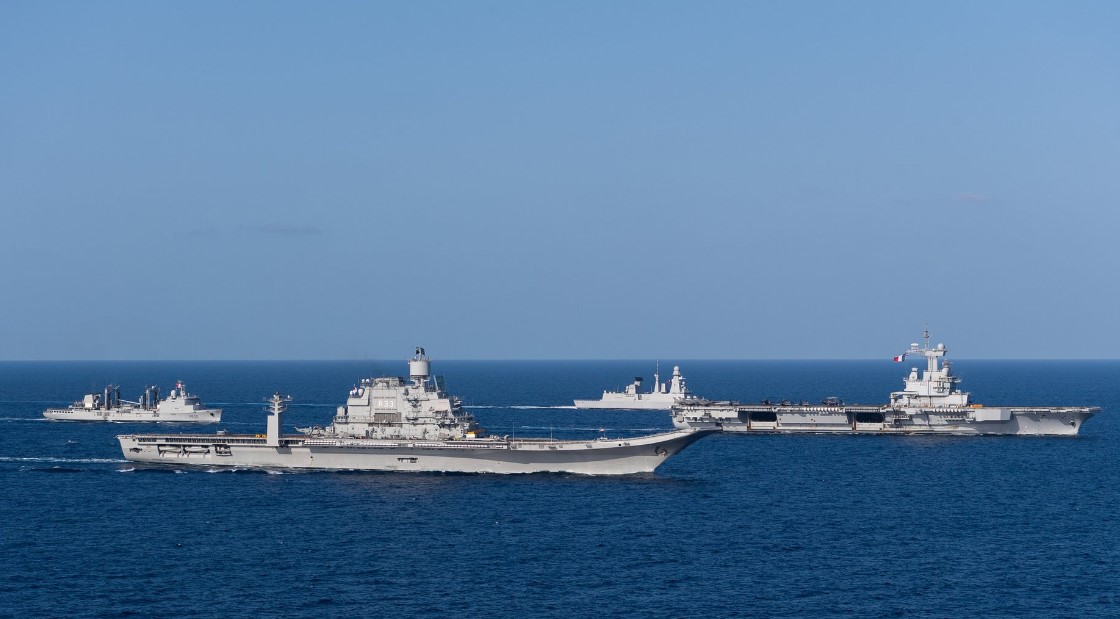 The exercise involving US destroyer USS William P. Lawrence (DDG 110), Australian Navy frigate HMAS Toowoomba (FFH 156) and submarine HMAS Collins (SSG 73), Japan Maritime Self Defense Force helicopter-destroyer JS Izumo (DDH 183) and destroyer JS Murasame (DD 101) kicked off on May 16.
La Perouse, as the exercise is referred to, is named after the 18th century French naval officer and explorer.
Prior to starting La Perouse, the French task group took part in what was termed as the largest bilateral exercise between the navies of India and France in early May. The exercise – Varuna – involved the participation of Indian Navy aircraft carrier INS Vikramaditya.
"La Perouse is an opportunity to develop strong links, work habits and mutual knowledge essential for best practices between our navies operating in the same regions of interest," said Rear Adm. Olivier Lebas, commanding officer, French Carrier Strike Group.
"These exercises reflect our common involvement in maritime security in the Indian Ocean and Asia-Pacific area."
During the drills, the ships practiced formation sailing, live fires, communications, search and rescue, damage control, and personnel transfers.
"The Japan-France-Australia-US multilateral exercise is a great experience. I am looking forward to working with high-end navies together and will improve tactical skills and partnerships," said Rear Adm. Hiroshi Egawa, commander, Escort Flotilla 1. "I believe this exercise will contribute to peace and stability in the Indo-Pacific region."
These events follow the combined anti-submarine warfare exercise that concluded May 14, which included the Virginia-class submarine USS Hawaii (SSN 776) which joined forces with Charles de Gaulle (R 91), F70AA-class air defense destroyer FS Forbin (D 620), Durance-class tanker FS Marne (A 630), F-70 type anti-submarine vessels FS Latouche-Treville (D 646) and FS Provence (D 652) in the Indian Ocean.
The exercise, comprised of multiple anti-submarine warfare (ASW) drills, was designed to enhance unit-level training, improve the strike group's ability to respond to a submarine threat, and enhance interoperability between the U.S. and French navies.
"My crew and I enjoyed the opportunity to tactically employ Hawaii with the Charles de Gaulle Strike Group in the Indian Ocean. The exercise allowed my team to test itself against their highly proficient crews manning capable modern surface warships and helicopters. We sharpened our warfighting skills and strengthened our joint partnerships in the Indo-Pacific AOR," said Cmdr. Sterling S. Jordan, commanding officer, USS Hawaii. "I'm proud of Hawaii and the dedication of the crew day in and day out."