The US Military Sealift Command's last champion class T-5 petroleum tanker, USNS Lawrence H. Gianella (T-AOT 1125), completed its final underway mission for the US Navy on May 23.
Christened on April 19, 1986, USNS Lawrence H. Gianella's primary role has been to perform point-to-point delivery of petroleum products to Department of Defense storage and distribution facilities worldwide.
"USNS Lawrence H. Gianella is the last and longest serving US government owned champion class T-5 Tanker," said Matthew Sweeney, Military Sealift Command Tanker Project Officer. "As the longest serving T-5 Tanker she moved more petroleum for the US military than any other vessel in US military history."
"USNS Lawrence H. Gianella was the last of five T-5 tankers built," said Capt. Robert J. Mills III, USNS Lawrence H. Gianella's ship master since 1998. "The Gianella is a liaison between commercial petroleum terminals and Department of Defense fuel facilities around the world."
Over the course of USNS Lawrence H. Gianella service, the ship has provided direct support to the warfighters in multiple wars.
"During the Iran-Iraq War in 1988, USNS Lawrence H. Gianella supported US fleet and convoy operations in the Gulf of Oman and Persian Gulf by providing fuel consolidation (CONSOL) support to MSC fleet oilers," according to Sweeney. "The ship also provided CONSOL and petroleum logistics support for Operation Desert Shield, Operation Desert Storm, Operation Iraqi Freedom and Operation Enduring Freedom."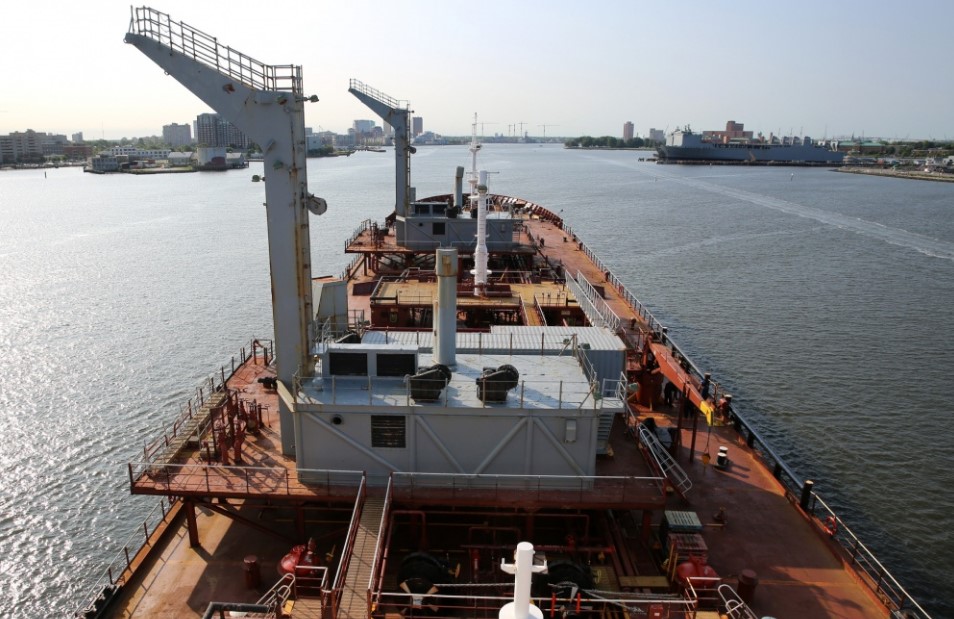 As an ice class oil tanker USNS Lawrence H. Gianella has performed numerous Arctic and Antarctic resupply missions since the mid-1980s.
"USNS Lawrence H. Gianella is fitted with reinforced framing on the hull which allowed us to sail through icy waters to support the annual resupply missions Operation Deep Freeze in Antarctica and Operation Pacer Goose at Thule Air Base, Greenland, in the Arctic," said Mills, "We have supported a total of 11 of these missions."
USNS Lawrence H. Gianella is owned by MSC and crewed by civilian mariners from Ocean Ships Inc., whose duties include running the deck department, engine department and steward's department.
"We have typically been crewed by 23 civilian mariners and occasionally travel with two maritime academy cadets," Mills said. "In addition to myself, we have a chief mate, two third mates, one bosun, five able bodied seamen, and two deck engine utilities.
"On the engine side of the crew, we have one chief engineer, one first engineer, and a second engineer," he added. "The engine team also includes one pump-men and two qualified members of the engine department.
"Our galley is crewed by one steward, one cook and two galley steward utilities personnel," according to Mills.
"We, the crew of USNS Lawrence H. Gianella feel very fortunate to have had the opportunity to serve aboard this ship," Mills concluded. "Serving aboard this ship has been very much like serving with family."
Upon deactivation, USNS Lawrence H. Gianella will be placed in lay-up in coastal Texas.
Photo: US Navy photo of USNS Lawrence H. Gianella in the Atlantic Ocean in 2017.