US Navy amphibious assault ship USS Boxer (LHD 4) met up with the task group assembled around French Navy aircraft carrier, FS Charles de Gaulle (R 91), for a series of exercises in the Andaman Sea on June 7.
FS Charles de Gaulle was accompanied by French anti-submarine destroyer FS Latouche Treville (D 646), anti-submarine frigate FS Provence (D 652) and underway replenishment tanker FS Marne (A 630).
Building on the inaugural, multilateral exercise La Perouse from last month, the drills included formation sailing, combined flight operations and personnel transfers.
"Exercises allow allied units to test and validate concepts, procedures, systems and tactics," said French Rear-Admiral Marc Aussedat, Commanding Officer of Task Force 473. "That is why we seize each opportunity to plan exercises at sea with our allies and partners to increase our mutual knowledge and ability to work together."
The French Navy carrier strike group's deployment to the Indo-Pacific marks the first time the French Navy is operating in the region since 2002.
The Boxer ARG is deployed to the US 7th Fleet area of operations to support regional stability, and maintain a forward presence. The ARG got underway from San Diego in May this year.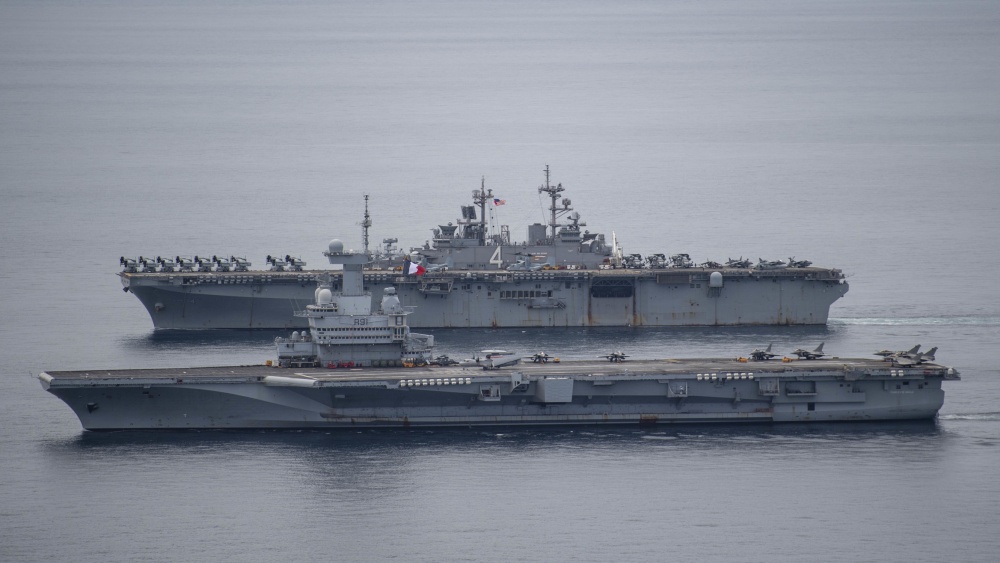 Photo: Amphibious assault ship USS Boxer (LHD 4), transits the Andaman Sea with French aircraft carrier FS Charles de Gaulle (R 91) during a photo exercise. Photo: US Navy