USS Ronald Reagan, JMSDF conduct bilateral drill in South China Sea
The US Navy's forward-deployed aircraft carrier USS Ronald Reagan (CVN 76) participated in bilateral exercises with Japan Maritime Self-Defense Force (JMSDF) ships JS Izumo (DDH-183), JS Murasame (DD-101) and JS Akebono (DD-108) in the South China Sea earlier this month.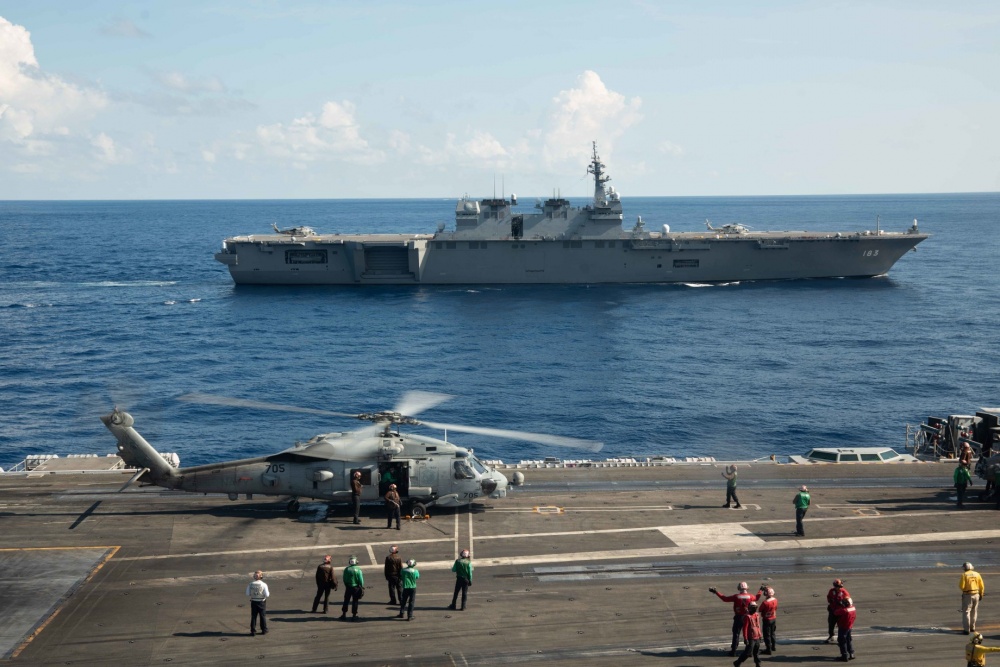 As informed, the ship quartet practiced communication methods, tactical maneuvering drills and liaison officer exchanges designed to address mutual maritime security priorities and enhance cooperation efforts at sea.
The US Navy and JMSDF regularly fly, sail and operate together with other allies and partners to promote security and stability throughout the region.
Bilateral exercises are said to maintain and strengthen "a prosperous and present" force in the Indo-Pacific region. Through current completion of successful operations, Ronald Reagan and JMSDF pave a road of future successful operational endeavors.
"USS Ronald Reagan always welcomes the opportunity to sail and train with our partners from the Japan Maritime Self-Defense Force," Capt. Pat Hannifin, Reagan's commanding officer, said.
"Bilateral exercises, like our most recent interaction with JS Izumo, allows us to strengthen our partnership with our allies."
Ronald Reagan, the flagship of Carrier Strike Group 5, provides a combat-ready force that protects and defends the collective maritime interests of its allies and partners in the Indo-Pacific region.
Read more: Japan-based carrier USS Ronald Reagan deploys for Indo-Pacific ops