US Coast Guard holds rare dual-commissioning ceremony for Legend-class cutters
The US Coast Guard welcomed its two newest national security cutters rare dual-commissioning ceremony at Base Honolulu, Hawaii, on Saturday.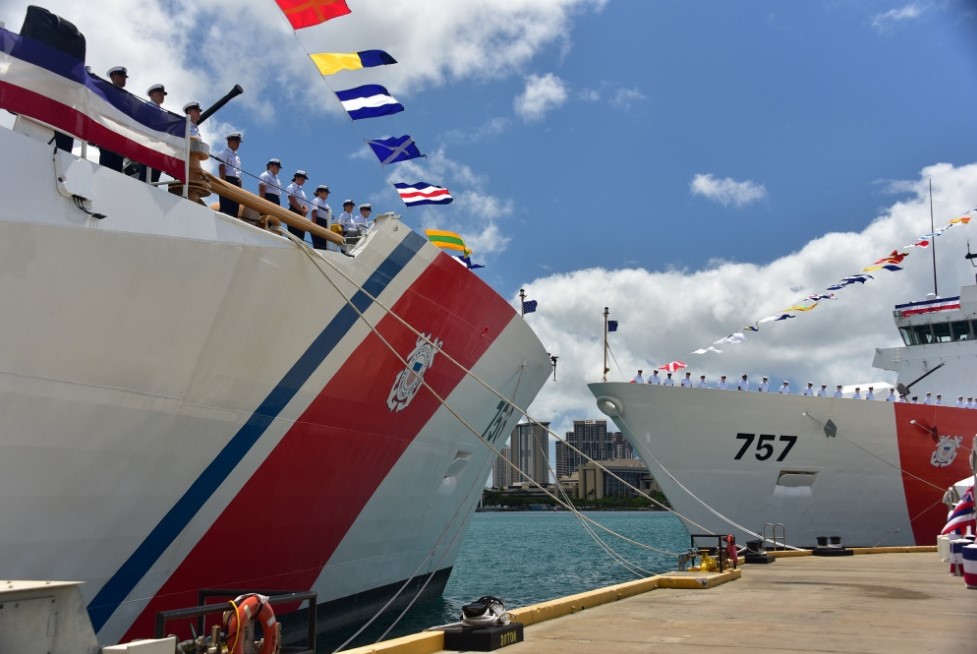 The Coast Guard cutter Kimball (WMSL 756) and Coast Guard cutter Midgett (WMSL 757) are the seventh and eighth legend-class national security cutters in the Coast Guard's fleet.
The Kimball and Midgett will join the three fast response cutters homeported in Honolulu on deployments across the Indo-Pacific region.
The Midgett's transit to Hawaii was punctuated by two interdictions of suspected low-profile go-fast vessels in the Eastern Pacific Ocean, the first July 25 and a second July 31. The boardings resulted in a combined seizure of over 6,700 pounds of cocaine, estimated to be worth over $89 million.
National security cutters are responsible for 40 percent of the 460,000 pounds of cocaine interdicted by the Coast Guard in the fiscal year 2018. National security cutter crews have interdicted more than 92,000 pounds of cocaine to date in the fiscal year 2019.
"These national security cutters will continue our 150 years of partnership and commitment to the Pacific region – since September 1849, when Revenue Cutter Lawrence sailed into Honolulu Harbor escorted by Native Hawaiians in outrigger canoes," said Adm. Karl Schultz, the Coast Guard's commandant.
"In today's complex geostrategic environment with rising great power competition, the importance and demand for a strong Coast Guard presence in the Pacific has never been greater."