Royal Navy's second aircraft carrier underway for first time
HMS Prince of Wales, the second of two Royal Navy aircraft carriers, left the Rosyth Dockyard on the Forth to start sea trials.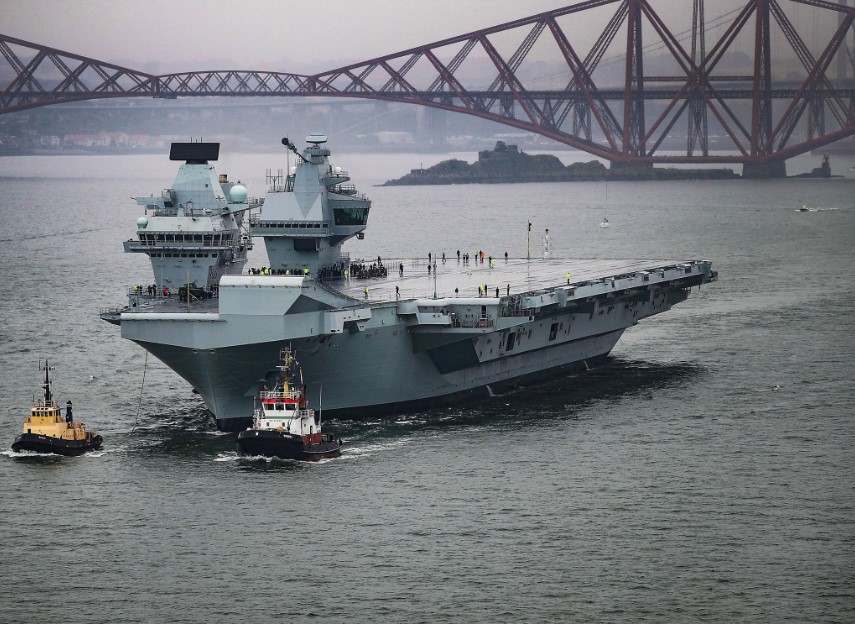 The ship left the yard on September 19 and reached the open sea on September 22 after passing the Forth crossings.
In order to be able to reach the open sea under the low bridges, the ship's mast was placed on a steel cartridge which houses two hydraulic cylinders and a hydraulic system which lower the structure to an angle of 77˚, before raising it back in place once through.
The ship started trials eight years after it was laid down.
Captain Darren Houston, HMS Prince of Wales' commanding officer, said it had taken a monumental effort by sailors, shipwrights, engineers, electricians, scientists and designers to ready the nation's most advanced warship for her debut at sea.
"I am immensely proud of the professionalism and determination that my ship's company have shown in preparing themselves and their ship for this historic day.
"We are looking forward to sea trials and the opportunity to test our new ship before heading to our new home base of Portsmouth to join our sister ship."
Following her sea trials HMS Prince of Wales will sail for her Portsmouth where it is due to be formally commissioned in the presence of her Lady Sponsor, the Duchess of Cornwall, before the end of the year.
HMS Queen Elizabeth, the lead ship in the class, is currently in the North Atlantic preparing for operational training with UK F-35B Lightning jets for the first time – paving the way for front-line duties by Prince of Wales in the future.