India commissions second Scorpene sub, launches first Project 17A frigate
A submarine commissioning, the launch of the first of a new class of frigates, and the induction of a new aircraft carrier dry dock were all on the Indian Navy's ceremonial schedule this weekend.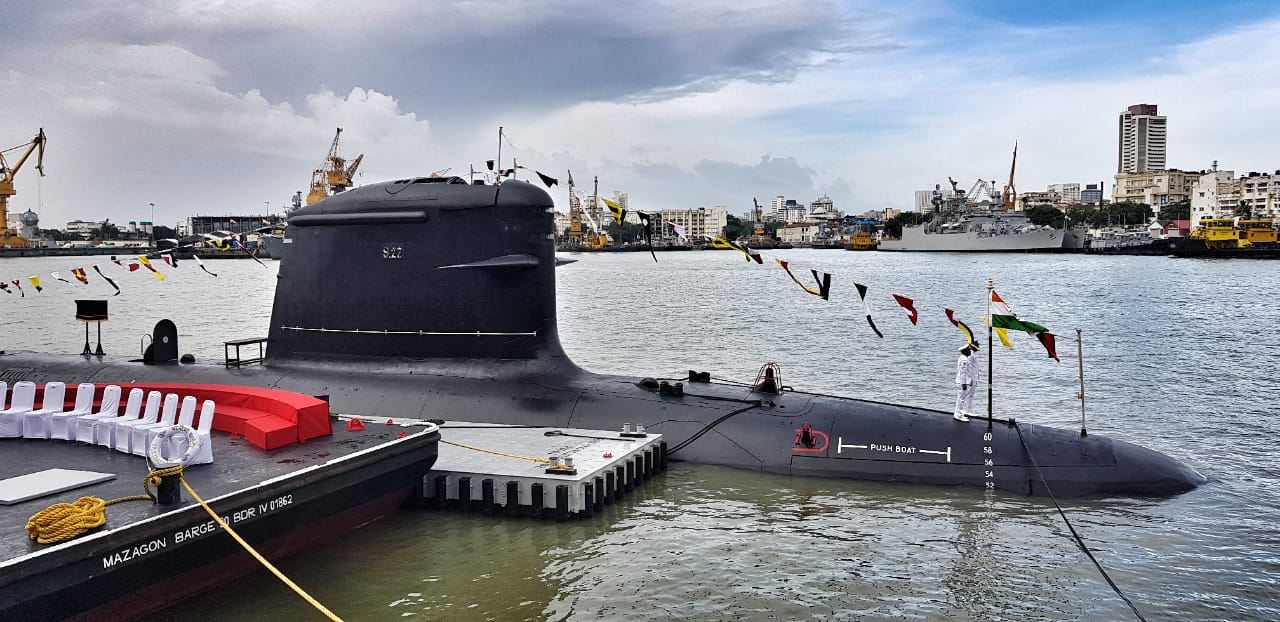 INS Khanderi, the second of six diesel-electric submarines that will be built for the Indian Navy, was commissioned in a ceremony at the Mumbai Naval Dockyard on September 28.
INS Khanderi is the follow-on to INS Kalvari, which was the first of the Naval Group-designed Scorpene-class submarines being indigenously constructed in India and commissioned in 2017.
INS Khanderi started sea trials in 2017 and was delivered to the navy earlier this month. The country has launched four boats so far.
Scorpene-class (also known as Kalvari-class) submarines are 67.5 meters long with a height of about 12.3 meters. They are fitted with 360 battery cells (each weighing 750 kg) powering the permanently magnetised propulsion motor.
The boats are equipped with the Submarine Tactical Integrated Combat System (SUBTICS), sea skimming SM 39 Exocet missiles or the heavy weight wire guided Surface and Underwater Target (SUT) torpedoes.
Project 17A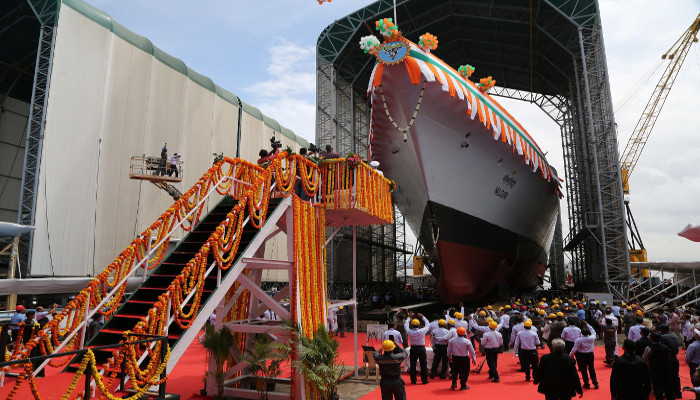 Another September 28 ceremony saw the launch of the country's first Project 17A frigate, the future INS Nilgiri, at Mazagon Dock Shipbuilders Limited (MDL), Mumbai.
Nilgiri is the lead ship in a new class of follow-on ships to the Project 17 (P17) Shivalik-class already in service with the Indian Navy. Four units are to be built be MDL and three by Garden Reach Shipbuilders and Engineers Limited.
Measuring 149 meters in length, the completed ships will have a tonnage of 6670 tonnes. Propelled by two diesel and two gas turbine powerplants in a CODAG configuration, the frigates will be able to achieve speeds in excess of 28 knots, according to the navy.
In the final ceremony of the day, navy officials inaugurated the new aircraft carrier dry dock at Naval Dockyard, Mumbai. The dock is capable of accommodating INS Vikramaditya, the indigenous aircraft carrier under construction at Cochin Shipyard Limited and ships with tonnage up to 90,000 tonnes, making it the largest dry dock of the Indian Navy.
The dry dock has over one kilometer of berthing space with sectioning to allow multiple warships to be docked. The navy says the dry dock can be drained completely in just 2.5 hours and filled in 1.5 hours. Other features of the project include a ramp for heavy vehicles to access the dock floor, a 33.5 MVA power supply and under dock floor drainage arrangement to remove any seepage.